An organization involves many moving parts. To make sure that things run smoothly and employees remain engaged, internal communication plays a pivotal role. There are many types of internal communication to be aware of. 

Here, we will look at the importance of internal communication and break down the types of internal communication by category so that you can address them all in your internal communication strategy. 

Additionally, we'll see how internal communication templates and internal communications newsletter builders can help you achieve your internal communication goals.  

Guide Index
What is Internal Communication?   
Internal communication is the way by which companies share important information, such as news, resources, updates, and the like with their employees. There are certain things that need to be shared with employees in a timely manner, and internal communications is the mode by which this process occurs. 

Without it, processes could fail, key information could slip through the cracks, and employees may feel confused or lack the answers they need. 

To communicate with employees, management can use internal newsletters for a variety of purposes. Whether you have a dedicated internal communications team or not (it may fall in the hands of HR, marketing, or leadership, etc.), internal communications tools can be of great value. It can enable you to send out mass or hyper targeted email newsletters based on need. 

For example, with an email builder it comes with pre-built templates and easy-to-use drag-and-drop interfaces, which means you won't have to hire a graphic designer to create a newsletter that is both visually appealing and informative. 

Why is Internal Communication Important?   
Internal communication is important for various reasons. 
Since your employees fuel your organization's success, they'll want to feel involved and be in the loop of what's going on. Internal communications is the prime way to ensure this is the case. And, when it's done right and consistently, employees are more likely to be more engaged and motivated. 
Along with employee engagement, internal communications fulfills additional purposes. Let's take a look at some of what internal communications can help to accomplish:
Provides the means by which management can address employee concerns 

Is a way to make sure that employees are updated on key information, such as management updates, policy updates, etc. 

Creates a stronger sense of team-building by sharing news between departments 

Builds better connections between management, leadership, and employees 

Offers a venue for employee feedback, which makes staff members feel heard and recognized 

What are the Types of Internal Communication?   
We can break down the types of internal communication into categories. By doing so, it's easier to understand and consider which types of internal communication meet your current needs. 

1. Leadership Communication 
Everyone loves a good leader. But, strong company leaders can't always be in direct contact with each and every employee. However, there are ways that leadership can still share their motivational messages, words of wisdom, and vision with their employees. 

Leadership communication can take place in internal newsletters by sharing letters or videos from the C-suite, town hall announcements, progress reports, and intranet messages, to name a few. 
2. Change Management Communication
Chances are high that your company will undergo change at some point or another. This could be adding new software solutions within the organization or adding new leadership to your team. 
Change management communications are essential to share so that everyone is aware of the changes happening. Along with awareness, change management communication helps to guide employees as to what actions they may need to take or where they can get answers should they have questions. 
Some examples of this communication can be seen in employee newsletters with surveys, Q&A session meetings, or  webinars. 
3. Crisis Communication
Of course, business crises are less than optimal, but they can't always be avoided. So, when disaster strikes, it helps to have a plan in place or a way to share next steps with your employees. 
You can rely on different types of crisis management and communication methods in these cases, which are highly dependent on what's happening. 
For example, for crises like natural disasters, fires, or earthquakes, you may want to have a handbook ready to go so everyone knows what to do in the situation. Or, you can leverage company newsletters to discuss crisis management and find out if anyone has questions. 
Social media platforms, blogs, and forums are also great places to host information surrounding these topics. 
4. Information Communication
Information communication, or resources, are necessary to share with employees so that they have what they need to get their job done properly. You can host this type of information within company intranet software, within shared drives, physical binders with guides, to name a few.  
You can also use dedicated newsletters to inform specific employees within departments with how-to videos or guides for whatever they may need. The benefit of using a newsletter for this purpose is that you can choose your recipients so you can ensure that the people who actually need the information end up getting it. 
5. Bottom-Up Communication
While a lot of internal communication comes from the top-down (management/leadership to employees), the cold hard truth is that communication is a two-way street. For this reason, employees should also have access to share information or ask questions to management. 
Some forms of internal communication that serve this purpose include suggestion boxes, pulse surveys, social media, instant messaging, and discussion forums. It's also possible to involve employees in email newsletters by allowing for employee-submitted content or including surveys within your internal newsletters. 
6. Colleague Communication
Colleague communication, also known as peer-to-peer, is when employees get to communicate with one another. This type of communication is great to boost a company culture that is collaborative and fun. 
Employees may not see each other in person, or even if they do, there are ways to further strengthen their relationships with digital tools. Staff social media accounts, instant messaging software like Slack, interactive employee newsletters, and all-hands meetings are some examples of this. 
7. Culture Communication
Culture communication is like the heartbeat of internal communications. It's where the shared values, beliefs, and habits between the company and employees get to be put in the spotlight. 
Culture communication is most dominantly displayed in internal company newsletters, which can include sections dedicated to culture. For example, you can select an internal company newsletter template to announce new hires, promote upcoming events, or praise employees and teams who are doing a great job. 
You can also use newsletters to share customer-focused newsletters that include customer reviews and success stories, which further instill company values and highlight how your team is meeting customers' needs. 
8. Campaign Communication
You're probably aware of marketing communication which is geared around having customers or prospective customers take the desired action. Just like external campaign communication exists with customers, internal campaign communication exists with employees. 
These types of communication are also intended to promote an action on behalf of your team. To make the most out of campaign communication, consider using graphics, blending design and persuasive copy, and providing strong call-to-action buttons. 
You can create flyers using these best practices, share digital messages across your intranet, or incorporate these elements into an internal email newsletter. 
With an email newsletter builder, it's really simple to incorporate brand elements, proper design, and formatting as everything is already pre-built for you in templates. Then, all you have to do is modify your message (content).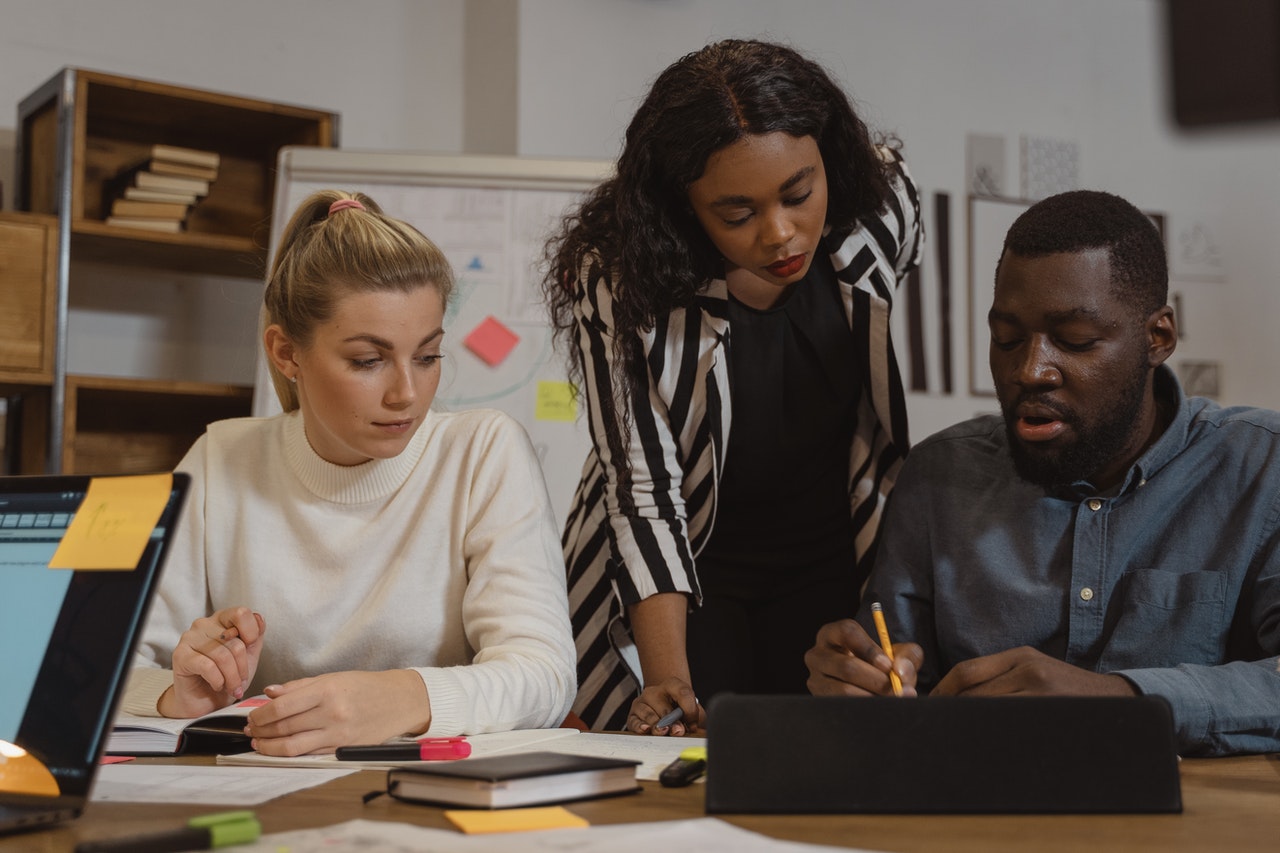 For whatever type of communication you wish to get across, an email builder can help you do so easily! Web-based email builders provide you with beautiful and professional email templates based on need. 
This way, you can go about curating content that is both useful and aesthetically pleasing using an easy drag-and-drop functionality. So, instead of having to outsource or hire a graphic designer or coder, anyone on your team can begin creating and sending newsletters seamlessly. 
While internal communications software is often used for messaging within organizations, it's possible to achieve the same goals using employee newsletters that can be created using an email builder tool. Email builders are cost-effective, collaborative, and intuitive to use. 
What are the Different Modes of Internal Communication?   
Internal communication can take place in real-time or when the recipient is available to read a message. These can be broken down into two modes:
1. Synchronous communication: 
This is when at least two people are communicating in real-time, such as on a video call, phone call, or in-person. There's body language and auditory tone involved. 
2. Asynchronous communication: 
This type of communication involves sending messages and not requiring an immediate response, such is the case with emails. 
The upside here is that people can read, digest, and respond on their own schedule. Additionally, with internal communication software, you can send email newsletters and monitor engagement levels with analytics. 
Internal Communication is Crucial  
With the various types of internal communication, it's clear to understand why it's so necessary within businesses. With internal communication software such as newsletter builders, you can seamlessly apply your internal communication ideas to reap the results you hope and maximize employee engagement.