Are you generating enough leads ?
Curate content into lead gen assets with Publicate, and get 3x more.


1. Curate Content
Web pages, presentations, images, PDFs, & more.


2. Create Assets
Email newsletters, roundup blog posts, resource hubs, & more.


3. Capture Leads
Require a name and email address for your curated content.
CREATE A LEAD GEN ASSET NOW, FREE!
Make content curation your top organic growth channel.
It's simple. Create lead capturing content marketing assets in minutes from the content you are already sharing and producing. Then, easily distribute through email, social media, or HTML embed to drive new traffic and leads.
Email Newsletters
It's a great time to launch a curated email newsletter. Save time curating content and formatting emails with Publicate.
Roundup Blog Posts
Use Publicate to research, organize, and present content beautifully, then add it to your blog CMS via HTML embed.
Branded Social Shares
Never share unbranded content again. Add your branding and commentary to every piece of content you share.
Resource Hubs
Create resource hubs you can embed on any of your webpages. Require a name and email for any piece of content.
Press Pages & Media Kits
Launch a new press page or media kit in minutes, and keep it updated without ever writing a line of code.
Sales Collateral
Your sales and customer support teams will love using Publicate to share curated content with prospects and customers.
Create a new now, and start capturing leads in minutes.
Content curation built for teams
Leverage the content your team saves and shares throughout the day to create new content assets together. Funnel all that content into Publicate with ease via our browser extension and integrations like Feedly, Pocket & Slack.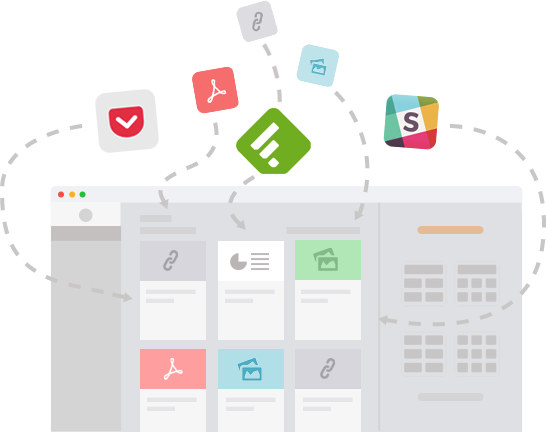 Beautiful content marketing with zero coding.
Simply drag-and-drop content saved in Publicate into pre-built templates. Showcase some content more than others, add your own commentary, include your branding, and customize Calls-to-action to increase conversion rates.

More content distribution.
Better content performance.
Seamlessly distribute curated content through email, social media, or any webpage that allows HTML embed. Add your branding, and deploy lead capture forms with ease. Track views, clicks, and leads generated for every piece of content with rich content analytics.