Have you ever wanted to send HTML emails in Outlook?

Is it even possible to send a newsletter through Outlook, instead of using Mailchimp?

Is there an easy way to insert HTML into Outlook, that isn't totally cumbersome?‍

‍And... Very importantly, how do you create a HTML newsletter that actually works in Outlook.

Read on for the seriously simple answers to all these questions.

In this post you'll learn a new method to create a fool proof Outlook HTML email.

As well as how to insert HTML into Outlook by just copying and pasting.

Let's start...

Guide Index
Can you actually send HTML emails in Outlook?
Just like with sending HTML in Gmail, the answer is yes. Even for the native Outlook application, not only the web version.

The question is not "can you insert HTML into Outlook".

Instead there are two other more pressing questions we should be asking;

That's right, people still use Outlook 2000-2003. Even though Facebook wasn't even a thing then, but whatever.

Amongst the 3.7 billion email users, Outlook is actually the #5 most popular email client.

That's right, people still use Outlook 2000-2003. Even though Facebook wasn't even a thing then, but whatever.

So how then, for both of these questions?

Bonus: You can easily create drag and drop newsletters the work in Outlook using Publicate. Beautiful HTML email for Outlook in minutes. No code. No design. Try Publicate For Free Now

Why Send HTML emails in Outlook?
So you can send "newsletter" style emails straight from your Outlook account. Duh.

But if there are email service providers like Mailjet and Aweber‍ set up and ready to go, then why Outlook?

1. Internal Newsletters are BIG

Outlook is generally the company email client of choice.

Employees and teams are hungry for knowledge and insight.

Combine the two together and you have the up and coming trend of internal newsletters.

I'm not talking huge corporate announcements sent over email.

I'm talking about valuable bespoke newsletters packed with relevant information that gets sent to small teams to keep everyone in the loop and on the same page.

Newsletter software with subscriber management and many extraneous features seems overkill here. That's why knowing how to send HTML emails in Outlook makes more sense here. 

2. Email From Your Outlook Account Is More Personal, Fact

Sometimes, we need that value, on a personal level.

This is where an Outlook Newsletter holds it's own.

You can combine the value of a newsletter, packed with insight and information, but only send it to a limited few, as in just the few you know need to see it.

You know it's personal when you are selecting each of the recipients by name.

When you are doing this, you know that the information in the newsletter is relevant.

3. It Will Help To Avoid The Gmail Promotions Tab

This is a killer for newsletters.

Remember the stats on newsletters? Well Gmail is #2, with over 1 billion monthly active users.

So there are a lot of recipients using Gmail.

Gmail tabs are Googles answer to help you automatically manage bad mail.

First off, don't add to that problem. The problem of bad email. Only send email you know people will value.

Secondly, small batch, more personal relevant newsletters are a good start.

By using your personal email, with existing contacts, it will help you to not get caught up in the Gmail tabs. Increasing deliverability.

So we know why, let's dig into the how(s).

4. What people do have time for...

A simple editor that you can just drag and drop content to create your own HTML newsletter for Outlook?

Exactly.

Publicate is a newsletter creator that removes the need for any HTML knowledge. If you can drag and drop, you can create beautiful newsletters in minutes.

Newsletters that work perfectly in Outlook. Safe in the knowledge that we have done the rigorous testing and optimising for you.

So anything you create works.

OK OK, so thats great, we've answered question 2.

But what about question 1, inserting HTML into Outlook...

How to Send HTML emails in Outlook
Now hopefully we all know that the success of a newsletter is down to the content you add to it.

This is where Outlook really lets you down. Your basically stuck with text, some links and maybe attaching an image or file.

There's no design, no flare.

Despair no more fellow Outlook user.

Whether you want to add images, web pages, GIFs, videos even Tweets it couldn't be easier.

Firstly, if you haven't already signed up to publicate and choose whether you want to start from a template or fresh Email Newsletter.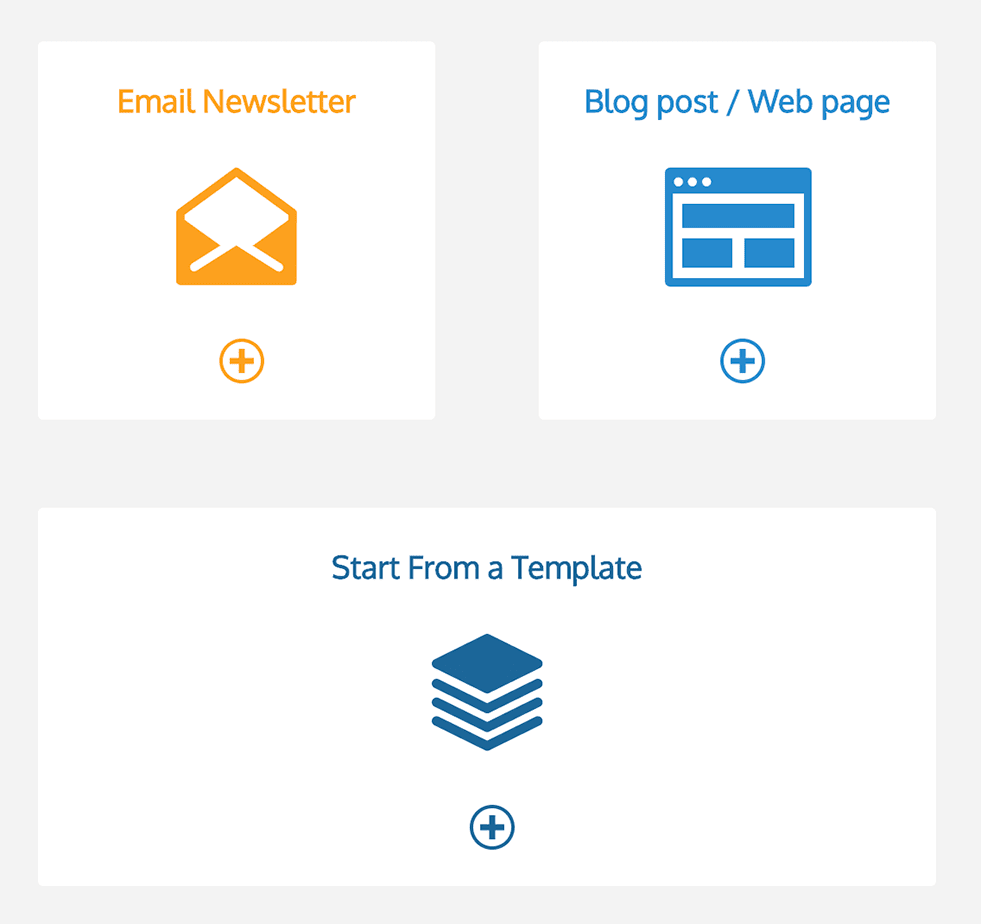 And just like that, you are ready to start creating your newsletter. All you have to do is select your preferred row layout;


Then paste the URL of the content into it;


Boom, a Tweet, embedded in your Outlook newsletter. #SayWHAAT?!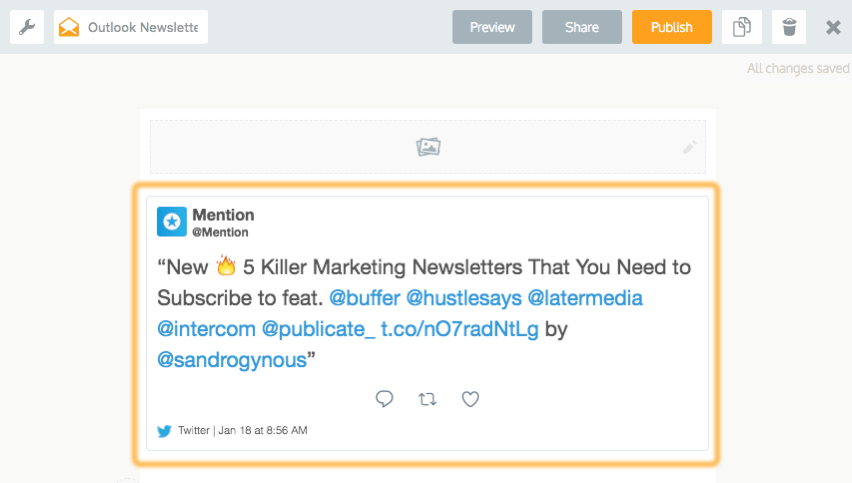 What about Video?! I Want Video in my newsletter...

Go on then;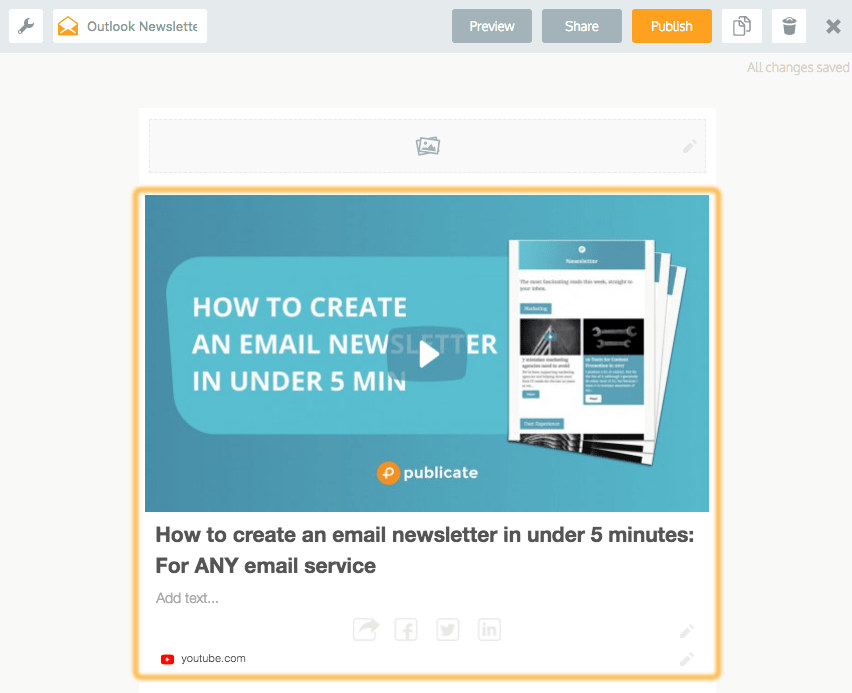 1. Alignment is a big issue for most newsletter software.

We've seen people pull their hair out trying to do this in Mailchimp, never mind Outlook.

Not in Publicate.

Just hit edit on the image you want to crop or resize and bam.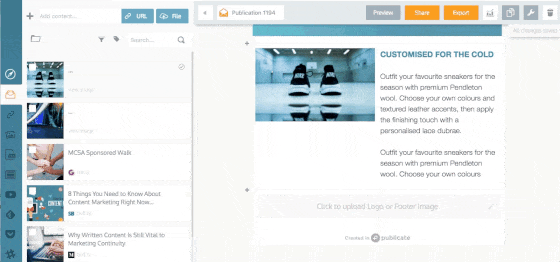 2. Adding large files to my emails in Outlook causes them to bounce

I hear you. Got that covered too.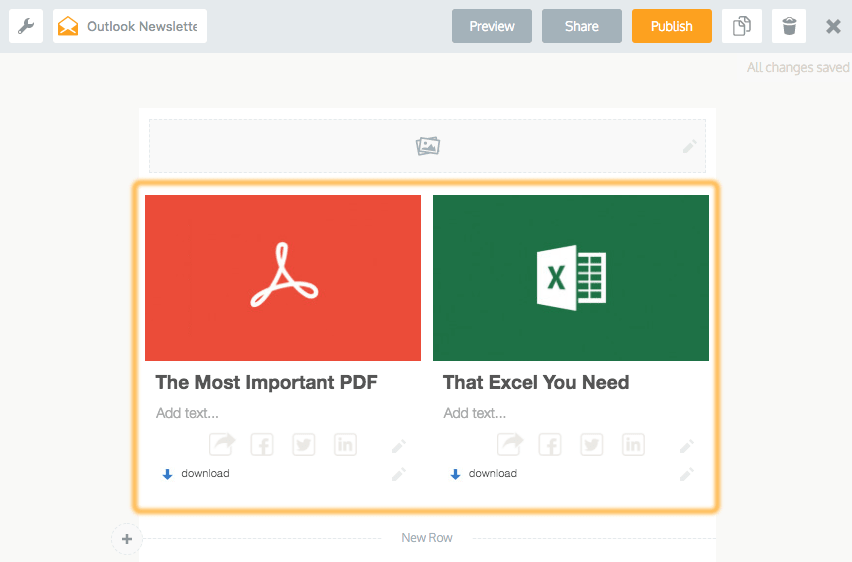 You can add any file type to your newsletter in Publicate and it will store it on our servers, not in your email.

So when you send that email, you're not actually sending the large file. Just a link to it, ready for download.

Sending HTML Email in Outlook
Once you're done and ready to go simply hit publish. You now have two options;

You can install our dedicated Outlook plugin (preferred) and import your template; Get the outlook addon
Or hit publish and click "Copy Email to Clipboard"
Once your email is sat in Outlook and are ready to send, we recommend at this point sending yourself a test email and making sure you've done your pre-send checklist.

Lastly, hit send and enjoy!

That's it, it's really that simple to send HTML emails in Outlook

We do all the hard work under the hood so you can just focus on creating amazing content. 

Review Your Newsletter Performance 

Now that you have sent your HTML newsletter in Outlook, you might want to know how it has performed. Well, if you had just sent your email using ONLY Outlook and not Publicate's handy integration, you might only be able to setup a read receipt, which basically tells you each time it has been opened.

But since you clever people have chosen to create and send your emails using Publicate, you will be spoiled as to the detailed analytics you will have access to. 

When you get into your Publicate analytics dashboard, you will find that you have access to the following data as a standard:

Opens: the number of times the email has been opened
Clicks: the number of times the content in your newsletters were clicked.
Clicks Per Open: the number of clicks your newsletters received per open.
Newsletter Shares: the number of times your newsletters were shared.
Newsletter Shares: the number of times your newsletters were shared.

But, this isn't the only data you get. There are additional data visualizations available so that you can get a more detailed understanding of your newsletter's performance. For example, you can track performance over time with this graph, which displays views, clicks, and shares.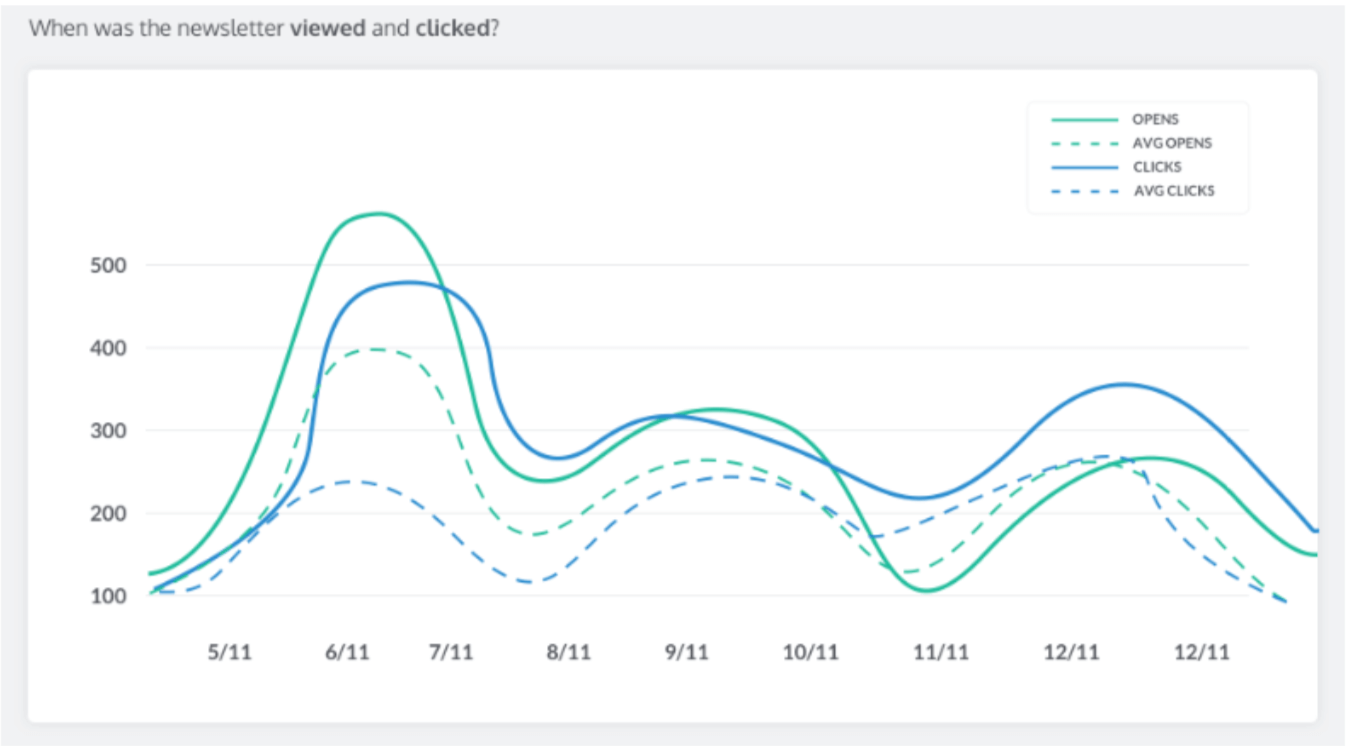 Your analytics dashboard also includes a table showing you the popularity of your publications and social share data.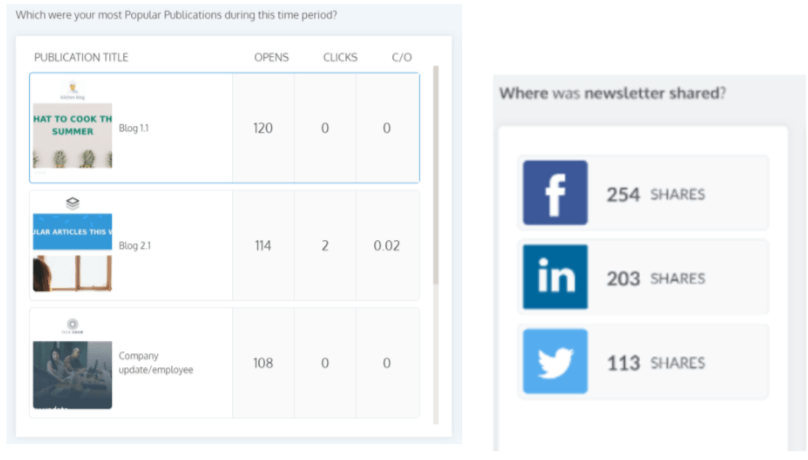 But wait, we aren't finished yet! We have been able to create click and engagement heat maps that go beyond just simple click data, which most email service providers like Mailchimp provide. These will help you clearly see what it is that draws in your customers.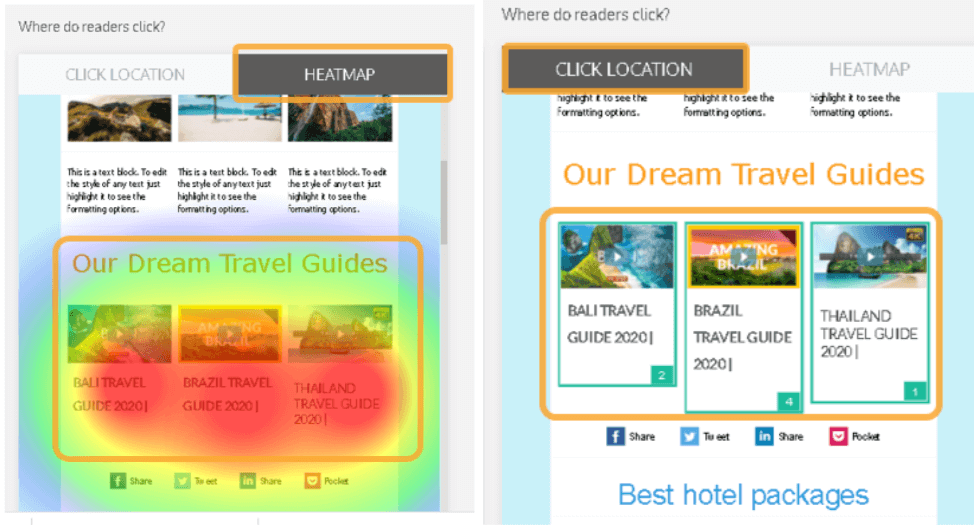 Because you sent your newsletter with Outlook you will also see unique open rates in your Publicate analytics dashboard!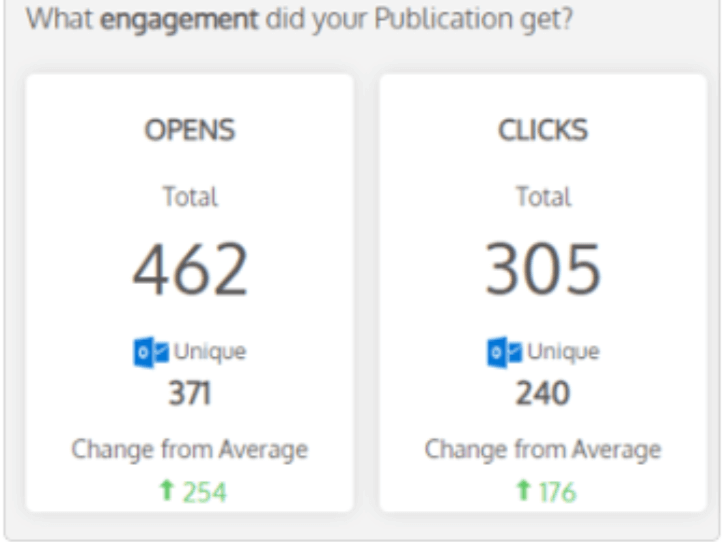 For more information on our analytics check out this helpful article on How to View and Understand Your Analytics.

Summary

Creating an email newsletter for Outlook, or inserting HTML into Outlook used to suck.

Now it doesn't.

Just drag, drop, copy and paste in Publicate and you'll look like a superstar.

Works well for those all important internal company newsletters.

Keep teammates and colleagues up to date with the latest and greatest, in a format they will actually read.

Do it in minutes, not hours.

No need to design, code or pay someone else to.