There are many email newsletter platforms to choose from. The thing is, a lot of the people who are looking to use this kind of software aren't in the marketing department nor are they designers, so they need free email template builders rather than email marketing platforms. 

With free email template builders, they get to gain access to an email newsletter solution that is simple to use and makes creating beautiful email newsletters seamless. 

In this article, we'll cover what you need to know about free email template builders, how to choose the best email builder, and all the benefits of using such a tool. 

Guide Index
What is an Email Template Builder?       
An email template builder is software that helps people to build email newsletters. The software can be designed with two main methods for developing emails, which is email coding or drag-and-drop email builders. 
Email coding is more technically-focused and often requires knowledge of HTML, CSS, and testing. It can become extensive and laborious. Not to mention, you'll often need to rely on the aid of a graphic designer and/ or IT professional to ensure that your email will render properly across all devices (a.k.a is responsive). 
On the other hand, you can choose an HTML email builder like Publicate which is based on drag-and-drop functionality. This enables anyone, especially those less technical, to be able to create beautiful email newsletters in no time and without any coding or design knowledge. Plus, the web-based email builder ensures that your email will look good on any screen size and device.  
Essentially, an email builder is equipped with free newsletter templates (or sometimes paid templates) that you get to customize to your liking. 
For example, with free email template builders like Publicate, you can create your email newsletter and then export it to send it out using whatever email provider you're already used to sending your everyday emails on. This saves you substantial costs versus using a sending tool like Mailchimp.
Why Are the Benefits of an Email Template Builder, and Why Should I Use One?    
If you're here, then you're probably already looking for a solution to resolve your email newsletter desires. The good news is, free email template builders will probably be exactly what you need! 
There are many benefits of email newsletter builders, including:
Efficiency: With pre-built email templates and the drag-and-drop editing functionality, you can create engaging emails with little effort. You can select from a list of email templates and make whatever small or big additions you wish before you deem it ready to go.
Easy Design: With email blocks and visual editing, you can design an email as if you were a graphic designer (or coder) without having to do anything more than drag… and drop! Plus, you can add in whatever type of content you wish easily, such as images, videos, GIFs, and the like. 

Multiple Use Cases: You can use an email newsletter for a multitude of purposes, such as to introduce new employees, share company updates, or promote events, to name a few. Additionally, when a campaign is successful, you can duplicate the template, make any adjustments that may be needed, and get ready to send again. 
Analytics: Many email template builders come along with analytics that let you track and monitor your email's performance in real-time. 
How to Choose An Email Template Builder?       
As you're sifting through the many email template builders out there, you may be wondering how you're supposed to choose the one that is best for your business. They may come across as very similar on the surface, but it's recommended to look for these features: 
HTML editor: You may want to import your own HTML or build emails on your own in the future, so an HTML editor provides that option.

File formats: Many email builders will support the option to include photos and text in your newsletter. But, it pays to look for those like Publicate that can easily curate content as well as accommodate GIFs and videos, especially since these content formats continue to grow in their popularity.

Easy exporting: You'll want to find an email builder that can work seamlessly with your existing toolstack. An email builder like Publicate can integrate with your software solutions and be used to export your email newsletters simply. This way, you can leverage your usual email provider to send out mass newsletters or newsletters to targeted audiences from the systems you already know best.

Free newsletter templates: Since you'll probably be creating most of your newsletters from templates, it's best to have an email builder tool that has many email templates to choose from.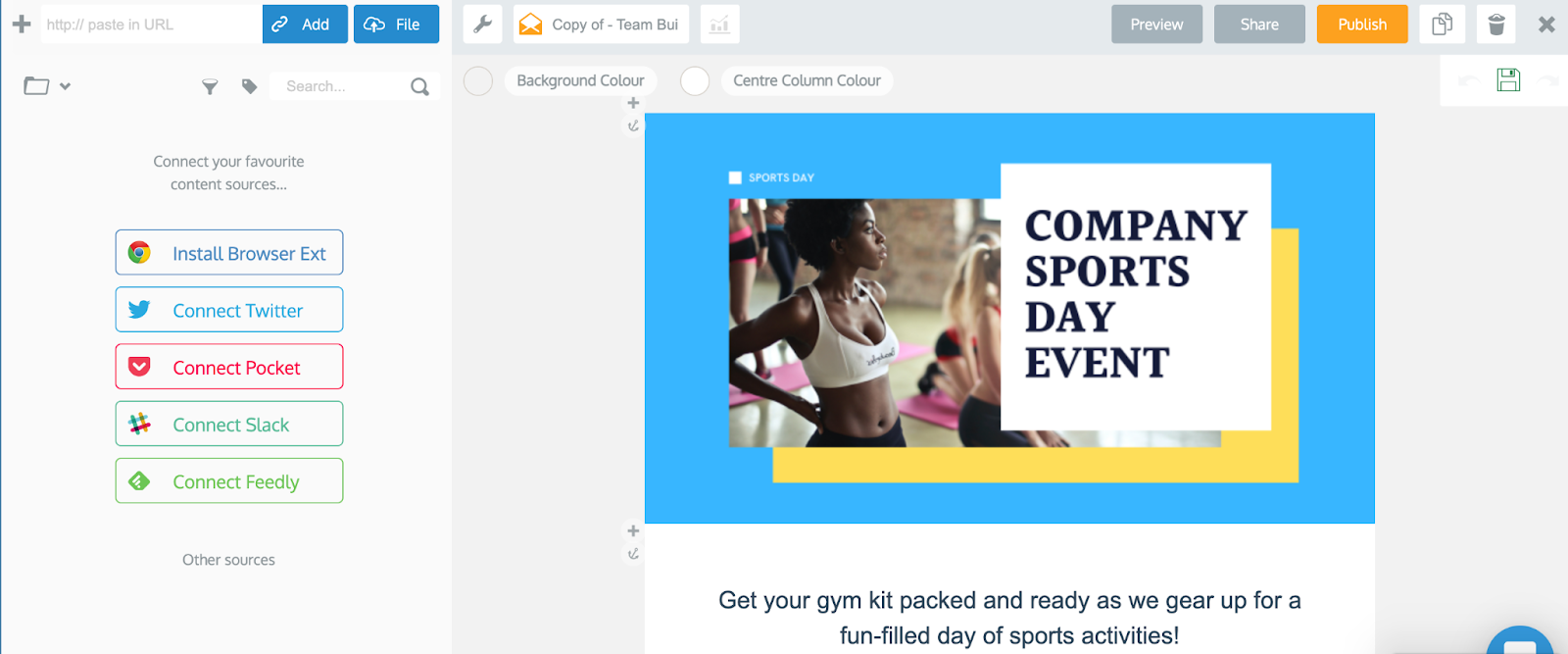 What are the Best Email Template Builders?   
Let's take a look at some of the best free email template builders out there to help you along your search for the perfect tool. 
1. Publicate
Publicate is a web-based email builder with hundreds of beautifully designed templates to choose from. WIth drag-and-drop functionality, the support of multiple file formats, and easy exporting, it crosses off the main features you'd want in an email builder. 
Templates all follow email best practices and are easy to use and customize. You can even use your brand kit to keep everything looking as it should. There are content curation features saving time and making sure you always have ideas for content. The best part is you don't need any design resource or knowledge to create stunning and engaging content.
Plus, Publicate works with all email service providers, so you can send out your email newsletters from the same provider you use to send regular emails. You can either export and upload the HTML yourself, or you can download free widgets that will do the heavy lifting for you. 
This not only saves costs and makes it easier to manage, but you can also avoid the risk of having your newsletter end up in your audience's spam folder. 
Additionally, you can gain insights about your newsletters to track engagement and reach with detailed newsletter analytics provided by Publicate. Companies like Amazon, Microsoft, eBay, Lenovo, Adobe, and Mastercard (plus over 10,000 others) use and love Publicate. Ready to try it for free for yourself? 
2. Chamaileon
Chamaileon is a responsive email template builder that is only online-based. You get to choose from pre-designed email templates and adjust content blocks as you see fit. 
Whether you choose to do so by adding columns or changing the size of the layout by defining pixels, you have the freedom to do what you please. 
One of the standout features is that you can choose from the option to view your newsletter creation on mobile or view on desktop. 
3. BEE Free
BEE Free is another email builder that is built with drag-and-drop functionality. Wondering what the buzz is? BEE stands for "Best Email Editor" and offers hundreds of free templates. 
Like Chamaileon, you can choose to view your design on mobile or desktop, and you can also send a test email before blasting it out. To send out the email, you'll need to export the HTML and upload it into your email service provider. 
4. Stripo
Stripo is yet another email builder with drag-and-drop build functionality. It allows for the inclusion of dynamic in-mail content like image carousels, for example. 
Stripo also lets you send out your email design via your desired email service provider. But, you'll either need to download your email newsletter as a PDF or HTML code to input it into your provider to send. 
5. MailerSend
MailerSend is an email tool that is geared towards transactional emails. The cloud-based system was built for developers to help expedite the process of developing emails. 
Users gain access to an analytics dashboard and easy-to-use user interface. 
Closing Thoughts
Many companies are leveraging the power of  free email template builders to communicate both internally and externally. When selecting the email builder software that's most well-suited for your needs, you'll want to pay careful attention to features and pricing. 
If you want to learn more about how to accomplish your email newsletter goals with a tool like Publicate, take a peak at this resource guide. Or, get straight to it by trying it out for yourself (for free).