When sending out a newsletter email, you have options as to how to do it. You can choose automation platforms like Mailchimp (which can tend to get costly as you pay per send), or you can use internal newsletter software that can be more cost-effective, efficient, and easier to use.

In order to know which route to go, we'll share the pros of each respective tool. We'll also look at a few different alternatives to Mailchimp like email builders.

Let's get right to it.

Guide Index
What Type of Internal Newsletters Does Your Company Need?
There's a long list of internal newsletters that you can send. With the wide range of newsletter ideas you may have, it pays to first consider your intention. To choose the best type of tool, you first want to know what you're going to use it for.

A few questions worth asking are:

What information will your newsletter contain?

Are these messages being shared with employees in any other way?

How often will you want to send your newsletters?

Are you going to be sending them internally or externally or both?

How many people will you be sending newsletters to?

Why Use Internal Newsletter Software?
Internal newsletter software makes it easy to create engaging and beautiful internal newsletter communications. Without design or coding resources, you can make use of the software's drag-and-drop functionality so that you can visually build out your email.

For example, with an email builder like Publicate, you can choose from an array of newsletter templates and input whatever copy you choose. Or, you can select different content blocks and build your own email layout from scratch.
Additionally, internal newsletter software gives you the option to input rich media like images, video, and even GIFs to create a newsletter that will grab your readers' attention.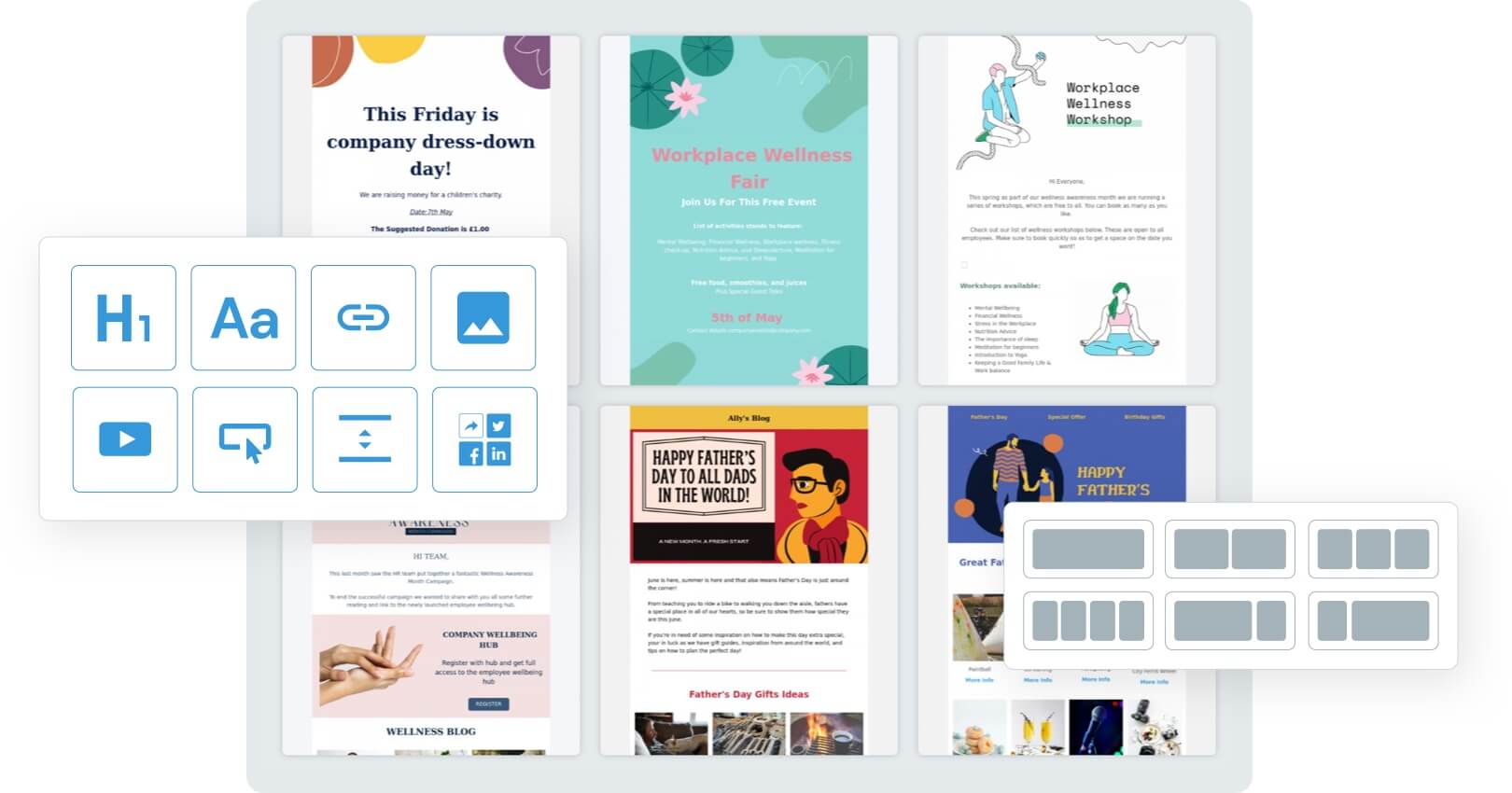 When it comes to choosing between templates, they are organized by need. So, you can use the same internal newsletter software to communicate a variety of messages, all in an easy-to-build and easy-to-send software system.
What are the Benefits of Internal Newsletter Software?
Internal newsletter software makes carrying out internal communications simpler than ever. This software can help your business optimize its communication channels so that management can ensure that messages are sent correctly.
With internal communication software, you have the power to improve your internal communications so you can send out more tailored and relevant comms, faster, and with higher readability. And, with this power comes great upside because employees who are in the loop are more likely to be engaged employees.
With an internal newsletter, you get to tailor messages based on need and to direct content strategically to those for whom it is relevant. For example, you may wish to share new updates about new hires, promote events, or pass along company updates.
Plus, with internal newsletter software, you can easily monitor the success of your campaigns in real-time.
What is Mailchimp?
Mailchimp is an email marketing automation platform, with the primary goal to help businesses grow their leads.
And, while it can be effective for its intention, it may not always be the strongest suitor when it comes to internal newsletter communications.
A few reasons why internal communications may be challenging with this platform include:
Emails are sent from Mailchimp's servers, not your own (which means that they can easily land up in SPAM or the promotions tab on Gmail)

You can't export to create an email newsletter in Outlook (but with email builders you can export your email newsletter to whatever email server you use)

With each email, Mailchimp will create a web version of your internal communications (so if privacy is your goal, you've just threatened it)

There's no way to collect employee feedback in your email (which is often one of the main goals of internal newsletter communications)

Can You Use Mailchimp for Internal Communications?
While it's technically possible to use Mailchimp for internal communications, it can be more hassle than it's worth.
The platform isn't geared towards internal comms so the templates available may not be usable and you may have to build your own from scratch. Additionally, since you're sending your newsletters internally, it's meant for people within your organization only.
Mailchimp creates a web version of your email, which can run a risk to your company's privacy.
What are Alternatives to Mailchimp for Internal Comms?
Instead of facing the hurdles of using Mailchimp for internal communications, there are several internal newsletter software options to choose from.
They've been purposefully designed to provide companies with everything they need in one tool to create effective email newsletters without having to spend hours or use a designer to build them. What's more, they're built for the purpose of internal comms.
We've compiled a list of a few alternatives:
1. Publicate
Publicate is a web-based internal newsletter software tool that works with all email service providers. Without having to code anything, you can export your designed newsletter in HTML and upload it to the mail provider you already use for your day-to-day communications.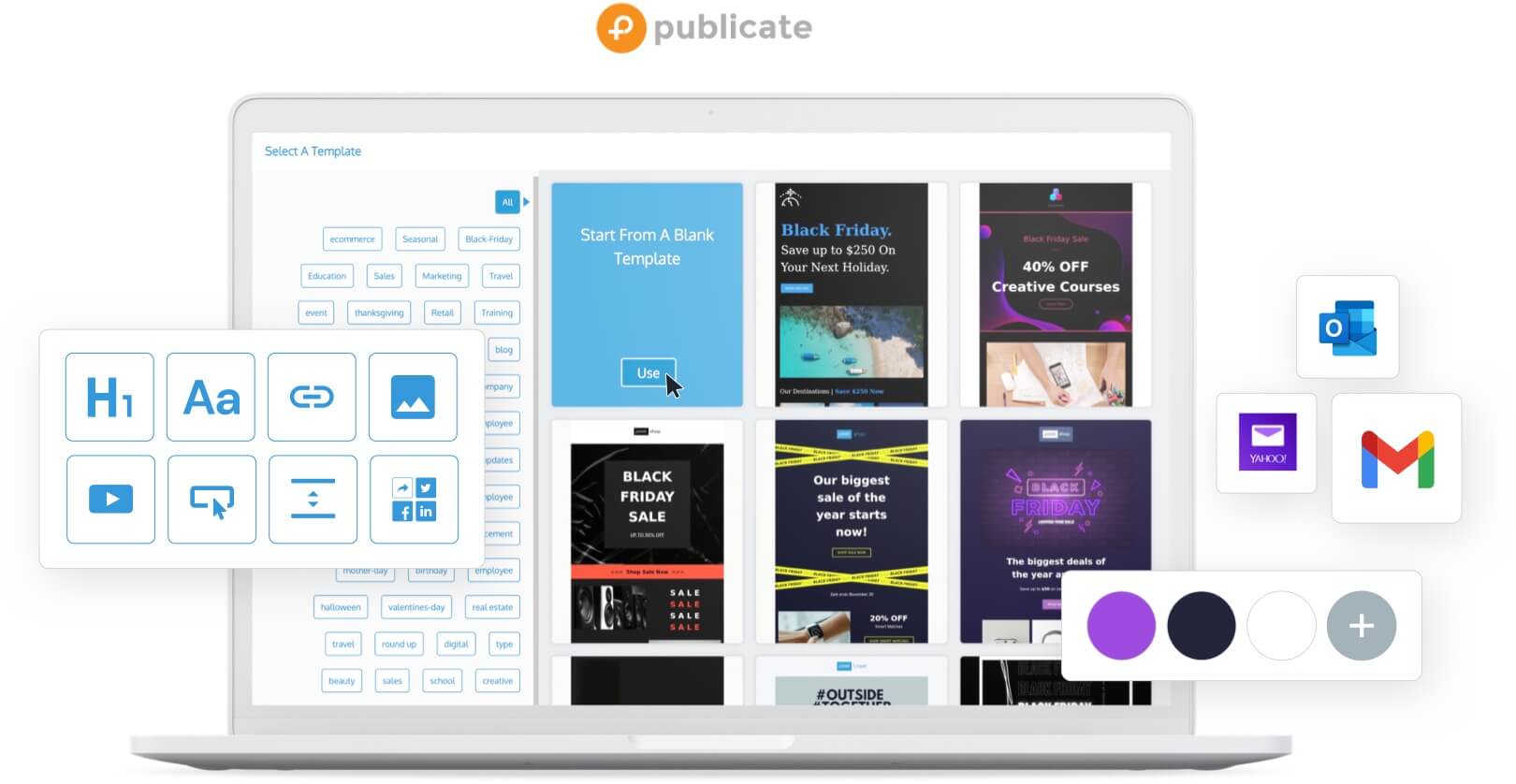 To get started, you can choose from an array of templates that are all sorted by type. For example, you can choose from Events, Sales, Internal Communications, Seasonal, Education, Industry, and more.
The tool is a great timesaver that allows you to

edit newsletter templates with a dynamic builder.

Its intuitive drag and drop design tool means there is no need for coders or designers. Now, you have the time and resources to focus on the content itself.

You can also upload your brand identity to the brand kit so that every email you create will contain your business' recognizable assets, like font, color palette, and logo.
There are also modules to curate content from across the web plus easily embed pictures and edit them in Publicate. You can also add files, gifs, videos, and lots more. This way you will never be short of content, and with every template created with best practices in mind, engagement and readership will always remain a priority.

Once you're ready to send your email newsletter, you can export it with the click of a button using our integrated tools for

Gmail, Outlook,

and any other email service provider of your choice.

‍

Once your emails are sent and your audience engages with the content you understand performance and optimize for future campaigns using detailed analytics from Publicate.
2. Chamaileon
Chamaileon is another internal newsletter software that offers more than 100 built-in email templates and easy collaboration with your team.
The tool allows you to import any HTML that you may already have. This makes it possible to either start from scratch or finish up what you've already started using the platform. Similar to Google Docs, you can see when any team member with access makes an update to the template in real-time.
3. Stripo
Stripo is another tool that is based on an online drag-and-drop functionality. The tool offers over 850 responsive email templates to choose from, content modules to build emails in less time, and an open HTML and CSS code editor if you want to build from scratch.
Plus, if you press send on an email, but want to make an edit to the content, you have the ability to edit it after the fact. Once you've built an email, you can see how it will render on over 90 devices, and you can send that test result for approval before disseminating your message to your entire audience.
4. Constant Contact
Constant Contact is an internal newsletter solution that provides features like social media posting, automation, list growth, and email marketing.
Like the other options on this list, Constant Contact also offers drag-and-drop functionality with pre-designed templates. It can be used for external communication too because it provides automation, so if a subscriber enters their email address on your form, they'll receive an automatic welcome email.
Everything with Constant Contact is stored inside its system. For example, you need to import all your contacts into Constant Contact to send emails from the platform (which is unlike Publicate where you can rely on your contact lists in whatever email service provider you're already using on a daily basis).
5. Hubspot Email Marketing
When looking for alternatives to Mailchimp, you'll likely also come across Hubspot Email Marketing. They have a lot of similarities, which is why Hubspot might not be your best option if you're focused on internal newsletter communications. 
Hubspot is also an automation platform that triggers emails based on a user's journey using conditional logic. The email tool can be used as a marketing platform, with features like ad management, live chat, pop-ups, and forms.
While it's a hefty solution for marketing goals, it may be overkill for internal communications when your primary focus is building newsletters. Taken from Hubspot's website itself, it's considered to be a CRM platform. There are options to select its Marketing Hub, Sales Hub, Service Hub, Operations Hub, or CMS Hub.
What are Free Tools for Creating Internal Newsletters?
When you're creating your email newsletters using internal newsletter software, there are some free tools on the web that can help to make your emails more engaging and exciting. Let's take a look at some of them:
1. Canva
Canva gives you design abilities without the need for a graphic designer. You can create branded images and newsletter header images. Select from templates that are entirely customizable. You can upload your own assets into the designs and download them as a .png, .pdf, or .jpeg file.
2. CoSchedule Headline Analyzer
CoSchedule Headline Analyzer does exactly what it says on the tin, which is analyzing headlines to gauge how enticing it will be for open rates. Writing good headlines is one of the most important aspects of sending productive email newsletters.
3. Emojipedia
Emojipedia is a library of emojis to input into your newsletter. Simply search for the emoji you're looking for, and Emojipedia will return you with several options.
4. Hemingway
Another recommendation for newsletters is to write simply so that everyone can understand your message. The Hemingway App helps you to review each sentence for its readability score by grade level.
It also helps to process reading time, which is useful because you should try to keep your newsletter reading time below 2 minutes. Data from a NNG study shows that people spend an average of 51 seconds reading an email newsletter.
5. HTML Color Code Tool
You can use the HTML Color Code Tool to match your brand colors by selecting any section within an uploaded image so the tool can return the color code. But, as we mentioned, you can also upload and save this information in your brand kit when you use Publicate's email builder tool so you will always have your branding ingrained into your email newsletters. helps you to review each sentence for its readability score by grade level.
The Bottom Line
The importance of sending internal newsletters cannot go unnoticed. Mailchimp can be a useful tool for some companies (especially for external marketing emails), but when it comes to internal communications, it may be more complex and challenging than it needs to be.
The good news is that you have the opportunity to utilize an internal newsletter software like Publicate. To make your internal communications endeavors and goals possible to achieve while saving time and money, see how Publicate can work for you by getting started for free. shows that people spend an average of 51 seconds reading an email newsletter.