The numbers are in– Gmail is still the most popular email provider in use today, with more than 1.8 million users worldwide. So, there's no wonder why you'd want to know how to send a newsletter in Gmail, use email newsletter templates, and send them through the world's most popular email service provider. 

If you're nodding your head "yes," then keep reading because we will cover everything you need to know about using an HTML email template builder like Publicate. 

Guide Index
Why Use Gmail Newsletter Templates?
This headline would probably better read, "Why not use Gmail newsletter templates" but here we are, so let's get into it. 

Managing internal communications can be a pain point for company leaders, managers, and HR professionals because of the time-consuming nature of dealing with creating communications. 

When an easy-to-use email builder is not being used in action, then companies have to rely on hiring a graphic designer, a marketing expert, and most likely, a developer or IT professional to ensure that everything looks good to send out a mass email. 

All of that extra hassle can be avoided when you begin with Gmail newsletter templates and an email builder tool that supports their use. 

With an email builder like Publicate, you have access to a huge array of Gmail newsletter templates, so you can accomplish your goals in less time, and with less effort. 

Sending Gmail newsletters is useful for internal communications because you can easily share any type of message you wish to, from announcing new hires to sharing new company policies to promoting a company event. 

Internal communications are vital to an organization because when it is done right, internal communications will help to:

Boost employee engagement 

Add clarity between departments that don't often collaborate 

Ensure that important messages get delivered 

Aid in recognizing an employee or team for a job well done 

Keep everyone aligned to achieve company goals 

Along with using a Gmail newsletter template to create and design a visually appealing and captivating email newsletter, Publicate's email builder provides you with a centralized location to review your email's success with metrics. 

The tool also has the ability to integrate with the technology and software that you are likely already using, such as Slack, RSS Feeds, Twitter, to name a few. 

What are the Best Newsletter Templates for Gmail?
The above all sounds great, doesn't it? 

So, let's take a look at some of our favorite Gmail newsletter templates that you can use straight from Publicate's library of options. Keep in mind, this is an extremely abbreviated list to give you an idea of what you can do with these templates. 

If you're looking for a different template, check out the library of options for internal communications templates here.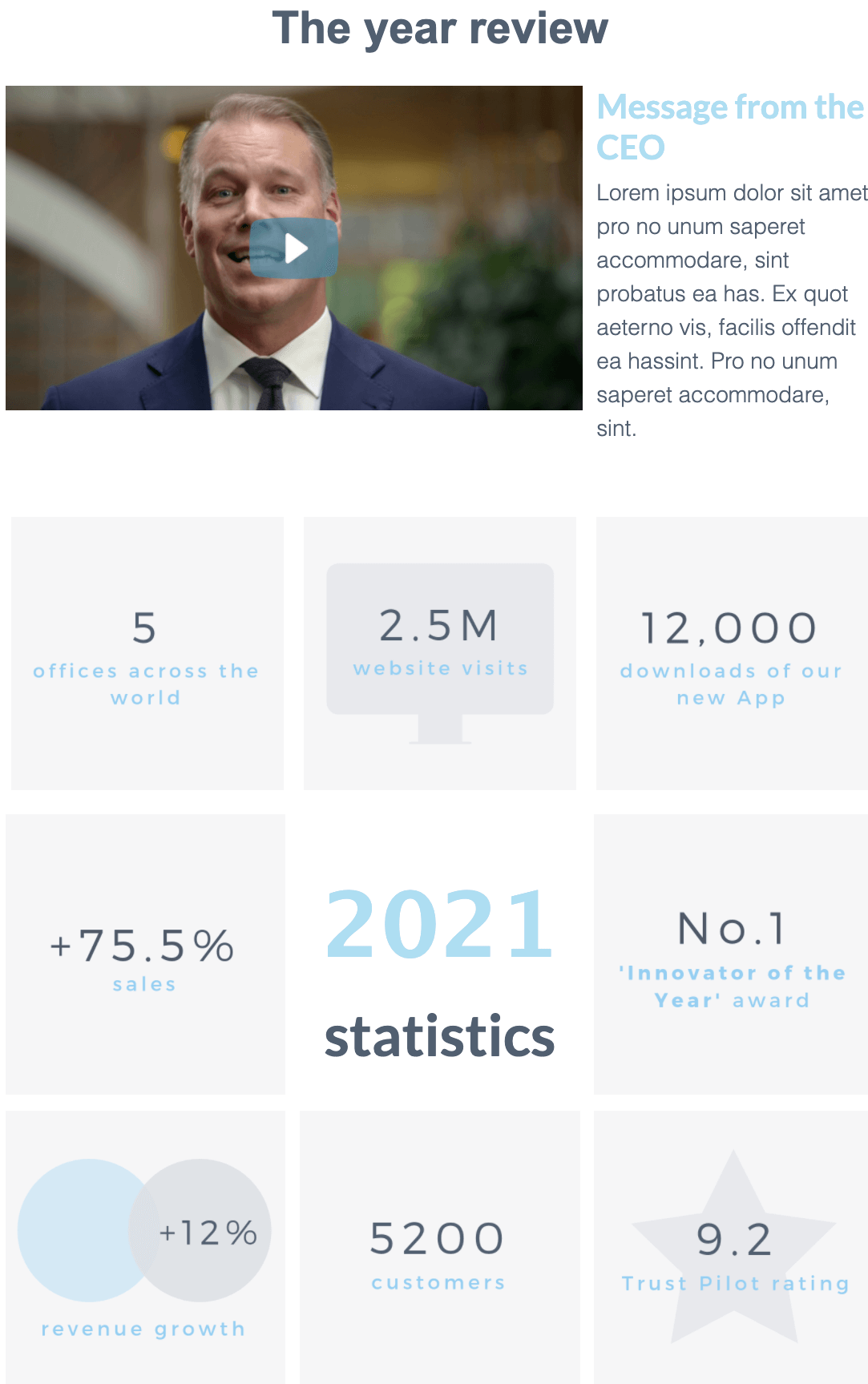 Let's kick off the list with a responsive email template that is sure to have an impact on its readers. A lot has happened in the past year, and it's important to celebrate the wins with your employees. 

This template is great because you can start off with a high-level video message from leadership, which can share appreciation, and then lead into a quick overview of the year's highlights with snippets and figures that are easy to digest. 

It's short, sweet, and to the point. It's also inherently motivating in its tone and style because it combines a leadership message with measures of success.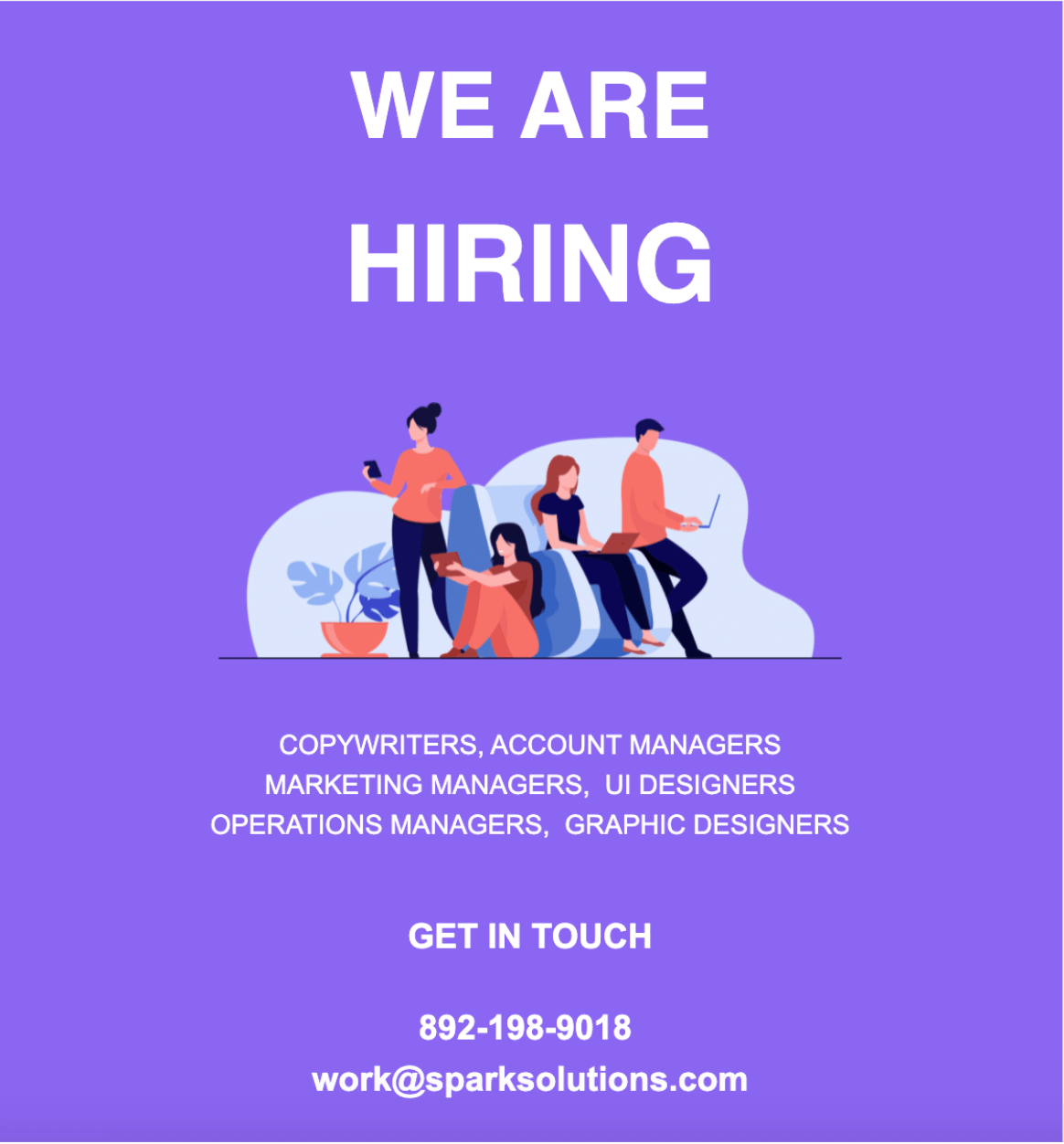 This is another useful Gmail newsletter template, especially on the heels of the Great Resignation of 2021. With a record number of unemployed people and job openings, it might make sense to promote within your organization and/or leverage your team to help you find top-notch talent. 

This newsletter is ready to go. All you have to do is input the positions you're looking to fill, a call-to-action, and some contact details. Then, you're one step closer to finding your next new hire (which you can also announce with a new hire template to introduce them to the rest of the team).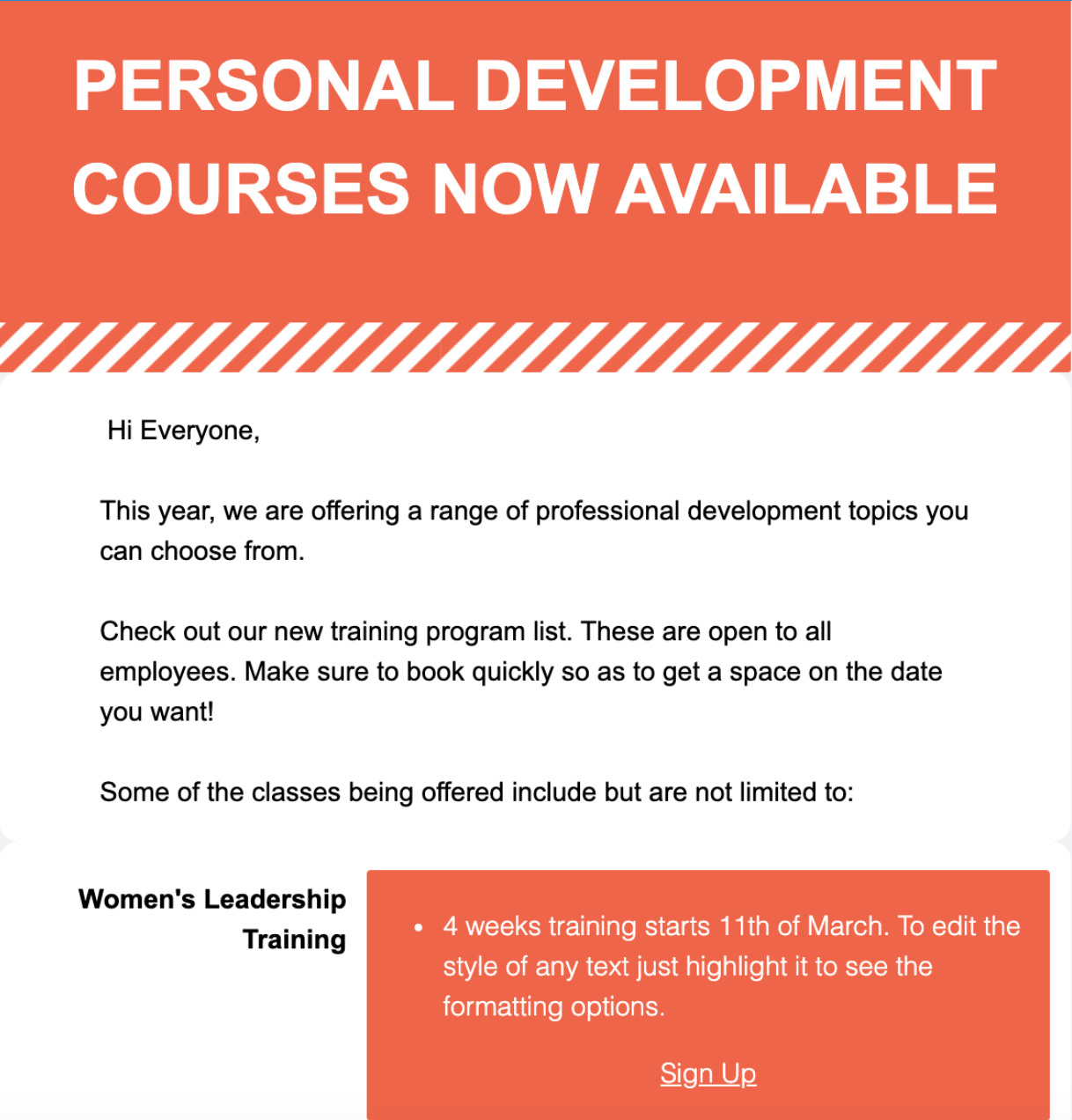 If you're looking to foster an engaged workforce who seeks the chance to learn and develop their skills, then it's up to you to provide them with the resources to make this happen. Along with granting access to professional development opportunities, you'll have to publicize them and spread the word, which is why we love this Gmail newsletter template. 

The block format makes it easy to decipher between course offerings, as well as gives the ability to simply click on the link of interest and sign up. 

How To Create A Newsletter Template for Gmail?
Gmail (and all email providers for that matter) operate using HTML, which stands for HyperText Markup Language. It sounds more confusing than it is, but it's what allows a computer to render your message (and web pages, etc.) in its visual form. 

While you can create a newsletter template using Google Suite, you'll have to make use of Google Docs and Gmail at the same time. Creating a Gmail newsletter template in Google Docs begins with using the template gallery. Then, you'll have to edit your message and copy/paste it into Gmail once you're ready to send. 

This might not result in the perfectly pictured email that you had in mind from the design phase. You may notice that alignment is off, or that images aren't showing up exactly as you wanted them to. If you want to personally address all of your contacts by name, you'll need to use an add-on. 

You can skip over all these extra considerations by using Publicate's email builder instead. The simple interface operates off of drag-and-drop functionality, so you can visually edit your emails directly on the screen. 

Because Publicate uses responsive email templates, you can rest assured that once you export it into Gmail to send, everything will look exactly as intended across all devices. Plus, you can add video, links, and hi-res images by clicking on the relevant icons to do so. 

How Can I Send an HTML Template Through Gmail?

Publicate makes it really easy to send your HTML template through Gmail (or whatever email provider your company is already using to send emails internally). 

First, you have to just create your newsletter on the web builder platform. 

Create your HTML template by signing up to Publicate and starting from "Email Newsletter" or "Start from a Template"
Customize your email newsletter with any type of content you wish to send (videos, URLs, copy, images, GIFs, etc.) 
Save your creation 
Then to send said newsletter using Gmail, all you have to do is follow these steps:

Install Publicate's Gmail plug-in into Gmail
Choose the "Export to Gmail" option from your Publicate template on the web-based builder
Compose a new email in Gmail and pick the Publicate icon to select the template you just created
Add recipient(s)
Send away!
That's right: with just a couple of clicks (that are intuitive, if we say so ourselves), you can design, edit, and create beautiful email templates that can be sent using Gmail (in a process that's as easy as composing and sending a regular email in Gmail). 

Why Use a Gmail Newsletter Template Tool?

Using a Gmail newsletter template tool removes the time-consuming and stressful process of having to create an email newsletter using code or with other third-party software that can become complicated quickly. 

Gmail newsletter template tools like Publicate provide a drag-and-drop interface making the entire design process guided and seamless. Along with the ease of use, you have the ability to include any type of content you wish to from pictures to videos to links, and more. Publicate provides you with over 2 million royalty-free images that you can crop and align straight in the email builder. 

Once the email is created using the template, it is set to be responsive across devices, so you don't have to worry about alignment issues or any copy being cut off based on smaller screen sizes. 

Publicate also provides you with detailed newsletter analytics to measure the performance of your email newsletter so you have actionable insights to understand what content is being read. 

The Bottom Line

Gmail newsletter templates simplify the process of sending internal newsletter templates through the email system you already know best. With Publicate's web-based email builder, you can create newsletters in minutes that are ready to export straight to Gmail using the installed plug-in. 

And, the good news is that when you send email newsletters with Gmail, they can be personalized. Since they are sent via Gmail and not a third-party provider, you also reduce the risk of your newsletter landing up in the Promotions tab in Gmail and being completely missed by your intended audience. 

Get started using Publicate's Gmail newsletter templates today.