One of the best ways to significantly improve your email marketing strategy is to use business email templates. Check out our compilation of over 200 free templates alongside expert advice on how to best utilize them. 
Learn how to boost your marketing efficiency, enhance your email's appeal, and drive those engagement rates up in the following sections. 
Dive in to transform your email marketing approach! 
What is a Business Email?
Professional business communication is key for the success and growth of any organization. Emails are an essential part of this strategy. They are often the first contact point with clients, colleagues, stakeholders, and other parties. 
The way an email is written reflects on the brand's reputation and overall work connections. Crafting quality, professional emails is a must to secure your ticket to success over the long-term.
All company emails may differ in regards to purpose, tone, and structure. However, they all should remain within the bounds of professionalism. 
Any particular values and standards the organization wishes to express should be artfully expressed in all correspondence, including promotional communications, newsletters, transactional emails, and internal notifications.
Business emails act as catalysts for disseminating essential information and prompting the desired activities. Being concise, understandable, and result-driven, they play a critical role in achieving business objectives, cultivating relationships, and keeping contact steady.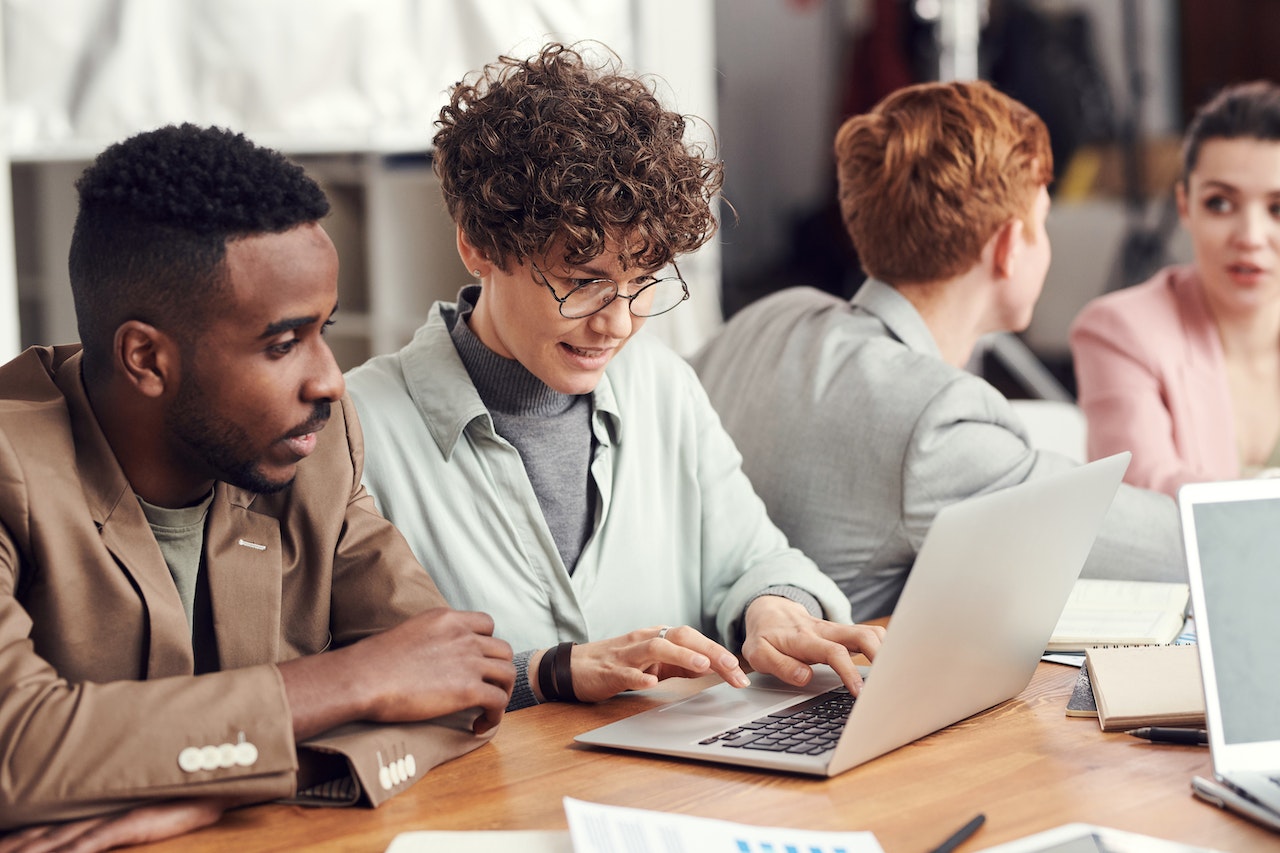 Picture from Pexels
What are the Benefits of a Business Email Template?
Business email templates offer a multitude of advantages to sharpen up your communication plan. Most importantly, they save time and energy. 
These pre-built templates from Publicate are a fast, efficient way to customize emails rather than having to start from the beginning every time. This means you'll be able to work smarter and maximize every resource available. 
Publicate's email builder makes it easy to design and send email in no time, without any need for a designer or coder. You can easily embed HTML emails in Gmail, Outlook, or your chosen email provider. 
Consistency is key when it comes to your business emails. An email template is a powerful tool that can help you maintain brand image. With a range of features, most free email templates will include all the necessary elements you need to consistently present your branding. 
This means colors, fonts and logo placements are easy to incorporate. So that brand identity is reinforced with each and every sent email, creating a strong effect and connection with customers.
Business email templates provide a strategy to make sure important components like visuals, calls-to-action, and headlines are optimally placed for the highest possible impact when communicating with readers. 
This ensures content engagement as well as prompts recipients to take the desired actions. Thus, these premade models can be incredibly useful in optimizing communications and amplifying their value.
What are the Types of Marketing Campaigns?
Email-based marketing campaigns can take on a variety of different forms, depending on the aim of the campaign, who it is targeting, and which communication channels are being used. 
Here are three common marketing approaches that rely on emails to be successful.
1. Email Newsletters
Staying connected to your email subscribers is a great way to demonstrate your worth regularly. Keeping them informed with up-to-date news, compelling stories and exclusive insights helps you build credibility and extend customer reach. Leverage the power of newsletters to truly get your name out there.
2. Drip Campaigns
Drip campaigns are a strategic and powerful way to communicate with potential customers or leads. 
Through a series of automated emails, your business can onboard new users, arm them with helpful insights, and guide them through the sales process in an efficient and timely manner. This method of communication is an invaluable asset for any business looking to increase conversions.
3. Promotional Campaigns
Get maximum attention for your brand through promotional campaigns. Perfect to stimulate purchases, these campaigns can be used to maximize your revenue - whether for a product launch or special occasion. Immediate action and results are sure to follow.
What are the Types of Business Email Templates?
Crafting the perfect business email comes down to knowing which type to use. To guarantee efficient exchanges, a library of reliable templates, like these from Publicate, is essential to get the job done. 
Here's a selection of ten highly regarded email formats and what they should include:
1. Welcome Email Template
First impressions are key, which is why Welcome emails are critical. These messages introduce people to your brand, thank them for their interest, deliver useful and interesting information on what you offer, and set the tone of what they can look forward to in your future communications.
2. Newsletter Email Template
Crafting the perfect newsletter requires attention to detail and thought carefully placed into the design. Templates must be tailored to include various pieces of content that could range from articles, blog posts, and company updates. 
To maximize reader engagement, the layout should be kept simple and neat, with a concise navigation bar which helps readers find what they are looking for quickly. 
Publicate offers an array of email newsletter templates that integrate with your preferred email providers, like Outlook, Gmail, and the like. 
3. Promotional Email Template
Need an attention-grabbing message to let customers know about exciting new deals and products? Look no further than promotional email templates. Make sure yours stand out and draw attention to the main details. 
Above all else, include a clear, motivating call-to-action asking customers to take advantage of this offer immediately.
4. Transactional Email Template
All transactional communications, like purchase confirmations, shipping notifications, and account updates, require special templates. These should offer concise, clear information while still reflecting the look and feel of your brand. This way, it's possible to maintain a consistent customer experience.
5. Event Invitation Template
Embarking on a webinar or promotional campaign? Make sure your event invitation template is effective, captivating and straightforward so that your guests have no problem registering. Take the time to display the top details of your occasion in order to ensure a successful turnout.
6. Abandoned Cart Email Template
These templates have been designed to retarget customers who have yet to complete their purchase, by providing them with a reminder of what's waiting in their carts. 
Furthermore, this should guarantee a seamless checkout process without any complexities. Seize the opportunity to leave no purchase incomplete.
7. Survey Email Template
Gathering customer feedback is essential for any business, and the survey email template helps you achieve that. Let your customers know how long the survey will take to complete and why you are collecting their feedback. 
To increase survey response rates, make sure to offer some kind of reward as incentive.
8. Announcement Email Template
Get folks energized about upcoming products or major company news with a compelling announcement email. Make it fun, informative, and ready-to-test for the ultimate effect.
9. Re-engagement Email Template
The purpose of re-engagement emails is to engage subscribers who have been idle for some time. Template content should include updates, showing off latest offerings or attributes, and include a persuasive motive for users to link up with your brand again.
10. Lead Nurturing Email Template
To ensure that potential customers proceed with confidence further down the sales path, lead nurturing templates are essential tools. By providing invaluable, relevant and applicable information related to the product or service at hand, they are able to nudge readers in the direction of purchasing.
How to Choose the Best Business Email Templates?
Choosing the right business email templates is an important part of your email marketing strategy. The right templates can enhance your brand image, drive engagement, and facilitate your campaign goals. 
Here are four key aspects to consider when selecting the best business email templates for your organization.
1. Consider Your Brand Identity
Your emails should be an extension of your brand. Their visual aesthetic should reflect the distinct identity you've worked to build. 
Utilizing custom templates that are tailored to your choice of color scheme, font style, and logo positioning allows you the assurance that any email will possess a recognizable and comfortable familiarity for your audience.
2. Identify Your Goal
Every email has something different to offer. So it's essential to pick the template that fits your objective perfectly. 
For example, if you're sending a newsletter, you may prefer a multi-section layout. Whereas, if you aim to promote something, an eye-catching design with no-nonsense CTA buttons can help you reach your goal more quickly.
3. Ease of Use
When it comes to achieving desired customization, having user-friendly templates simplifies the process and saves time. Look for templates offering intuitive editing tools for quick modification of content type and length with no advanced programming expertise required.
4. Responsiveness
The way your emails appear on different devices is essential for a modern audience. Creating a responsive email template will adjust the design and content to fit the screens of their readers, preserving a professional look no matter what device it is.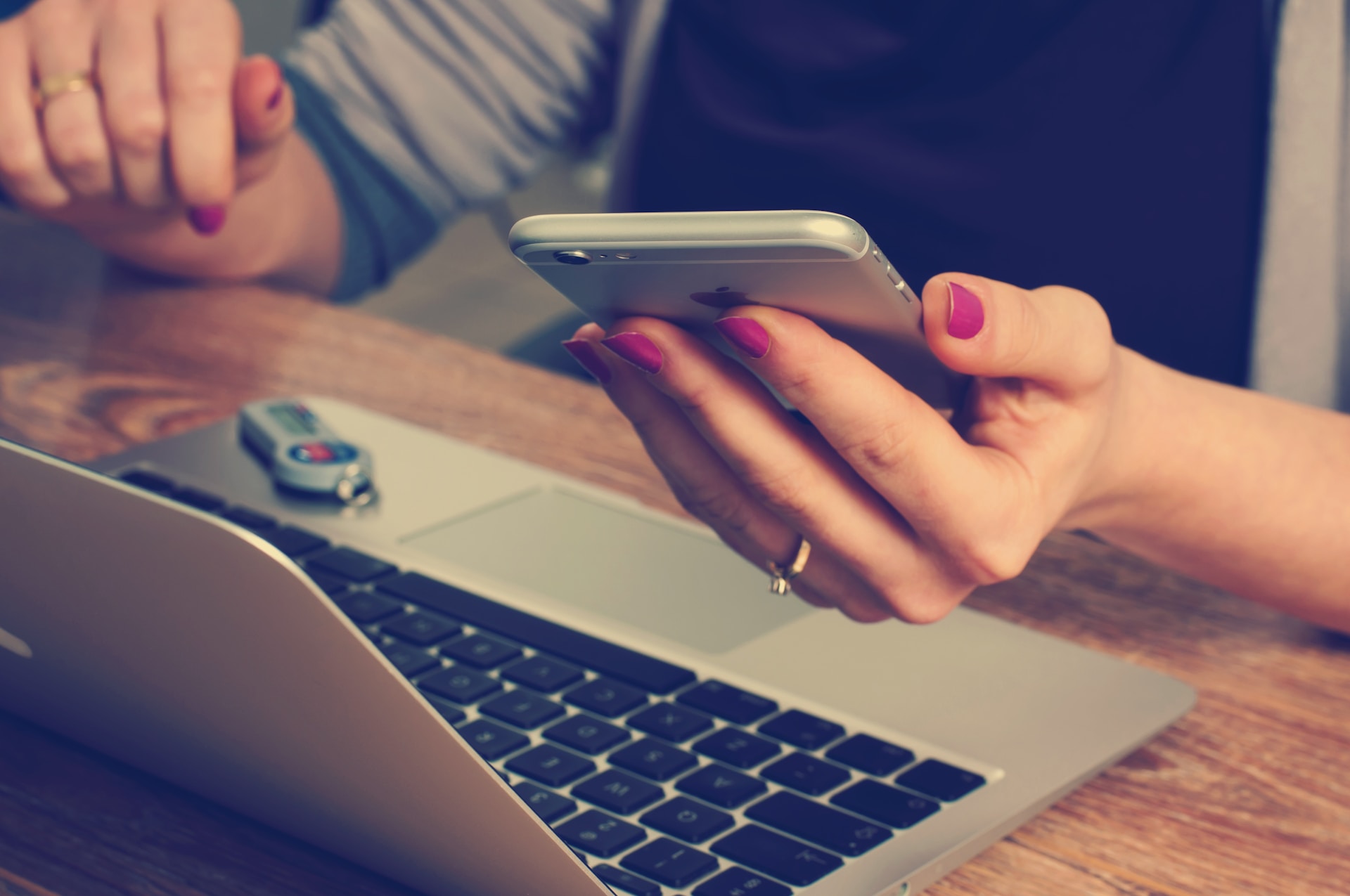 Picture from Unsplash
What are Best Practice Tips for Using Business Email Templates?
Business email templates can revolutionize your e-marketing strategies, but you need to keep key considerations in mind to get the maximum out of them. 
Here are three game-changing tips to help you use email templates effectively, build brand consistency, and spur engagement from your readers.
1. Maintain Consistency
A trusted and recognizable brand image starts with your emails. Create templates with an unmistakable visual identity, from logo placement to often-used colors, fonts, and even the manner of writing. 
Your messaging should also stay true to the personality of your brand, forming a reliable relationship with your loyal readers and customers.
2. Optimize for Mobile
Maximize engagement with your campaigns by optimizing your emails for mobile devices. Make sure your text is easy to read, all buttons are tap-friendly, and images scale correctly on small screens. 
Crafting a mobile-friendly message boosts the user experience and reduces the risk that it will be disregarded. This is easier than ever with Publicate's pre-built templates that are designed (and have been tested extensively)  to look amazing on all platforms.
3. Personalize
Unlock the true potential of email marketing by taking personalization to the next level. Harness data insights to create messages tailored to each of your customers' preferences, past behavior, or demographics—delivering far more powerful communications that will spark increased engagement and strengthen customer relationships.
How to Create Business Email Templates with Publicate?
For businesses aiming to create attention-grabbing email campaigns, Publicate offers a comprehensive suite of email template examples that help to produce stylish emails in no time. Choose from templates for events, seasonal communications, internal communications, sales, and more. 
From newsletters to promo material, discover the right template for your purpose and customize it to make it reflective of your brand's visual identity. Easily create the perfect email to suit your needs with Publicate. or put your own stamp on the design. With a comprehensive suite of functions at the ready, you can truly craft your newsletter to embody your brand and realize your vision.
The intuitive platform of Publicate presents a personalized user experience for email customization. 
Expert and novice users alike can swiftly introduce their content, select a color palette, incorporate visuals and edit them inline with the image editor, and modify the layout to match their aesthetic preferences. 
They can design emails that captivate audiences all without any coding know-how. Plus, once they click send, Publicate provides analytics to gauge how your email performed. 
Publicate does more than just create templates- its seamless integration with leading email service providers makes distribution a breeze. Connect your provider of choice and streamline the process of delivering your personalized messages to targeted audiences with ease. 
Take advantage of the best email template builder- save time, eliminate errors, and ensure your carefully crafted email is delivered precisely as intended.
Wrap Up
Access the advantage of business email templates and upgrade your email marketing approach today. Optimize your communication tactics, strengthen your brand identity, and get readers more involved. 
With Publicate, developing professional email templates is effortless and efficient. Elevate your email marketing to the next stage now by signing up for a free 14 trial!