We asked our customers what their biggest newsletter challenges were.
Unsurprisingly "newsletter ideas" was one of the top.
So what ideas can help us to get the best results?
The newsletter is one of the most effective channels we have as marketers.
How do we keep our readers engaged and wanting more? Of course, the lion's share of these results is down to the content you use.
You knew that already though didn't you.
Knowing that the content is key is not the challenge. Its which content, its keeping that content fresh. That's the tricky bit.
In this post we'll cover exactly that. 39 high performing newsletter content ideas to keep your content fresh.
Guide Index
Why do people sign up to your newsletter?

Start here.

Understanding why people are signing up to your newsletter is the first step.

It is the insight that will give you inspiration and let you know which of the ideas are best. Especially for your specific audience. After all, what works for one newsletter, might not work for yours, or your subscribers.

The best way to understand this is to ask your readers some questions;

What do you love about our newsletter?

What is it missing?

What would you like us to start doing, or do more of?

What have you seen in other newsletters that works well?

Don't over do it with questions, 3-5 is a great number, easy to answer and won't bother your readers too much. It also means that you can ask more questions in the future.

Once you have this insight you'll have a good understanding of what to include in your newsletter.

Remember, email newsletter design is important to keep readers engaged, but nothing is more important than content.

39 Newsletter Ideas

Once you understand your readers it's time to get your creative hat on and start thinking. What fresh newsletter content ideas can you use to keep them wanting more?

Well, here is a comprehensive list of 39 email newsletter ideas to get you started.

Promotional Newsletter Ideas

Competitions, coupons and giveaways are the absolute bees knees. Here are our top promo ideas to add to your newsletter idea list.

1. Discounts & Coupons

Oh how we all love a good discount! And the stats prove it. Convince and Convert found that:

"75% of consumer report scouring their inbox for discounts"

They're also 5 times more likely to make a purchase if you offer free shipping. People are more likely to buy something for £5 with free shipping but will pass it up at £2.50 with a £2.50 shipping fee, crazy huh?

Psychology is everything when it comes to business.

2. Competitions

Increase your reach and click throughs with a competition, the real 'money-maker'.

Everybody loves the chance to win something. It's a way of saying 'thank you' to your super loyal customers.

Ideas can range from 121 calls with an expert, product giveaways or weekends away. Make sure you reap the PR benefits!

3. Refer a Friend Campaign

Who do you trust more: your friend or a brand?

Your friend of course! So its no surprise research shows that recommendations from friends are more powerful. Take this example. By implementing a referral campaign, Dropbox grew their database by 40% in 15 months! Without spending a dime on extra advertising.

Take advantage today to boost your sales and grow that database!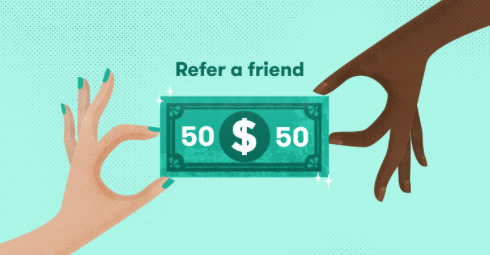 4. New product Launch

To pique your customers curiosity about a new product follow these steps:

Tease them with a campaign to build hype around the new product.

Get them to sign up to a livestream reveal so that hundreds are talking about it before the big launch!

On D-day, focus your email exclusively on the product. Don't dilute the message or only focus your attention on social channels. Remember 66% of customers make purchases as result of email marketing.

Content, Content, Content!

Company updates are great in moderation but too much "me talk" will send your readers to sleep - it gets tiresome. Be sure to make room for newsletter ideas that are fun and educational.
Content often performs better than promotions so without further ado...

5. Top Ten Lists

When you use Publicate, you can simply use a template to start adding content. Additionally, you have the option to take advantage of curated content. 

So, once you find a couple of links on the Web to add your top 10 list, you can simply transfer them over automatically into Publicate, rather than having to write out titles and link to them yourself.

There are top 10 lists for just about everything; top 10 travel destinations, top 10 viral videos, top 10 SEO tips.
But why are they popular amongst amongst readers? They're catchy, easy to digest and super easy to remember.

‍In an interview with Stuart Fischoff, Senior Editor of the Journal of Media Psychology, he stated that:

"If we can break things up into chunks of meaningful data, it's much easier for us to store and remember them"

Think about your target audience, what are their interests, what hooks them?

Use that insight to create 10 out of 10 content as a killer newsletter idea.

6. Polls, Quizzes or Surveys

Publicate makes it easy to create interactive newsletter content such as a Quiz newsletter. 

After you send out your newsletter, you can also use the analytics to see how engaged your recipients are. This way, you can see who hasn't yet opened or clicked on the email, in case you want to solicit their feedback personally.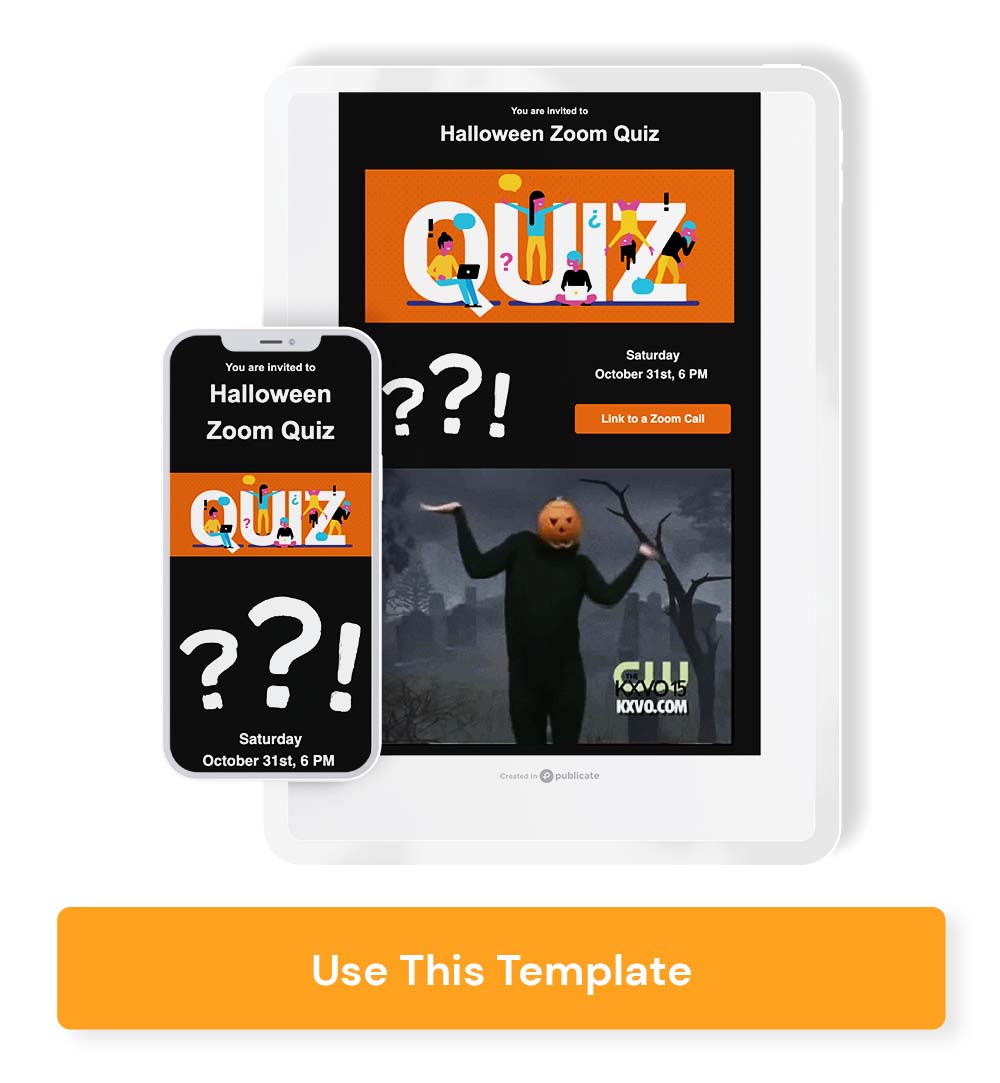 These are the perfect go-to newsletter idea and tend to get great engagement!

Why do people love them so much?
They give people a chance to engage with a brand, join in on the conversation and express their opinions.

But for you as a brand, polls, quizzes and surveys are a great way to understand your customers needs.

Take this for an example. Starbucks asked customers what brewing method they wanted to find out more about.

The vote triggered more content about 'coffee press'. When customers asked for more information, the company had links readily available. Starbucks gave their customers exactly what they wanted.

These are the perfect go-to newsletter idea and tend to get great engagement!

Why do people love them so much?
They give people a chance to engage with a brand, join in on the conversation and express their opinions.

But for you as a brand, polls, quizzes and surveys are a great way to understand your customers needs.

Take this for an example. Starbucks asked customers what brewing method they wanted to find out more about.

The vote triggered more content about 'coffee press'. When customers asked for more information, the company had links readily available. Starbucks gave their customers exactly what they wanted.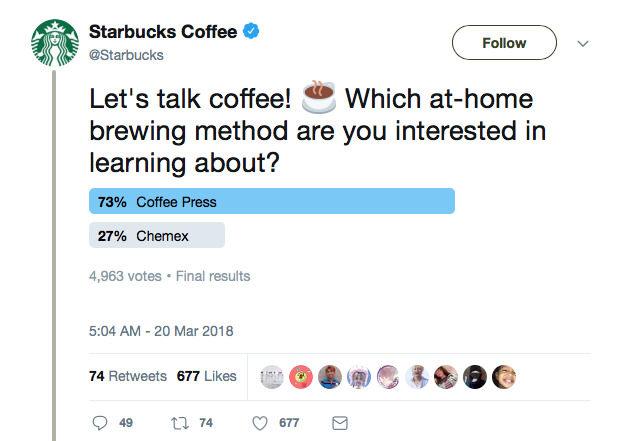 Top tip: If you can, try adding a little humor. If it's suitable for your audience and brand, crack a joke, make em' laugh! This type of content is win win for your customers, and win win for your newsletter.

Get polling!

7. Curated Content

This is one of the greatest company newsletter ideas.

Don't spend hours creating new content. Instead 'curate' other peoples content. Simples.

Curated content is one of our all-time go to newsletter content ideas. In lamens terms you are sifting through large amounts of content online. Then presenting the best posts in an organised and meaningful way - saving hours of hard work.

Bonus:
Publicate makes curated newsletters incredibly easy. Connect your content sources to your library, and then just drag and drop your favourite content.
Try It Free Now.
It's not just about creating anymore, it's about finding, aggregating and rating. Newsletter audiences love it too as it saves them having to do the filtering.

8. Guest Blog Post

Guest posting is a powerful way to build your readership. A great addition to any newsletter idea.

The deal goes like this: you post on somebody elses blog, or they post on yours.

It's a great way to get your brand out there whilst also building credibility and authority. In fact, Social Marketing Writing found that:

"62.96% of people believe that blogs with multiple authors are more credible"

We prefer the hybrid approach. Ask a relevant industry expert to post on your blog (for SEO reasons of course). Then include a little snippet in your newsletter like SEO Moz did below.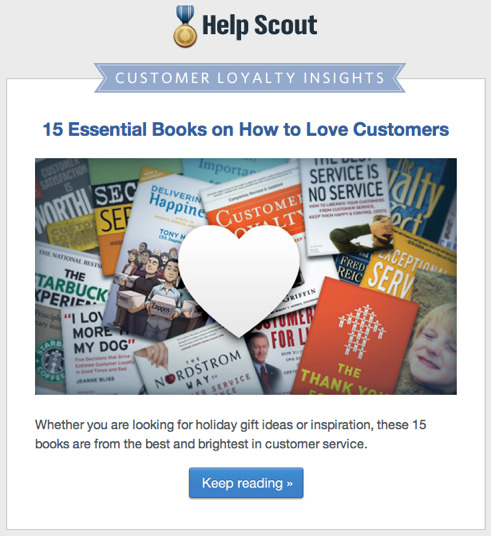 9. Infographics

Don't bore your audience with pages and pages of stats.

Slice and dice your top 10's and company statistics in the form of an infographic. When done correctly they're a visually compelling piece of content, communicating complex data.

Top tip: Use Canva to create your own infographic if you don't have a budding Graphic Designer on the team.

10. Quotes and Motivational Statements

Who doesn't love a good quote? You don't have to start reciting Shakespeare to inject some life in to your newsletter. Inspirational, motivational and humorous quotes work beautifully.

"Content is king, but distribution is queen and she wears the pants." - Jonathan Perelman

11. GIF's

The stats say it all. GIF's are the go-to tool if you want to capture people's attention.

They bring marketing to life, inject humour, they're low cost and easy to create. Our how-to email GIF guide says it all.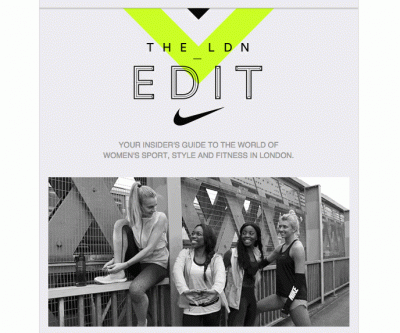 12. Industry Related Podcast (By You or Someone Else)

Are you hosting or participating in a new podcast? Include it in your newsletter ideas list.

Podcasts are on the rise in the UK. According FastCompany:

"In 2018 there are now over 525,000 active shows"

"44% of the population have listened to a podcast, with 80% listening to all or most of the show"

Think about it, people are so busy these days. Commuting, running erands, looking after the kids, walking the dog. People need easy digestible content available at the click of a button so they can multi-task.

13. Third Party Apps and Tools

Do you organise your team with Trello? Communicate via Slack? Or meditate with Headspace?
Tell your customers! Don't keep it a secret.

14. Free Resources

Everybody loves a freebie! Round-up an insight in to your 12-week fitness plan or latest Instagram strategy.
‍
Free content like this encourages people to sign up to what you're really trying to sell.

It's also one of the best ways to collect data if the freebie sits on your blog or landing page, and we all know that data=ROI!

15. Newsletter Roundup

Roundup your most popular blogs, videos, or services from the month or year.

This is a great way to share your most valuable content in one place. Especially for those who may have missed the original posts.

Question:
Thinking of starting your own? Create a beautiful newsletter roundup in minutes with the simplest newsletter builder on the web. No design or coding skills needed, just drag and drop.
Get Started Now.

Your Product

Serious about growing your business? Then keep your subscribers in the loop on the latest gadgets and services from your brand.

16. Product Updates

Let customers know about exciting changes to your product or service. Create a buzz! Tease them with little nuggets of information before the big reveal.

Remember how excited we all used to get when Steve Jobs got up on stage to announce Apple's latest products? Infuse this anticipation in to your marketing strategy.

17. How-to Guides

How-to guides are our bread and butter here at Publicate. The web is full of guides! Showing you how to do everything from snapping your fingers, to how to chop up tomatoes from a can - yes really!

A strong how-to guide can create brand awareness, generate leads and demonstrate expertise.

18. Weekly YouTube Videos

Whiteboard Friday by SEO Moz is a great example of generating employee content.

Every week, Moz founder Rand Fishkin breaks down complicated SEO concepts. Sounds simple right? But his focus on clear communication and simple illustrations=39k views per video!

19. Customer Testimonials

If you're not shouting loud and proud about your customer testimonials - you're missing a trick! According to Spectoos:

"A study found customers spend 31% with businesses who have good client testimonials"

They also improve CTR's, conversions and SEO.

20. Product or Service Demo

We all love a good demo. Remember Blentec's 'Will it Blend' campaign that went viral? Yeah, we loved it too.

Enough said.

21. New Features of Your App

When launching a new feature how do you promote it to your customers? Through your newsletter silly! There are other marketing channels but nothing trumps email marketing. To this day it's still one of the best ways to engage with your aduience.

Fun Employee Newsletter Ideas

Nothing beats a cute animal video or wacky images of the weather - especially if you're British. Try these fun things to put in your newsletter for starters...

22. Wacky Employee Photos

Every now and then it's nice to see who's behind the screen of a brand. We're human after all and connection means everything. If we can connect with a brand on a human level, we're much more likely to buy in to the product.
Try raising money for your favourite charity by sending your team on a fun Colour Run! Good cause + Laughter + Colour = winning content.

This is up there as one of the top fun things to put in any newsletter.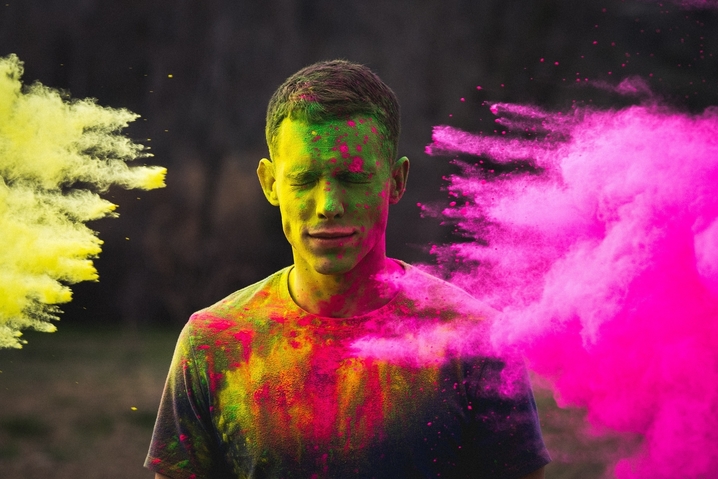 23. What's The Deal With the Weather?

British or not, people love talking about the weather. But how can the most British of conversations provide content and drive sales?

Take for example a gym. If the weather is crap, a gym should be pushing their marketing efforts in a bid to increase memberships. whereas on the opposite scale, airlines have a 29% in sales if they promote holidays whilst it's sunny.

Use this to your advantage now and inject a little humour.

24. Cute Animals mean Big Bucks

Emotional marketing works, period.

To connect with readers, utilise the sympathetic connections forged through emotional marketing. Take this example: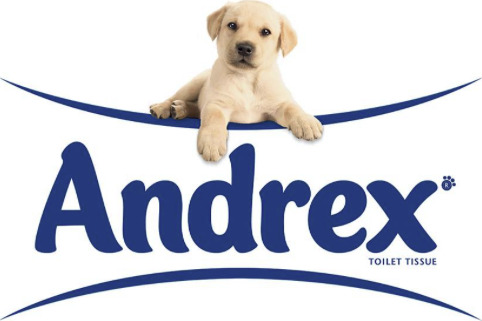 Doesn't this just make you feel all warm and cuddly inside? The product, not so cute. But the puppy, oh how our hearts melt. Superb example of emotional marketing that has made big bucks for the company.

What content could you include in your newsletter to tug at the heart strings?

Events

Events offer a powerful opportunity to get to know and also grow your customer base. As well as ensuring your customers are kept up to date with promotions and events. Adding them to your newsletter is a good was to create buzz, build hype and referrals.

25. Workshops

A real-life workshop provides connection, interaction and raw real feedback.

When done well, it can grow your business exponentially. You instantly build credibility and authority as an industry expert.

And it gives you the chance to sell further products and services such as:

Special product offers and discounts

121 coaching

6 month training programs

Online courses

26. Trade Shows

Trade Shows can help you establish a bigger presence for your brand. They are also an ideal opportunity to generate highly targeted business leads.

Not to mention they give you the opportunity to meet people face-to-face.
But why would I include this in my newsletter?
Because you can create early buzz and generate media interest all before the show.

It gives the media and potential attendees time to add your booth to their agenda.
Just ensure that it's loud and clear what you do!

27. Fun Holidays

People love seeing businesses climb onboard with all these silly fun holiday days.

Why?
Because it shows your audience that you have a sense of humour which is something we can all connect with.Making it a fun thing to include in a newsletter.

Our personal favourites are:

National Donut Day (hello?!)

National Puppy Day (cuteness overload)

National French Fry Day (well, who doesn't like chips?)

28. A Speech or Talk You're Giving

Speaking at Search Leeds? Or at a large community project? Shout about it! Add details of your talk to your newsletter. It will prove to your audience that you're an expert in your field.
‍
Just make sure you practice ;)

Business Information

29. Company Milestone or Anniversary

Celebrating company milestones and anniversaries are a great way of communicating your experience. Without saying 'look how great we are'.

‍Facebook did a brilliant job of marketing it's 10th anniversary. They surprised users all over the world with a video summary of their life so far on Facebook - a "Look Back".

The videos connected emotionally and reminded us just how important Facebook had become.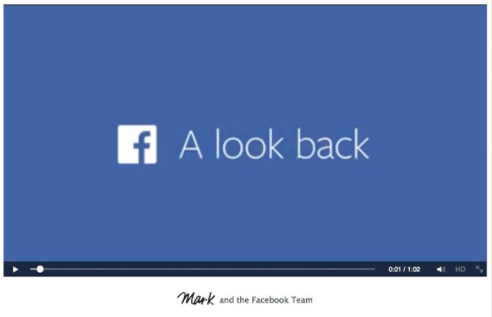 30. An Award You've Won

Winning awards gives prospective customers more confidence in you. They help to ensure that they pick YOU over the competition.

Awards drive more traffic and enhance your credibility.
Shout loud from the rooftops!

This is one of the best email newsletters idea to win customers over.

31. A Challenge You're Participating In

Ice bucket challenge anyone? If you're thinking of doing similar, some of the key takeaways from this viral challenge were:

The power of video is everything

It has to be fun

For a good cause

And simple

Keep your challenges simple and following these 5 steps for a successful campaign.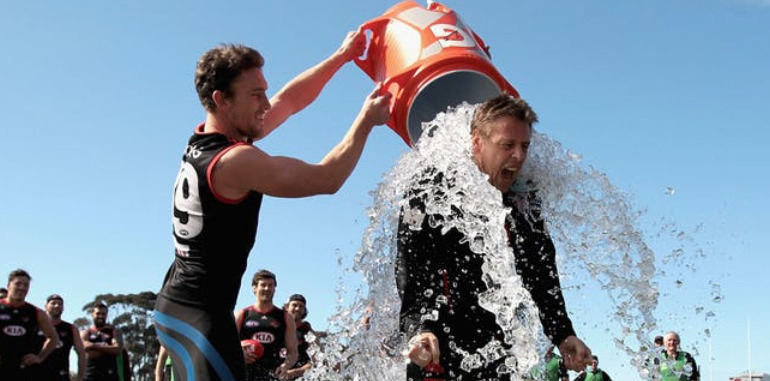 32. A Non-Profit Cause You're Supporting

Consumers buy from brands who support charities. Need more convincing? According to research commissioned by Forrester:

"44% of the population have listened to a podcast, with 80% listening to all or most of the show"

Include snippets and images of charity fundraising events in your newsletter. Customers will swoon.

33. Behind-The-Scenes Footage

People LOVE to watch everything that goes on behind-the-scenes of a movie set. Well the same goes for businesses.

Getting an insight into your cool London office space (hello Innocent). Or "a day in life of" absolutely fascinates us and it's great content too.

Make sure it's at the top of your email newsletter ideas list.

34. Partnerships & Influencer Marketing

Working with one of the top influencers in your industry? Shout about it!

Influencer marketing is now one of the best ways to raise awareness and build your online brand. Forbes:

"Influencer marketing is growing faster than digital ads. With emphasis placed on leveraging an industry leaders' followers to foster growth in your own business"

All you need to do is establish a win-win partnerhsip and you're on your way to generating new leads.

35. Sharing Your Social Channels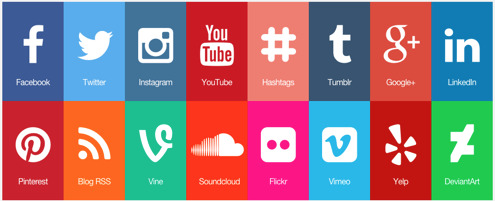 If you're not sharing the social love, you're missing out on potential ROI. According to Forbes:

"78% of people say that a company's social media posts impact their purchase decision"

Create photo galleries, post videos and share links to your social pages as-much-as-you-can. And that leads us on to....

36. Encouraging Social sign Ups

When you're sharing your social profiles, encourage customers to follow you.

Let them know that following you gives them accessive to exclusivity. Exclusive social discounts, competitions and giveaways.

They'll follow you in no time. Easy peasy.

Customer Service & Support

37. Company FAQ's

Is your customer service team is being bombarded with the same-old questions? Say hello to your new best friend: FAQ's

FAQ's don't just relieve some of the burden on customer service. They improve SEO, delight customers and alleviate any purchasing anxieties.

Include a few popular questions in your newsletter and watch the magic unfold.

38. Before and After Stories

How many times have you bought something after reading before and after stories? Yeah us too.

There's no better inspiration than real life success stories. And we're not talking about the fake photoshopped images of models in magazines (rolls eyes).

We're talking real-life success stories. How your client felt before, and then how they felt afterwards, using your product or service.Including this newsletter idea really builds trust and converts readers.

39. Links to Helpful Articles

Do you have an amazing portfolio of useful links to share? Then list them in your newsletter!Useful links offer further support and guidance to your target audience. Including; careers pages, community support, social links, about us and case studies.Making this a great corporate newsletter example.

Generating More Ideas

Look at the newsletters in your own inbox, what do you like, what do you not like? Talk to people in the office, what is currently interesting them? What are people talking about on holiday? Look at google trends, browse trending topics on BuzzSumo. Inspiration is all around us.

Speaking of which, we'd love to hear about the newsletter ideas that work for you? Add them in the comments below.

Whats Next?
Now you have plenty of ideas, it's time to start creating your own newsletter. There's no better newsletter builder then Publicate, a new way to create beautiful newsletters.
‍
Try It Free Now.