Real estate is a relationship business. Keeping up with existing clients, prospective clients, investors, and stakeholders can be made easy with the use of a real estate email newsletter. Not sure what to send or how to create real estate newsletters for agents or real estate newsletters for clients? 

That's what we are here for! We're going to share real estate email newsletter templates and ideas to get you on your way to closing more deals. 

Guide Index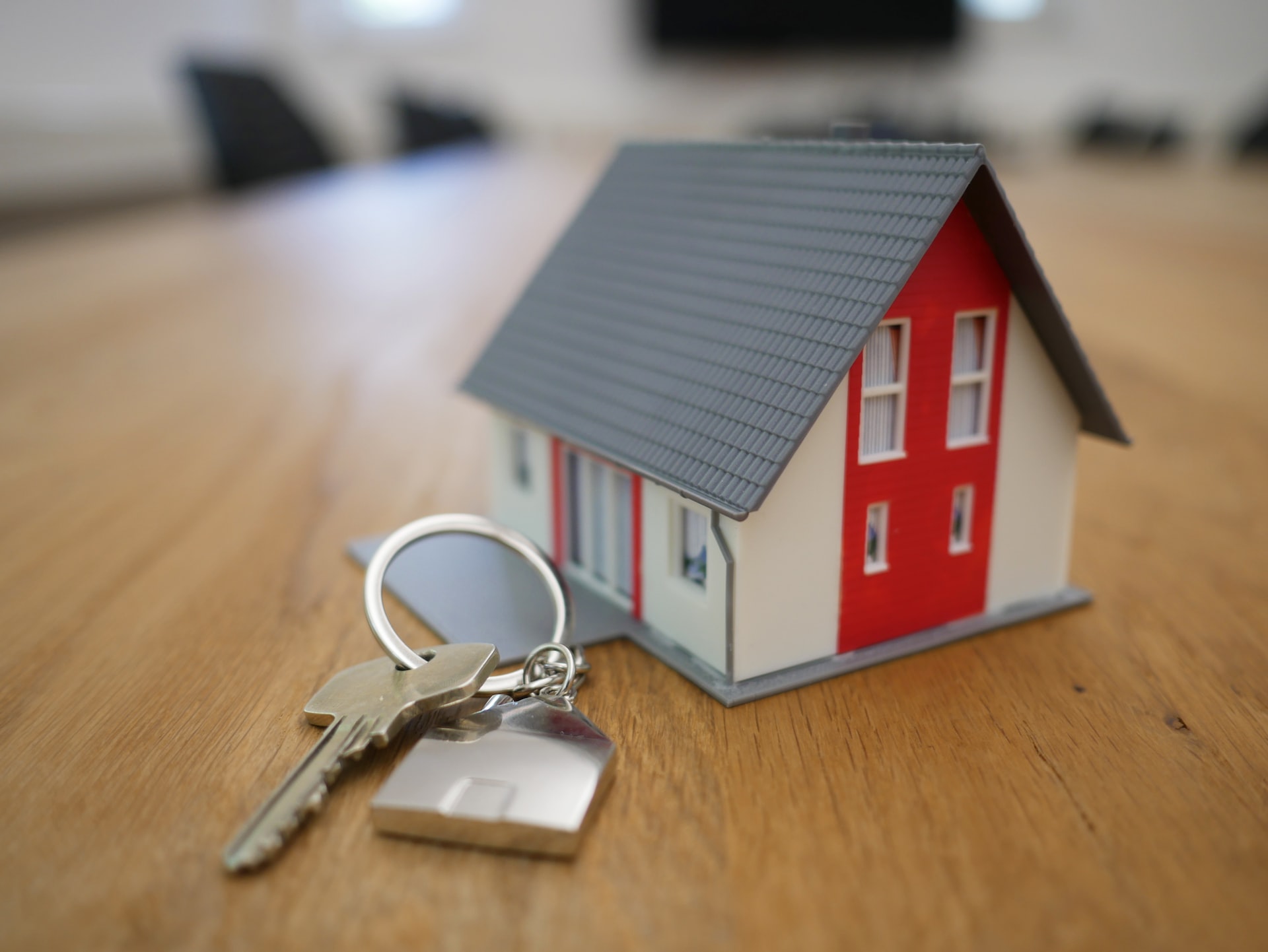 Photo from Unsplash

What is a Real Estate Newsletter?   
A real estate newsletter is an email marketing tool for real estate agents, teams, and brokers to stay in touch with their network. Real estate newsletters are meant to inform, engage, and update clients, team members, and leads with what's happening or to provide real estate insights about communities and upcoming sales. 

Real estate newsletters may include:

Upcoming events and community resources 
Tips and insights regarding home buying and selling 
Rental market updates 

Local updates for specific neighborhoods and communities 

Satisfied client stories 

While you may be tempted to continuously blast out emails to everyone on your list, it's best to have a strategy and cadence at which you send out emails. This way, clients and prospects know when to expect communication from you and aren't busy fishing through emails to find what's relevant to them. Approach your real estate email newsletter the same way you would call a client – with purpose and intention. 

Why Send a Real Estate Newsletter?   
Sending a real estate newsletter can help with your lead strategy and client communication. Chances are high that you have a growing database of leads that you've collected over time and for various reasons. Rather than suffering from drop-off and having to pay again to acquire new leads, you can keep your existing leads engaged with the aid of a real estate newsletter. 

To do this, you need to provide value by giving them something they want. Newsletters can satisfy this requirement and help you remain at the top of mind for your prospects. It can help you nurture relationships with clients and generate referrals. 

Consider segmenting your database by client type, such as prospects, existing clients, home buyers and home sellers, for example. Then, you can provide each group with content that's relevant to them. 

What are Real Estate Email Newsletter Ideas?       
Depending on who your audience is, there are various different content ideas to include in a real estate email newsletter. 

Here are some ideas to inspire your mind and email newsletter strategy moving forward:

1. Blog Posts
Do you have a website with an existing blog? You can amplify your content in a real estate email newsletter! There are different types of posts that can be of value to your recipients. For example, you can share informational posts, such as How-to guides, like "How to Refinance Your Mortgage" or "How to Style Your Home for Sale." 
Additionally, you can write evergreen content, which means it's not bound by time and can be used interminably. 

To illustrate, you can write about how to save up to buy your first home. If you don't see yourself spending time writing content, you can always curate content from what you're already reading. With an email builder like Publicate, you can easily save content from the web to create curated content newsletters. 

The web-based email builder will automatically input text and headlines for you, so you can save time rather than having to retype it all out. Plus its drag and drop interface makes it quick and easy to design a great email, or choose from the many professionally designed templates. No designers needed and easy to send with your existing email provider such as Gmail or Outlook.

2. Housing, Mortgage & Financial News
Sellers, buyers, and renters want to know about the real estate market that they are dealing with. As an industry leader, you can provide them with what they need to know. Consider sending out housing, mortgage, and financial news updates within your real estate email newsletter. 

Items to include can be: unemployment or income reports, updates on short sale markets, consumer sentiment surveys, and mortgage application and rate reports, etc. 
3. Local Housing Market Highlights

Are you working in a market with noteworthy homes or interesting listings? These types of properties can be interesting to your clientele, so it could be fun to spotlight them in a newsletter. Moreover, you may be able to access local real estate reports from your county or city and share those with your audience. This way, you're providing valuable information that they can learn from and use in their purchasing or selling decisions. 
4. Home Loan & Finance
When it comes to homes, a major concern for anyone is finances. You can be viewed as a thought leader and share valuable information with your prospects and clients. For example, you could be sharing your knowledge and advice about when to buy vs. rent, how to get home insurance, how to budget to save and buy a home, and regulations regarding tax breaks or incentives for homeowners. 
5. Homeownership Tips
You could have a segment of your database who are already homeowners that have purchased a home you sold. Keep them engaged with your content by providing homeownership tips. Some content ideas for homeownership tips include: how to renovate a home, how to childproof a home, what you need to know about maintaining your home, etc. 

6. Local Events
Keep up with the neighborhood that you work in by sharing local events and spotlighting businesses or people in the community. By doing this, you're showing your audience that you're part of the community and are invested in bringing people together. 

You never know who you'll meet or who may refer you to a friend or family member for doing so. This type of information can be of value to everyone in your pipeline, so it's a great way to keep your audience engaged and opening your emails. 

7. Interactive Content 
Get your readers involved with your real estate email newsletter by including interactive content. You can include quizzes or polls to get to know your readers better and understand their home preferences. This way, you can segment your database according to preferences and personalize future communications better. 

What are the Best Real Estate Email Newsletter Templates?       
With all these ideas in mind, you're probably wondering how to create and send a real estate email newsletter without hassle. 

You're in luck! Publicate makes it easy to design, send, and analyze your email newsletter campaigns using real estate newsletter templates and a drag-and-drop interface. 
Let's take a look at some of the best real estate newsletter templates to choose from: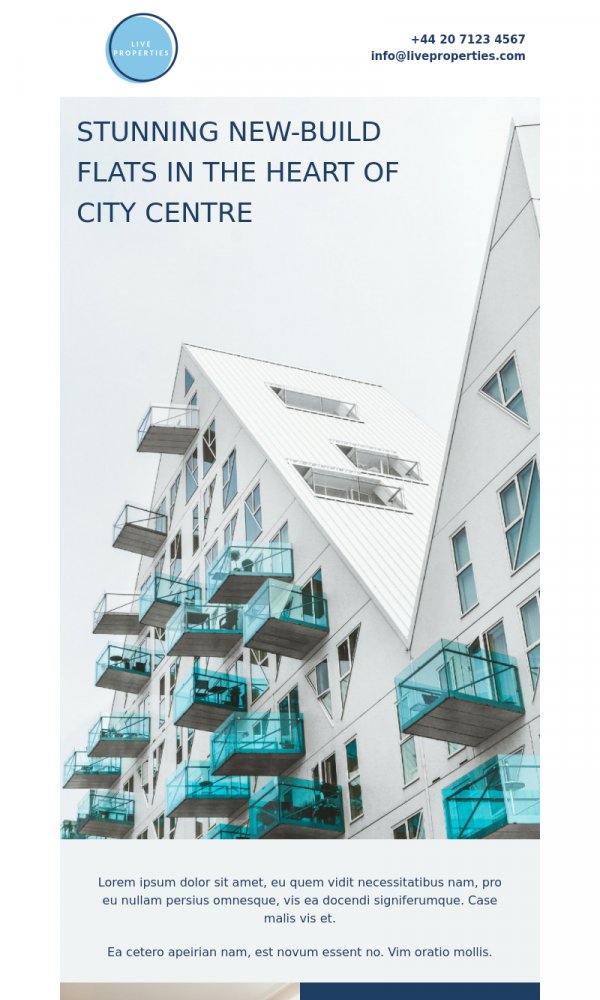 Your business is built on relationships, but it survives through transactions. Amplifying and promoting new listings is a key requirement to selling, so what better way than to blast out your new listings to your recipients? 
In this newsletter template, you can showcase the home or project by opening with a big picture, and then inputting whatever details are necessary right below. The template breaks down key features with photos to strike an enticing balance.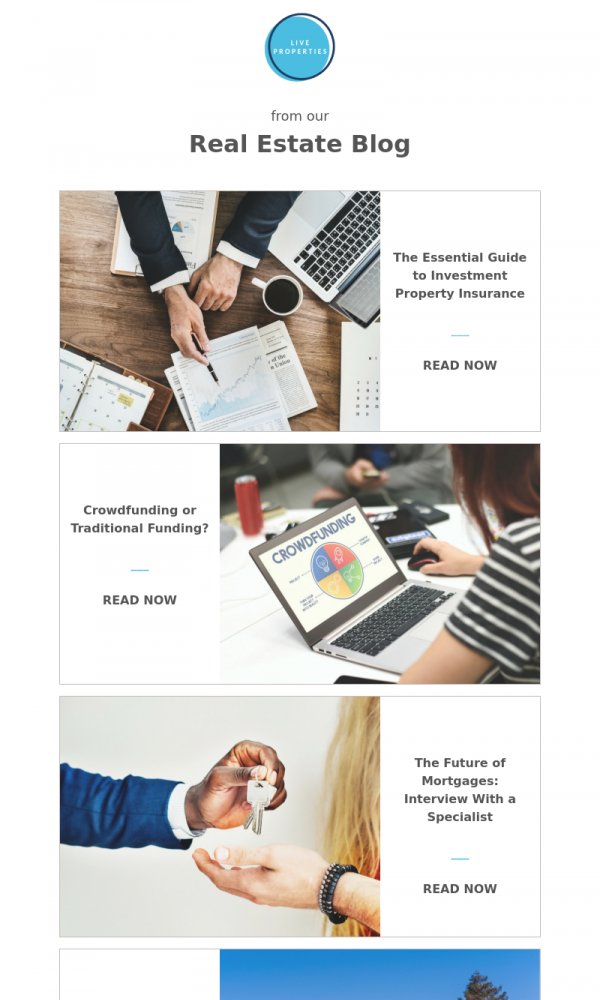 We talked about the benefits of updating your database with current blog content. An easy way to do so is to use the Blog template. With this template, you can slot in images (Publicate lets you choose from thousands of stock photos, too), and headlines. 

Then, you can link readers to your website's blog with the "Read Now" button. This way, you're driving traffic to your site, where you can also showcase your listings and grab their attention once they navigate to your site.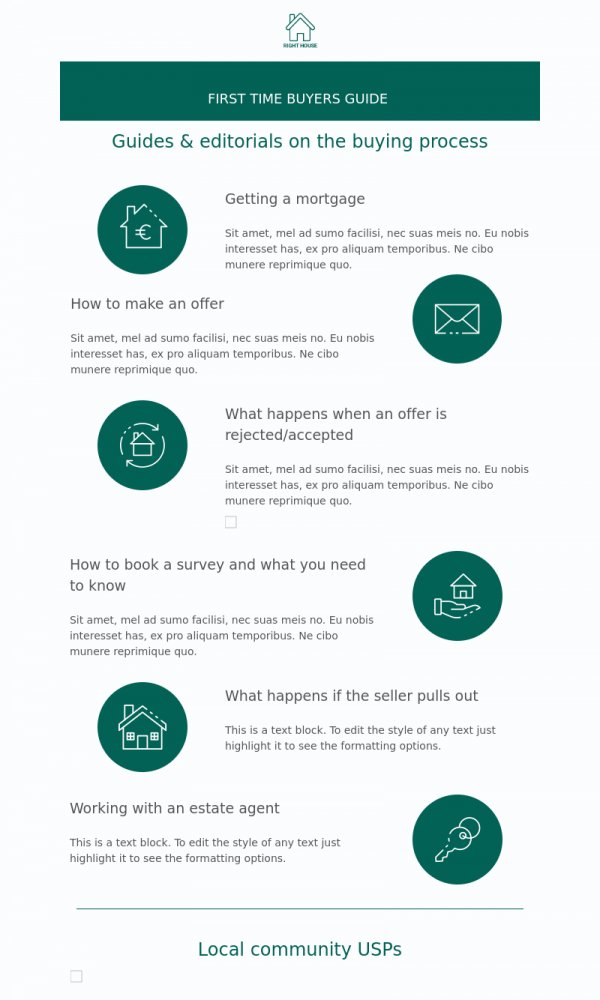 Being a thought leader is seamless with this template. You can share how-to's and guides using this template. With big headlines, adequate white space, and icons, form meets function. 
The headlines make it easy for readers to find what content they are looking for, and the short tidbits of advice mean that they can get exactly what they need without wasting time. Plus, if you want a branded template, Publicate offers a brand kit with saved styles so all of your newsletters can be consistent. 

What are Real Estate Email Newsletter Best Practices?   

You've got the content ideas and the web-based email builder solution readily available to use. Now, it's time to consider some real estate email newsletter best practices. 

1. Subject Lines
When people come to an open house, the first thing they see is the facade, which could indicate whether they wish to enter or not. In the same way, your email's subject line can prompt a reader to open or delete before reading. 

That's why it's best to create intrigue, spur curiosity, and showcase what they can expect to see inside. Practice being short and concise with subject lines. 

2. Calls-to-Action
If you have more to offer and want your audience to take another step after reading your real estate email newsletter, don't forget to include call-to-action buttons. These buttons can link to your website, blog, contact us form, or any other place you want to direct your readers to go. Make it easy for them to see by using contrasted colors from your email's background so the button pops out. 
3. Contact Information
You want to be at the top of the mind for your contacts, so be sure to include your contact information in every newsletter. Don't settle for a simple email signature. You can include your picture and ways to get in touch online or offline. After all, you're in a relationship building industry! 
How to Set Up a Real Estate Newsletter?   
Setting up a real estate email newsletter isn't as cumbersome as you may believe it to be. With an email builder like Publicate, you simply log in and choose from an array of templates. They are already neatly categorized for you under "Industry - Real Estate." 
Then, you can customize your templates with drag-and-drop functionality, so there's no coder or graphic designer needed. Publicate is tested across 57 different email clients and devices, ensuring your email looks great everywhere. 
When you're ready to send your email, you can simply export it using integrations with your favorite email service provider of choice such as Gmail and Outlook. Along with easily sending your newsletters, you also receive powerful analytics so you know how it's performing. 
Time to Close 
In a business centered around who you know, it pays to keep in touch with people regularly. With a real estate email newsletter, you can engage with your network at consistent intervals and add value to your business. 
As you focus your time around doing business, you can make use of an email builder like Publicate so that you can create, design, and send email newsletters in no time and without having to pay for designers or developers.