If you are a real estate agent looking to increase your lead to client conversion rate, this is the post for you. 

To help you win over your leads, we have selected the best ready to use real estate newsletter templates.

But before we dive in, we have a couple of things you should get organised before launching any campaigns.

Segment Your Real Estate Leads 
Firstly, we recommend you split your leads based on whether they're sellers or buyers. Next, you need to analyse the quality of the lead. To do this you can start with a basic categorisation:

A high-quality lead is someone who is interacting with your content more than once.

A low-quality lead would be someone who engages less with your marketing.

How you categorise your leads will depend on what CRM system you have (e.g.HubSpot). This, combined with your insight and understanding of your clients. 

If you don't have a CRM tool or want to set up the segmentation yourself, check out our post on Boosting your email marketing strategy.

Now that you have done the prep, let's get started and take a look at these newsletter templates!

The Real Estate Newsletter Content Mix Template

The real estate buyer/seller journey has many stages. Going in too hard to convert a potential client could turn a hot lead into a cold one! 

If you want to gauge what stage your lead is in their journey, sending a mix of content can help.

Based on what content they interact with, you begin to understand whether they are cold, warm or hot. You will also learn what interests them!

This makes this style of Real Estate Newsletter ideal.  We created the perfect pair; one for buyers and one for sellers. 

So let's take a look at what content you could share with your leads...

Real Estate marketing mix newsletter for potential sellers
When looking at how you can build trust with a potential seller you need to prove your expertise. 

Creating a newsletter with the following types of content is a great starting point: 

Guides on how to prepare your home for viewings.

Seller Stories: An interview with a past client. You could use a testimonial to pique their interest to click

This could be a video testimonial,

Or Long Form editorial content

Market trends report information - for their region on how the housing market is for sellers

This could be a blog on your site

Infographic

Or Downloadable PDF

Meet the team: Real Estate Agents

Links through to a landing page with contact details and/or a form submission. Try and add some personality here, as people want to work with people, not a company 

Below is an example of a newsletter template we created for this exact type of content. This template is ideal for sharing this information. Either as a stand-alone email or you can adjust the layout to add in other relevant content.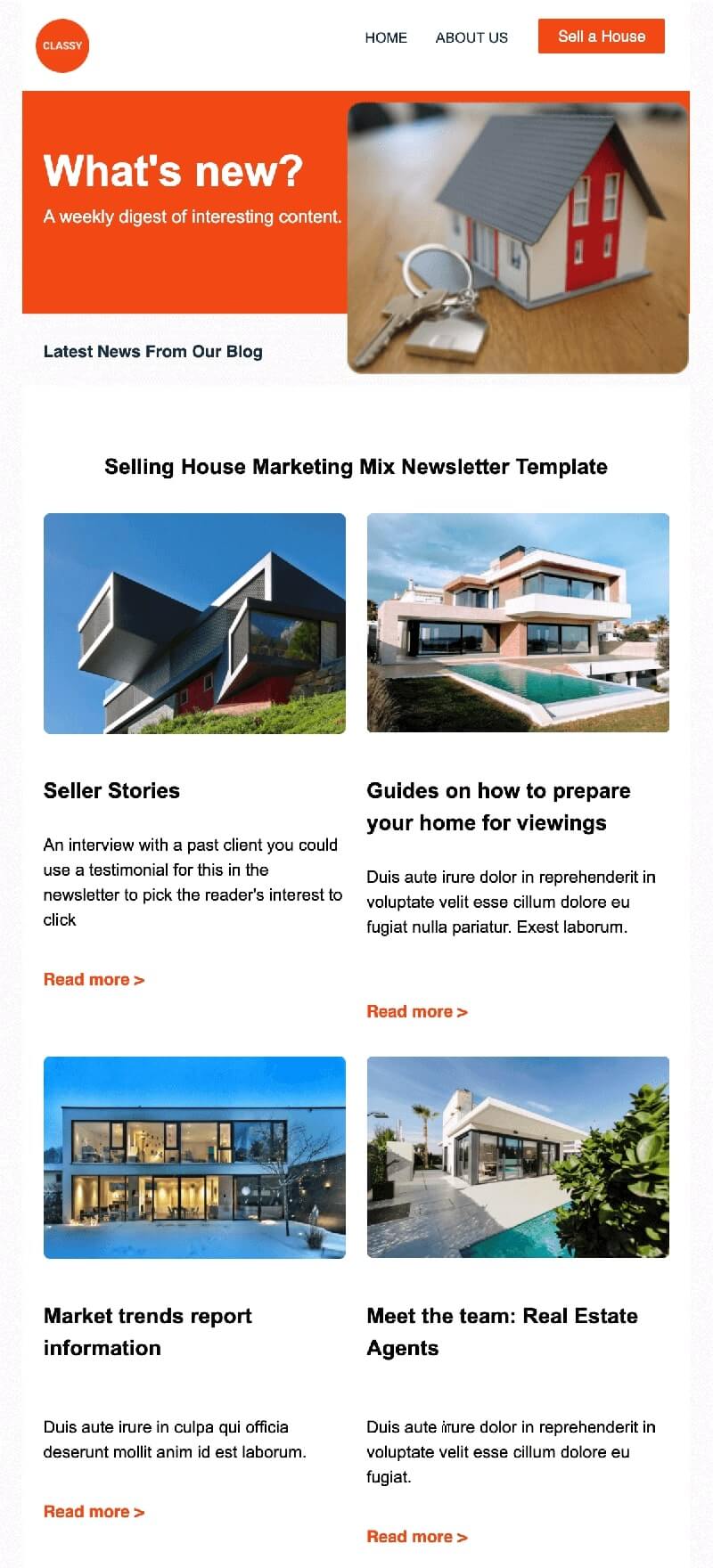 How to Sell A House Newsletter Template

Now we have the potential sellers covered, let's look at some content recommendations for your buyer's pot!

Real Estate marketing mix for potential buyers
As obvious as this is you need to make sure the content is focused on the process of buying a property. The list of content ideas below are perfect for your buyers' newsletter:

Guides & editorials on the buying process:

Getting a mortgage

How to make an offer

What happens when your offer is accepted or rejected

How to book a survey and what you need to know

What happens if the seller pulls out

Working with an estate agent

Local community unique selling points

Highlight good schools

Green or community initiatives

Health services

Include things like reports and editorials

School reports

Top ten things to do in the local area

New places to go

Travel links

Property Highlight

Video showing key highlights of key properties

Link to the listings page so people can browse more

Meet the team: Real Estate Agents

Links through to a landing page with contact details to make it easy for them to get in touch

This Buyers Guide to Buying Newsletter Template  below is perfect for this as it highlights key considerations (such as location and transport), using information design techniques such as iconography. The template also allows for additional modules of content, such as video or editorial content links to be included.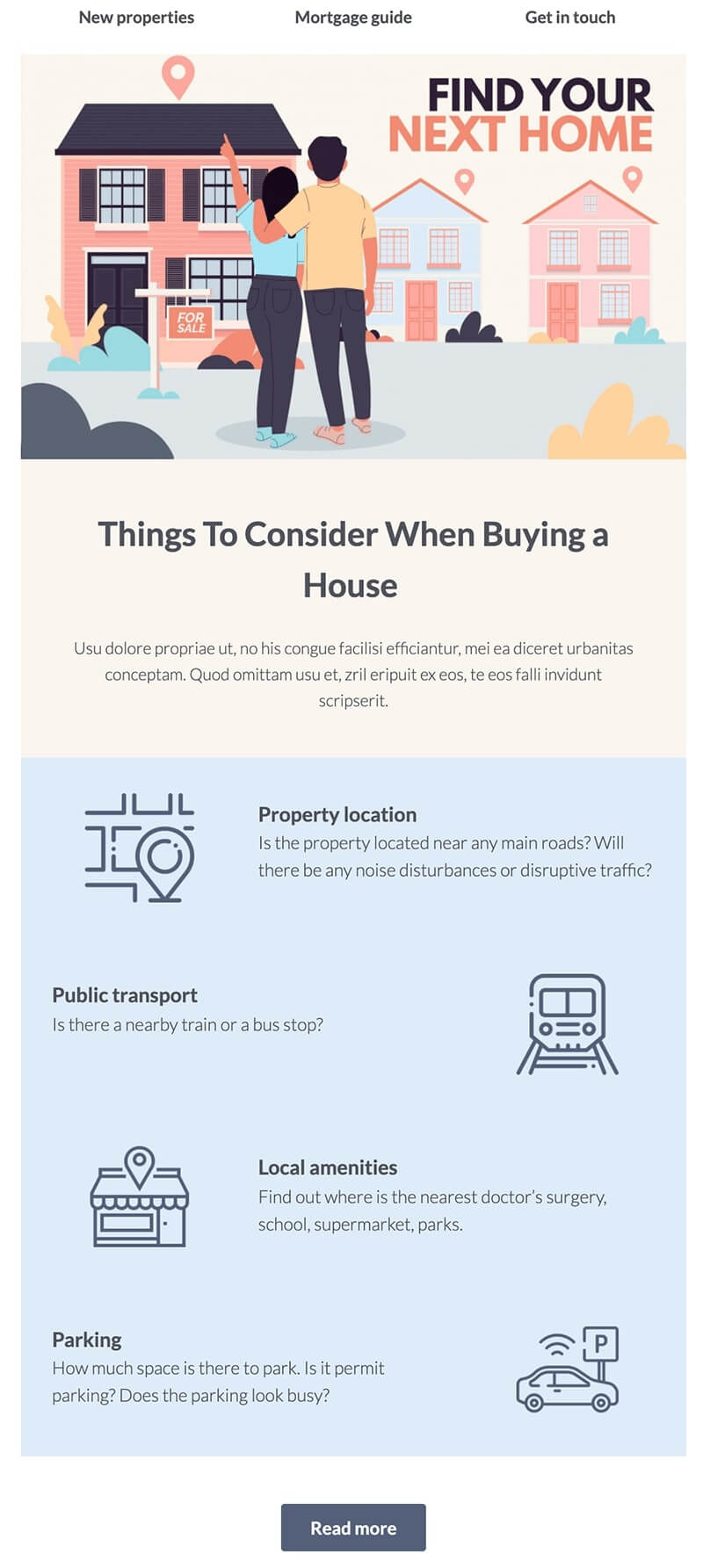 Analysing Engagement And Segmenting Your Database Further
The Real Estate content ideas will allow you to go beyond a simple hot or cold lead segmentation. You can start to see how warm they are also.

Knowing the middle ground or how warm a lead is will help you get more granular with your approach to sharing content. 

You will begin to understand better what and how much content they may need to get from cold, warm, hot to converted!

Below, I have mapped the content ideas we have shared with identifying the stage of the funnel your lead is in.

A cold lead for a buyer or seller would be someone who opens the email and closes it. You can expand this segment and include people who open links to guides on: 

How to get in the buying/selling process

How to get a mortgage 

A warm lead would engage with client stories, local area information and property values in their area.

Most email service providers like Mailchimp etc. will show how many clicks your content gets as a standard. However, some tools take that a step further and provide you with click maps and engagement heatmaps so you clearly see where users are interested. Here is an example of this kind of analytics when using Publicate;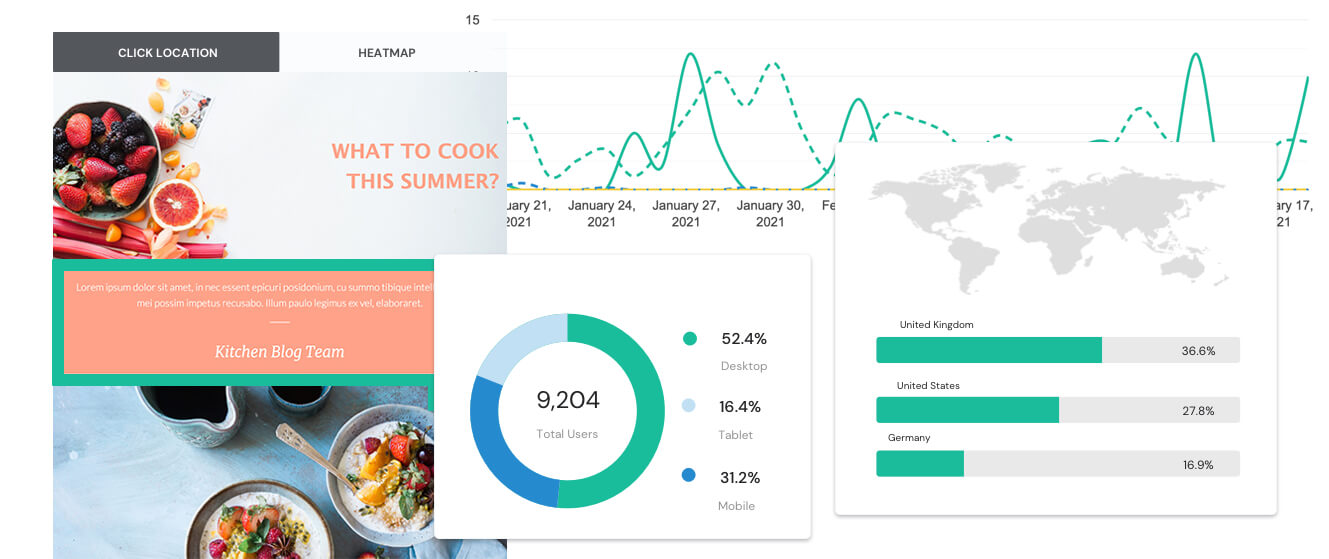 If a lead is looking at guides on how to get houses ready for viewings or what to ask at viewings, then they are hot.

If they go through and contact you via your contact form or call you direct then it's over to you to get the ball moving!

The Seller Onboarding Real Estate Newsletter Template
Now that they committed to you and put their trust in you, the work doesn't stop! 

You need to maintain consistency with your contact or else they could become disengaged with the process and pull out. 

There are two key things to remember:

Keeping an open line of direct communication via calls and meetings.

Being there for them when you physically can't due to other meetings or calls. 

Both of these require time, attention and care from you. 

The first point is something only you can control and action. The second point we can help you with. 

We have created an onboarding newsletter template which you can send to your real estate seller leads. This is a great way to get the relationship between you and them off to a strong start.

It will also provide them with the information to common questions they have, making them feel at ease and that they are in good hands.

This is a great way to prove your expertise and provide your client with that added level of care.

For this type of real estate newsletters, you should look to include the following content:

What to expect when selling your property

This should be a realistic guide on the process of house selling

Including things like what the buyer will need to do

What they need to do as a seller should do etc.

Information on how you as an estate agent handle the negotiation process:

What does this seller need to do during this?

What you will do to get this negotiation done promptly

What happens when an offer falls through?

How does a house viewing work?

How are these set up and managed 

What if the seller needs to cancel what to do

Home improvements tips

This can be changed by the agent depending on the seller's property needs or be a generic piece if this not available

DIY Shop Offers

Are their offers that are on at the time you can share?

Perhaps even DIY tips for getting your house ready

Do you have any special offers from local businesses you can offer to these sellers - such as money off certain DIY products?

Real Estate Agents Contact Details

If you have a wider team who they can get in touch with when your not free, introduce them also

You should include your details if possible or direct contact to the selling team for your client

The seller onboarding real estate newsletter template below is a great example of showcasing your expertise and care.

The drag and drop functionality of the Publicate editor means the content modules are easily rearranged.  So you can customise the layout depending on what the clients needs are. 

So, if their first time sellers, you would have a piece of content about what happens at a viewing in the first module. If you have seen from your initial visit that they could increase the value of their home with some DIY, you can place a home improvements tips article in module two. 

The inclusion of  the team's profiles, alongside your own will mean the seller will feel confident that if you're not there someone else really is there to look after them. 


With your seller leads being onboarded and looked after, we need to look at making sure you don't neglect your buyers!

The Property Buyers Real Estate Newsletter Template
As with any industry, you will know that in Real Estate you will be competing with other agents in most cases for the same lead.

If someone is signing up to receive your content that is part of the battle won. But beware. If a lead has signed up to your real estate newsletter, they will more than likely have signed up to your competitors.

But don't give up! You need to keep focused and stay at the top of your client's mind. Below are our content recommendations for potential buyers:

New Property

Share the latest property added to your Real Estates listings

Include a CTA to book a viewing

Property Listings that match their criteria

One or two properties that match their needs

Include a CTA to book a viewing

Or a generic link to view all listings if adding two properties

The level at which you can provide property listings that match their requirements will depend on the level of segmentation you have been able to implement. 

This Dreamhouse real estate template layout is great for showcasing new properties. You can also use this to highlight properties that have been on the market for longer and need a push. As well as sharing property listings, you can also include some of the following:

Guide or blog post on what they should do & ask at viewing. 

Change the copy if you can of the property listing in the newsletter compared to the website to keep it fresh

Include contact details either for yourself or to the buying team


The Dream House Real Estate Newsletter Template

In Summary
Now, you should be ready to get your powerful real estate email newsletter templates created!

Don't forget to make sure to review your customer database and segment them into a buyer or seller.

Engage them with content that demonstrates your knowledge and expertise such as:

Market reports on the industry

Local area news and guides

Stay at the forefront of their mind by including guides and blogs that will help them with their journeys:

How to improve your home for sellers

What you should be looking for & asking at viewings

Remember building a relationship with your potential customers is key to converting them into a client. 

The key to building that relationship is with regular communication that provides value. These templates are a great way to do that.

We hope these content ideas and newsletter templates have inspired. If you want to get your campaign off to a quick start then check out our fantastic Real Estate newsletter templates (including the ones in this post) which are completely free!