The success and longevity of a nonprofit organization is largely impacted by the community, its volunteers, and donors. A nonprofit newsletter is a great way to share updates, regularly communicate, and nurture relationships with the people who matter most in helping to achieve your goals. 
In this post, we are going to share some valuable nonprofit newsletter ideas and take a look at some of the best nonprofit newsletter examples. . 
Guide Index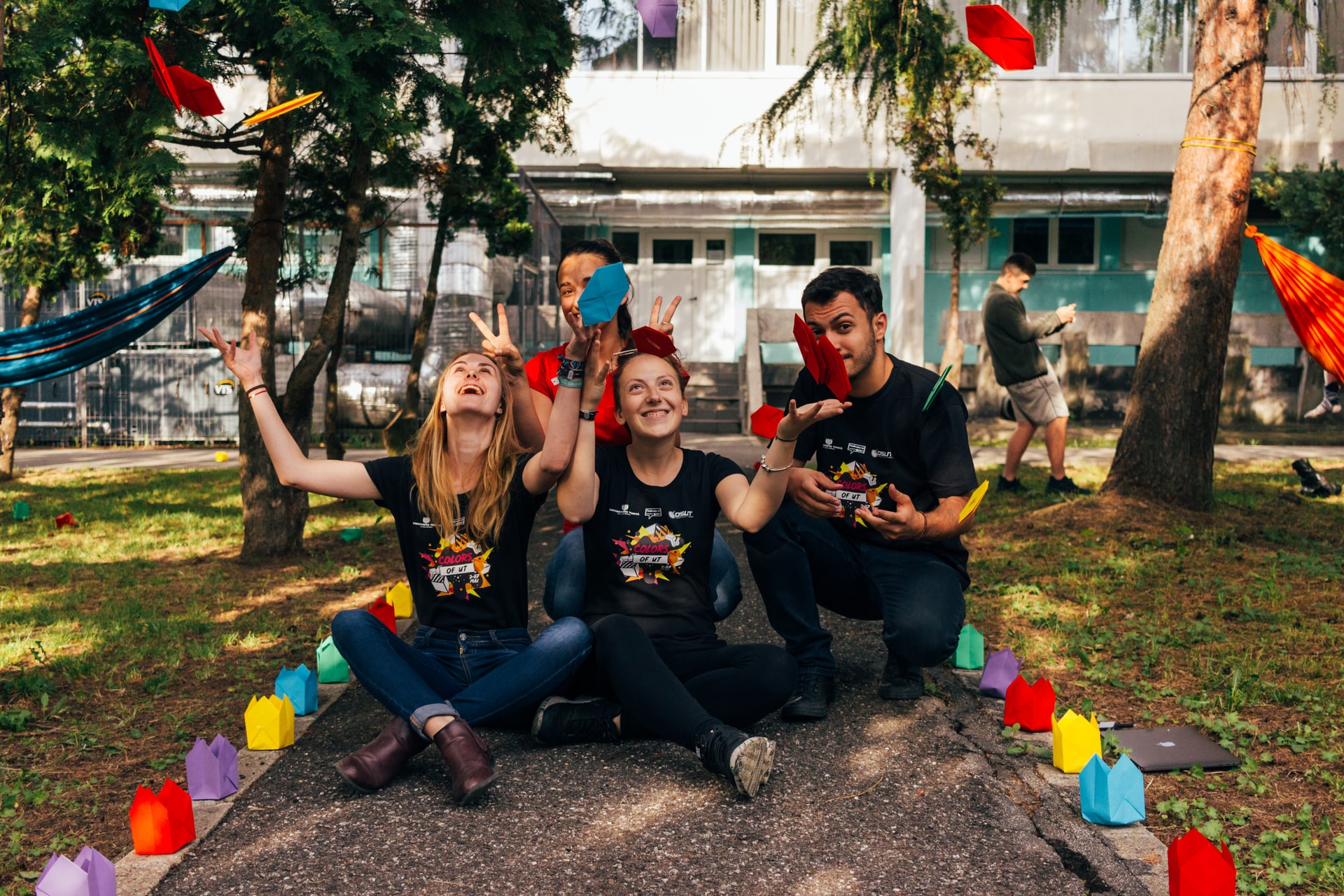 Picture source Unsplash
Why Have a Nonprofit Newsletter?   
As a nonprofit, you're often vying against the rest to gain the support of donors. In order to express your value and mission, you have to constantly be in front of your target supporters. 
Sending out a nonprofit newsletter is a great way to accomplish this feat. A nonprofit newsletter helps you to stay at the top of mind for your readers and engage them in your efforts. 
As part of a robust communications plan, nonprofit newsletters can also enhance your social media strategy and efforts. When you connect with your target audience via social media, you can double down on that communication through a more personalised nonprofit newsletter. 
It provides a great avenue to share any information you wish to convey, as well as to be able to track analytics to understand the success of your email newsletter campaign. 
What are Nonprofit Newsletter Examples?    
The best nonprofit newsletter examples all begin with having a purpose. When you define the goal and reason for sending your newsletter, you can stay focused on the message and ensure you send it to the right group of people. 

Let's take a look at three useful nonprofit newsletter ideas that can all be easily customised and sent using Publicate's web-based email builder: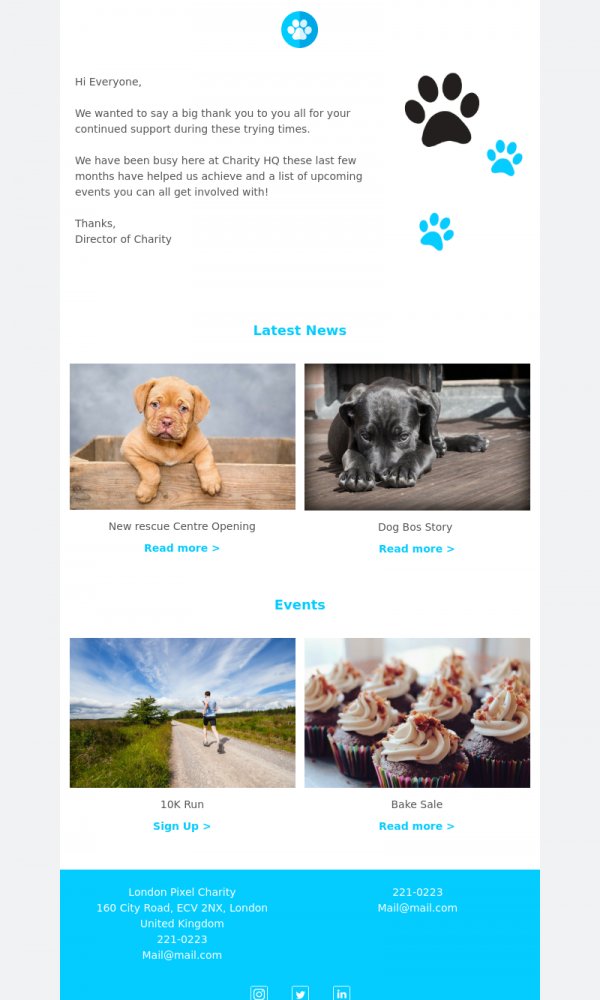 This newsletter template doesn't look overwhelming to the eye, but it certainly packs a punch! Despite the amount of different information, there's a hierarchy and lots of white space and clear division, which makes it easy to read. 
As you can see, you can start off your newsletter with any overall message - be it a thank you, a company update, or whatever else you have to share. Then, it jumps into a section for the latest news that can link to your organization's blog. Following that row of image, you can promote upcoming events to ensure that your community can be involved.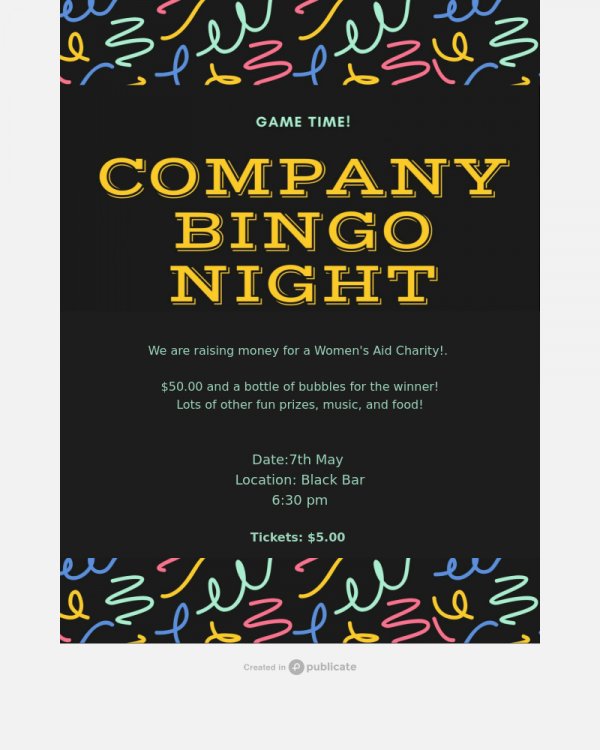 It could be the case that you're hosting a charitable event and want to get your internal team involved and excited. Take a look at this nonprofit newsletter template that provides a clear message front and center. 

The festive design catches the eye, the big headline makes the event clear, and all important information is included in the short body of the newsletter. 
What are the Steps to Create a Nonprofit Newsletter?       
It's clear to see that there are many benefits of sending out a nonprofit newsletter. Perhaps you've held off on creating a nonprofit newsletter because it feels like there is a lot to consider to be able to do it right. 
While there is a general flow of operations to follow, the bulk of the time is generally spent on email newsletter design and content. 
With online web-based email builder tool like Publicate, you can easily customise pre-built and professionally designed templates with little to no tech-savviness. With its drag and drop functionality and easy to export to any email provider you don't need any coders or designers. 
Having the straightforward ability to create, send, and analyze nonprofit newsletters makes it a no-brainer for implementation. 
Here are some general steps to optimize your newsletter:
1. Understand Objectives
You may have a defined communications plan already with your goals and objectives listed. If not, it's time to tackle this! Consider what your objective is; some include: keeping members informed about accomplishments and activities, promoting events, establishing your organization as a thought leader, etc. 
2. Know your Audience
To provide the most value in your nonprofit newsletter, think about who you are talking to and what they are interested in. Also, consider what stage that your audience is at- for example, are they just being made aware of your existence? Or, are they regular donors? Based on this, your message will surely vary. (Hint: This is where it also makes sense to segment your audience so you can send personalised messages to each group). 
3. Clean Your Email List
Sending emails to old email addresses will result in bounces and could eventually end up harming your sender score. Keep your email database as up-to-date as possible so that you don't end up spinning your wheels for nothing). 
4. Plan Your Content 
The use of an email builder like Publicate makes it easy to plan your content because the sections are pre-built and laid out. 
Planning your content includes knowing what's of use to your audience, remaining concise and to-the-point, and being consistent so that readers can immediately recognise the newsletter as one from your organization. 
Using Publicate's brand kit and saved styles is another way to automatically accomplish this. 
5. Consider Design
As a nonprofit, you won't want to spend all your budget on having a graphic designer professionally develop your newsletter design. A newsletter builder like Publicate does this for you! 
Your emails will look professional as though a graphic designer made them, but you'll save money. Additionally, you'll inherently adhere to design best practices by having a focal point, adequate white space, the use of color, simplicity, and content broken up in sections. 
6. Focus on Your Subject Line 
A great subject line to a newsletter is like having a billboard that captures attention on a busy highway. The words you choose to use matter because they have to stand out and persuade a reader to open the email message. Try to keep headlines short and specific, while playing on emotion. 
7. Deliver with Consistency 
As you establish your nonprofit newsletter content plan, find the balance between spamming and staying top of mind. There's a need for consistency and you can gauge whether your timeline is working out by checking the analytics. A common rule of thumb is that it's best to send newsletters on Tuesdays and Thursdays, mid-morning. 
8. Make it Shareable
Add social media share options and the ability to forward your email newsletters so that your audience can help spread the word. This way, you can grow your supporter base without any extra effort. 
9. Analyze Results
After you hit send, be sure to track and monitor your metrics to understand open rates, click-rates, and other valuable KPIs for engagement. A tool like Publicate provides you with advanced analytics and a heat map to show you what's working. 
What Should be Included in a Nonprofit Newsletter?   
When developing your nonprofit newsletter, keep in mind the following attributes to include:
1. Content
You'll write your content according to your newsletter goals and objectives. It's the main message you wish to convey and should fall in line with your overall style and tone. 
2. Headings
Break up your content with headings so that readers can scan your overall message and easily see what's of interest to them. Headings make it possible to break up large chunks of text and avoid overwhelming your reader. 
3. Links
Include links to your website to drive traffic and boost engagement with your non profit organization. To illustrate, you may link to relevant blog posts or upcoming events that are listed in the organization's calendar of events online. 
4. Call to Actions
Every newsletter should have a call-to-action button. This is a clear and direct marker of what you want your reader to do next. It could be to "Read More," "Sign Up," "Donate," or "Share," to list a few ideas. 
5. Multimedia
Incorporate multimedia to liven up your newsletter. For example, Publicate makes it easy to add video, GIFs, and images to your nonprofit newsletter that will render properly across device types and email service providers. 
6. Subject Line
As mentioned already, be sure to take time to think about a subject line that is catchy and promotes your audience to open your email. Try to stick to subject lines that are between 3-5 words. 
7. Have a Single Focus
Even if your email template has room for various messages, like those shared above, you'll still want your email to have a single focus. Your focus will be clear because your subject line will point to it, and the first item of content that appears in your newsletter will be interpreted as its main point. 
8. Provide Value
Don't send a nonprofit newsletter just because you feel "it's about time" to. Always consider the value you are adding and what your goals are so that you can make the most of your audience's time.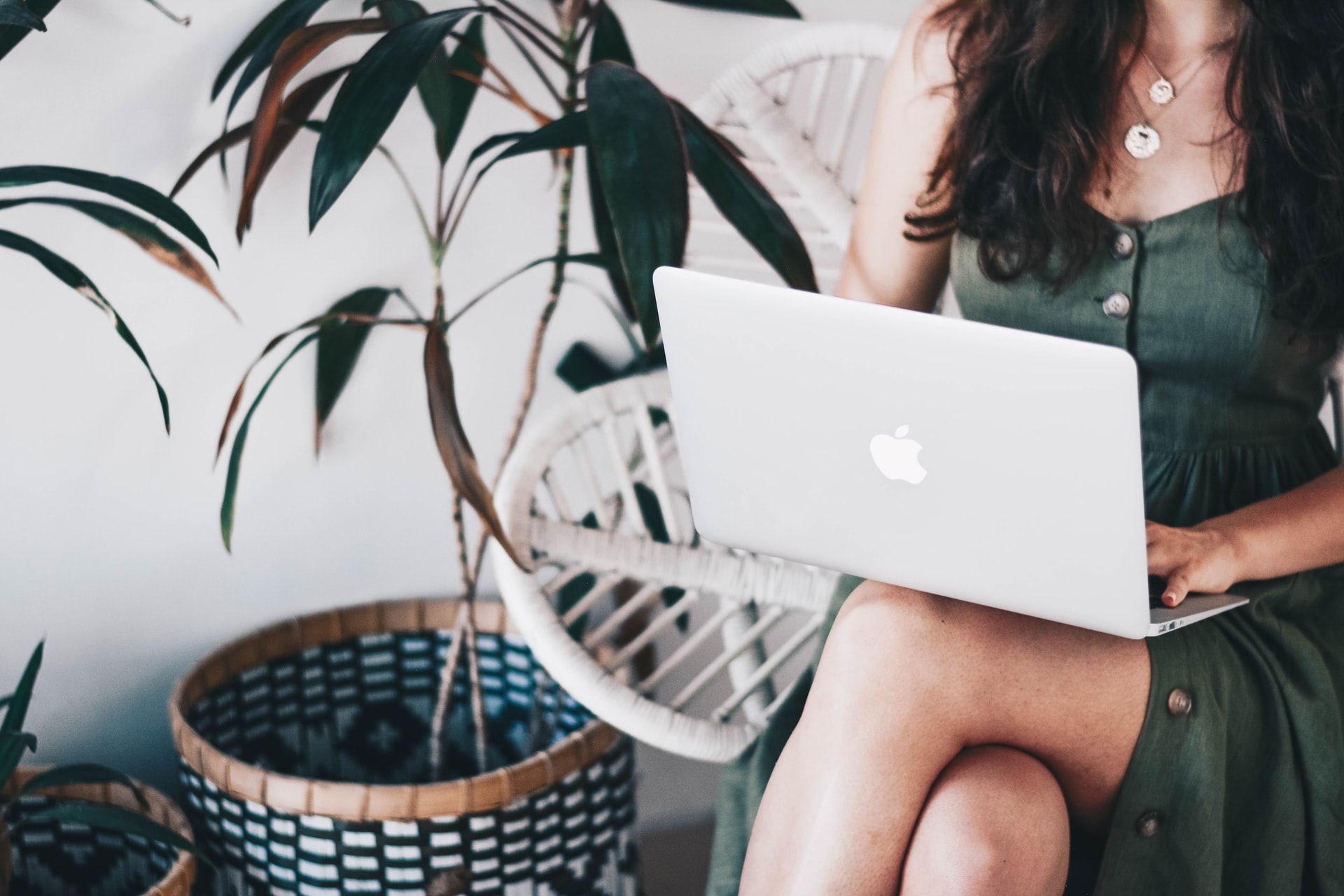 Picture source Unsplash
How to Create a Nonprofit Newsletter Name?   
You may have catchy names already for your volunteer programs and calendar of events. In the same vein, you can create a nonprofit newsletter name, just like newspapers are named. A title will help you stand out. 
To help you brainstorm, consider using a pun, words that rhyme, alliteration, or words that are associated with your nonprofit's mission. 
How to Write the Best Nonprofit Newsletter Subject Lines?       
You may be tempted to write a subject line that asks for "Help" or uses the words, "Reminder," or "Update." These bland and commonly used words will make it harder to jump out in your audience's inbox. 
When creating the best nonprofit newsletter subject lines, make it a priority to personalize your emails or use words that appeal to your audience directly. 

How Often to Send Nonprofit Emails?   
To maintain readership and engagement, remember we talked about sending emails consistently. But, what exactly does consistent mean in practice?
It's recommended to send a nonprofit newsletter at least once a month. This way, your readership knows what to expect and may even look forward to it. If you choose to send it once a month, try to do it on the same day and at the same time. 
No matter your access to resources, a newsletter tool like Publicate helps make a monthly send doable because your team gets to spend way less time worrying about design and coding and can instead focus on the email content. 
Nonprofit Newsletters Made Easy 
A nonprofit newsletter is a wonderful way to stay connected to the people who matter most to your organization. Since you spend most of your time being a hero without a cape, it may have felt like adding a newsletter to your to-do list was going to be too big of a feat. 
By using a newsletter builder like Publicate, with it's pre-built templates and easy-to-use interface, you can design impactful and beautiful newsletters in no time. Then, you can send them using any email service provider of your choice.