In this post, we look at two popular newsletter tools that are purposely built for Gmail, as well as Flashissue alternatives. We put them head to head and make a detailed comparison between them so you can determine which is the right tool for you when designing and sending newsletters in Gmail.

Guide Index
What is Flashissue?
Flashissue is a web-based newsletter software that aids in designing and sending a newsletter through Gmail. Its email creator tool provides a drag-and-drop editor to help its users design emails within Gmail without having to know HTML coding.

How Much Does Flashissue Cost?
Flashissue offers a few different pricing options.
The lowest cost is called the "Starter" plan, which is a $9.99 one-time payment for 24 months of use (but there are limits as to email credits and contacts).

The next option is a "Small" plan that costs $79 for 24 months.

If you continue up the ranks, you can pay $129 for a "Medium" plan or $199 for a "Large" plan for 24 months of use.
Sharing positive customer stories or product reviews internally will remind your employees why they do the work they do. Ultimately, every business wants happy customers, and a lot of that comes from how employees do their jobs. Let them know they are valued by distributing these messages! 

How do I Add Flashissue to Gmail?
If you want to use Flashissue as your HTML email creator, you can access the solution via two methods. The first would be to install the Flashissue Chrome extension into your Gmail inbox.
That can be done here. The other option would be to access the solution directly from the web and login.

How to Remove Flashissue from Gmail
Perhaps you've discovered Publicate for the first time or wish to try out Flashissue alternatives as your newsletter designer tool. If that's the case, you'll probably want to uninstall Flashissue from Gmail.
You can do so in a few easy steps:
Open your Chrome browser
Right Click on the extension in the top right (next to where you enter the URL)
Select "Remove from Chrome" from the dropdown menu
Log out of Gmail and restart
Flashissue vs Mailchimp & Other Newsletter Platforms
When looking for a solution to send HTML in Gmail, there are only actually a couple of options available. Most people find this confusing, because there are so many email newsletter platforms out there, like Mailchimp, Constant Contact, Aweber, Campaign Monitor, Mailjet etc etc.
But none of the major newsletter platforms allow you to send via Gmail. The reason for this comes down to their business model. These platforms charge based on how many recipients you want to send your newsletter to, and if they let you send via Gmail, then they have no way of being able to charge you by recipient.
Which is exactly why tools like Flashissue and Publicate have been created, to make it possible for people to send newsletters in Gmail.
There are other good reasons to send newsletters in Gmail too.
Why Send Newsletters in Gmail?
Gmail is widely regarded as the most used email service provider on the planet with over 1.8 billion active users worldwide, which is 30% of all email accounts. So, it's no wonder why many people want to know how to make an email newsletter in Gmail.
Primarily for personal email, Gmail has now made serious roads into the corporate world with their push of Google Workspace. With many companies opting to rely on Google for the email, file storage and collaboration tool suite.
It's no wonder then that sending newsletters through Gmail is increasing in popularity, especially in the internal communications space.
Comms teams are constantly on the lookout for ways to engage their teams and get across the company message. Newsletters in Gmail are an obvious fit.
What is the Issue with Gmail Newsletters?
Designing and sending newsletters in Gmail might seem simple on the surface, but actually, the main Gmail issue is that it doesn't natively support the ability to design a newsletter in the Gmail editor.
There are a couple of ways around this problem when you are ready to create a newsletter;
You can get a designer to design the newsletter and then a software engineer to create the HTML code. Which you can then paste into Gmail.
Or you can use a purpose built newsletter design tool like Publicate or Flashissue.
Option 1 is clearly time intensive and has lots of handoffs. So in this post we are going to focus on option 2.
Flashissue vs Publicate?
To help you make the right choice between Publicate and Flashissue, we've put the two platforms head to head against the key features and functions, and looked at the relevant steps in a typical workflow when creating and sending a newsletter. You may come to discover that Flashissue alternatives are better suited for your business.
Helping you to get a clear  picture of which tool is good for you and your workflow. 
Let's dive in.
1. Finding, Adding and Organizing Content for your Gmail Newsletters

This part can be a real time saver in your workflow depending on what functionality your newsletter builder offers.
What you are really looking for here is a tool that connects into your existing workflow, and the places you already find and save great content.
Making it readily available for you to use when creating your newsletters.
Let's see how both platforms compare.
Extensions
Both services have browser extensions to save web content as you are browsing online, which is a good start.
RSS Feeds
Both also support RSS feeds, which automatically pull in content from any blogs or news sites that you might want to follow. So your library always has something fresh in it.
Personal Services
Then we get to more personal services you might use, like Pocket, the bookmarking service, Feedly the popular RSS Reader, Twitter, and Slack, the internal team messaging service.
All of these are great places where you might already be collecting and sharing valuable content for your newsletters.
Integrations
Whilst Publicate has the full suite of integrations here, Flashissue hasn't yet connected with these services. So depending on whether you use these tools as part of your workflow or not would depend on how valuable that is to you.
Images
Images are a key part of any newsletter communication. Being able to easily find and add images can be a real time saver. 
Both Publicate & Flashissue have the ability to search various royalty free image databases, so you have access to millions of high quality images.
FlashIssue has also integrated with some other services you might use for saving images, like Drive, Dropbox and Instagram.
GIFs
Another engaging content format that has become increasingly popular with newsletters is GIFs. With Publicate you can search through GIPHY, a huge library of royalty free GIFs and add them straight to your newsletter, but I wasn't able to see similar functionality on Flashissue.
Content Library
The other key difference between the two platforms is that Publicate has a Content Library of all of your saved content, wherever it comes from. Meaning that you and your team always have access to all of the content you might need for any of your newsletters.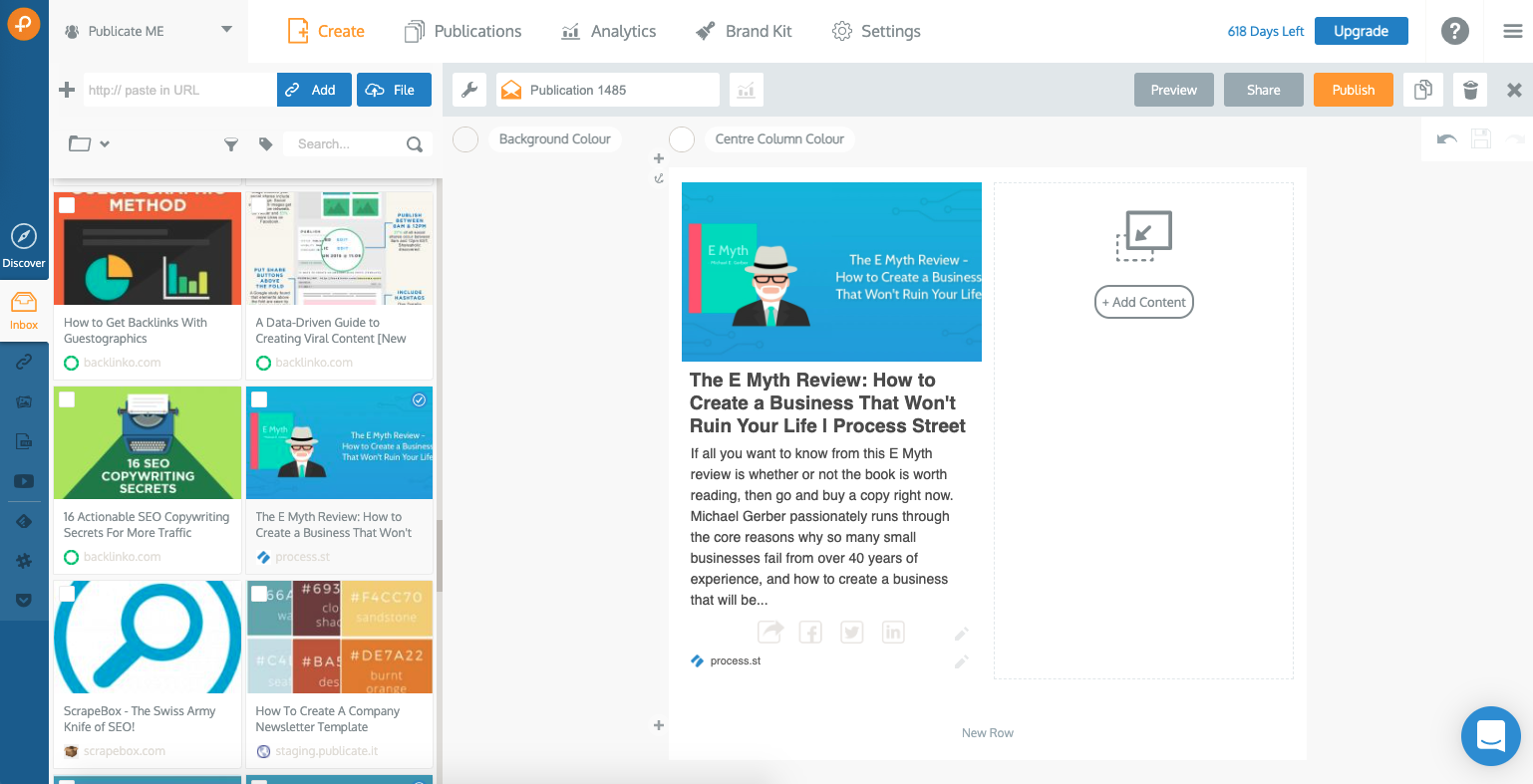 Flashissue only has this for content you saved with the browser extension and anything coming in from RSS feeds. Which means you need to find and collect all of the content you'll need each time you start a newsletter. It also means you need to re-add any content that gets used frequently each time you need it.
Here is the detailed breakdown of all features in this section;
2. Building and Designing your Newsletter for Gmail

We know there are two things that really matter when it comes to building your newsletters for Gmail. Speed and design.
Can I get it to look how I want, and how long is this going to take me?
Which are the benefits we have focused on in our comparison between Publicate and Flashissue.
Newsletter Layout
Firstly we looked at layout options. In order to get your newsletter looking how you want you need flexibility in the overall structure and layout of the newsletter.
Here both services have the ability to drag and drop content straight into your newsletter which is a definite time saver. However with Flashissue the only content you can drag and drop is web articles, and there is only one layout option for it, which is left align text, right align image.
With Publicate you can drag and drop all media types and can either add them to preset layout options, or rearrange the content layout once you've added it, giving you much more flexibility.
Publicate also offers more layout options overall with full flexibility, and Flashissue only offers 1 or 2 column layouts. We also found it difficult to rearrange content once you had added it to your newsletter in Flashissue, as you are only able to reorder full rows, and not the content within them, like you can in Publicate, as you can see below.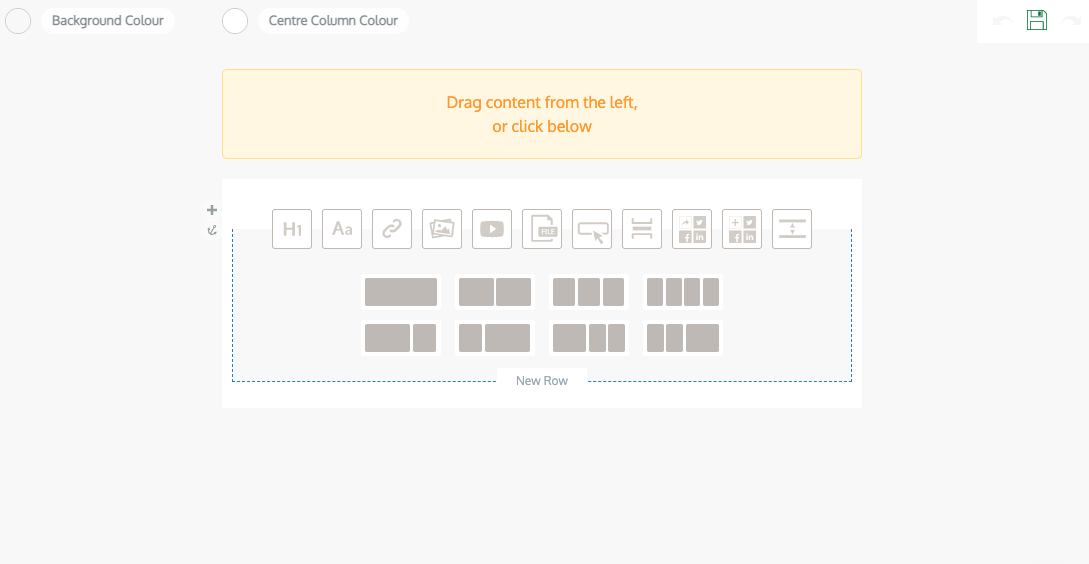 Here is the detailed comparison;
Styling Options
Next up we looked at the overall styling options available. Styling options are what ensure you are able to get your newsletter design in Gmail looking just right.
This includes things like padding and alignment, background colors, borders, radius and button and other element styles and sizings.
Flashissue offers some styling options, but it is limited to row background colors and button colors. Any customisation needed outside of these two options just wasn't possible, whereas Publicate offered a full range of powerful editing features on all elements and all content. 
Images are another important element in getting your newsletters looking right. To do this image editing options like crop, align and resize are important. In Publicate you'll find all these and more, with live preview so you can get the alignment just right.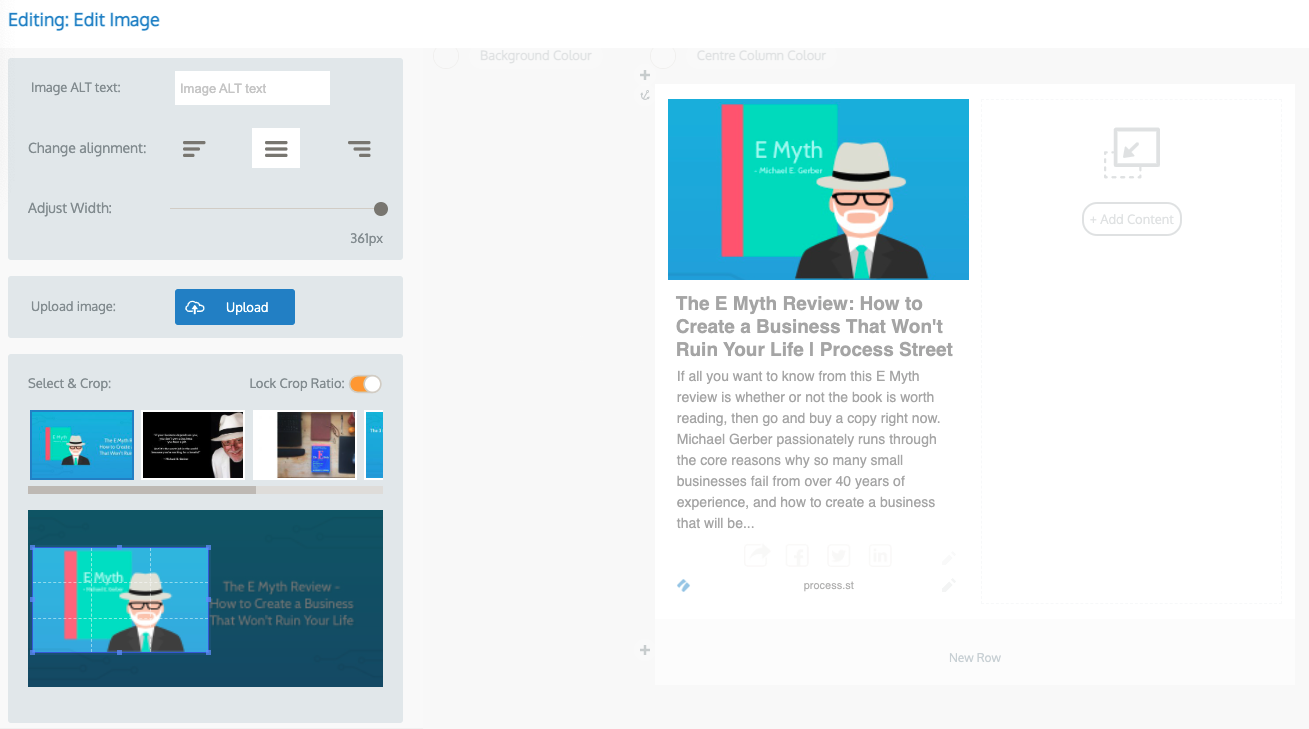 Here is the full feature comparison for styling options;
Here is the detailed comparison;
Email Templates
Finding design inspiration for your newsletters can be difficult. It can also be time consuming trying to get them to look how you want, depending on the newsletter editor you are using.
Newsletter templates for Gmail can be a great time saver, and help you to ensure your newsletters are looking professional.
Both Flashissue and Publicate have predesigned templates. The major differences between the two are the amount of predesigned templates available, and the style of them, with Publicate offering quite a lot more and of a higher design standard compared to the Flashissue templates. 
You are also able to save any templates you create yourself on both platforms.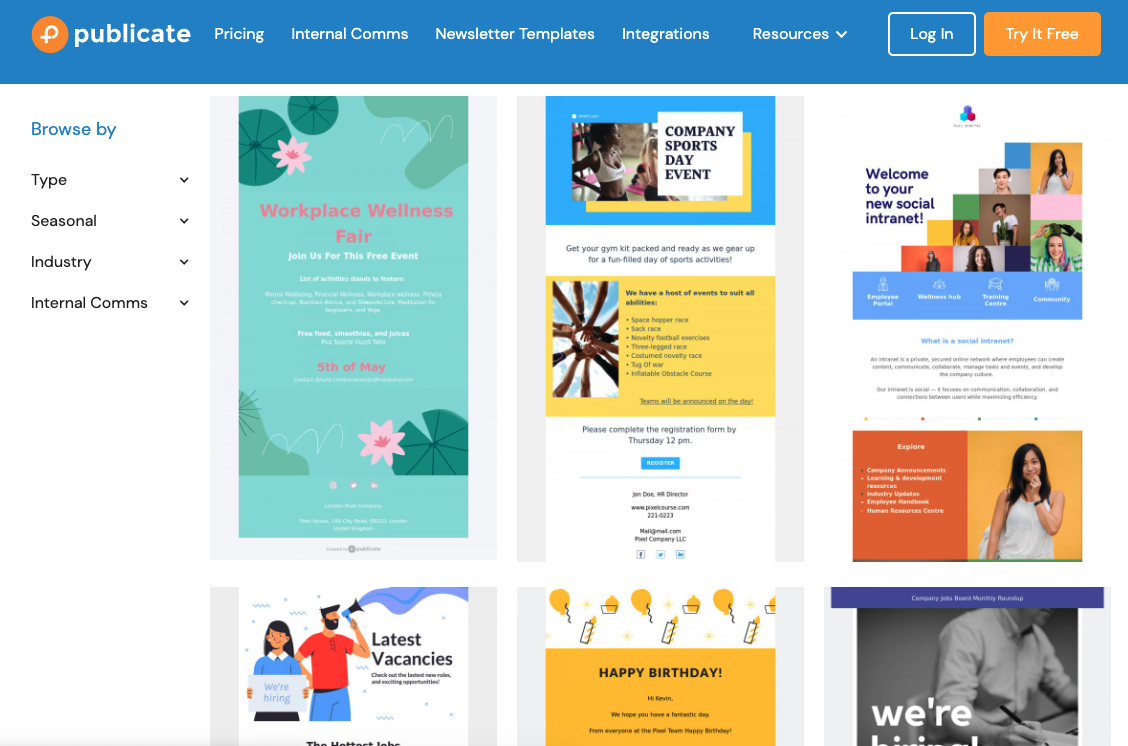 Saved Styles
We know you are busy and that time is precious. Quite often a lot of the styling used in a newsletter is repeated, like for titles, buttons, dividers, headers etc. but you don't want to have to recreate the same style again each time you add the element.
Saved styles allow you to do exactly that, save common styles for future use so all you need to do is click apply style, rather than recreate the look all over again.
This function wasn't available in FlashIssue, but it is available in Publicate on the Team Plan and above.
3. Sending an HTML Email in Gmail

Obviously if you are looking for a tool to send a HTML email through Gmail, then the key thing is that you can send the newsletter in Gmail. Both services do this exceptionally well, hence the high scores on both sides.
Publishing Options
It is worth noting that Publicate does offer additional publishing options outside of Gmail. Like the ability to download it as a PDF, to send a weblink to the newsletter, which can be good for approvals or sharing on intranets and teams comms channels.
Publishing Pricing
There is one other major difference between the two platforms, and that is that FlashIssue's business model charges you based on the number of recipients you send to in a billing period, whereas Publicate doesn't have a sending limit.
Here is the breakdown;
4. Newsletter Analytics and Engagement Metrics

Once you have designed and sent your newsletter it's time to understand how it has performed. Enter analytics and engagement metrics. 
Flashissue does a great job of showing you opens and clicks by recipient, but then it falls short of providing you with further detail and insight to really get to the bottom of the newsletters engagement and performance.
Publicate dives a bit deeper however, providing you with insight into how each newsletter performs against previous ones, shows you what your top performing content is and provides engagement metrics like click and heat maps. 
It also shows you audience insight like device and location to help you to better understand your readership.
Here is the detailed analytics comparison breakdown;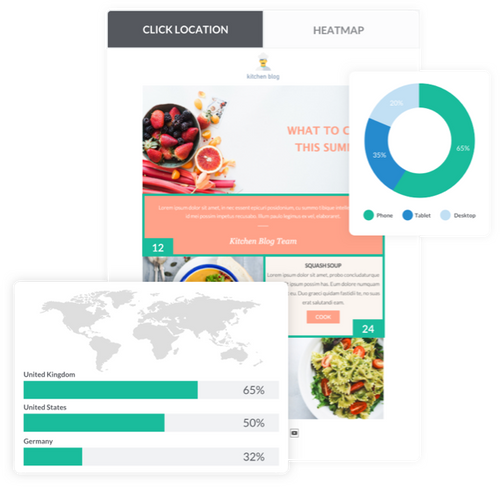 5. Team Collaboration and Customer Service

Aside from designing, sending and analyzing your newsletters performance, there are a couple of other important factors to consider when choosing a newsletter tool for Gmail.
A lot of the process of creating and sending newsletters with Gmail for internal communication is a team sport. So the ability to collaborate in the process of creating and sending your newsletter can be important.
Collaboration
Both platforms offered the ability to share editing on a Newsletter. FlashIssue enables shared editing by newsletter, whereas Publicate offers a shared workspace, which means all newsletters and the content library are all collaborative, rather than just any one single newsletter and associated content.
Customer Service
The last factor to consider is customer service. Sometimes you need a bit of additional support in getting set up or understanding how the platform you've chosen works. Both Publicate and Flashissue offer help articles so you can trouble shoot yourself.
Publicate also offers live customer support chat for if you need someone from the team to help you there and then. 
Wrap Up
Now that you've learned about Flashissue alternatives, it's up to you to decide what tool to use. Overall both Publicate and Flashissue are great tools for creating and sending newsletters in Gmail. Which one is better for you will depend on what you are looking for in your newsletter workflow. 
If you are looking to save time, need more powerful design capability and detailed analytics and performance metrics, then we found that Publicate was the stronger option.