"Rumors of my death have been greatly exaggerated." – Email

What is a "curated content asset"?

Email is far from dead. In fact, it is still the king of conversion which is why starting and cultivating an email list is a high priority for any content marketer.

Whether you're starting from scratch or have a previously existing audience, creating a curated newsletter is a powerful way to both grow your list and ensure you are serving your audience consistently.

Let's dive-in and see how you can use Publicate along with some other simple tools to start your very own curated newsletter!


Do You Have What It Takes to Publish a Curated Email Newsletter?

Curation can be quite an undertaking. Here, Copyblogger lays out some criteria that will help you decide whether or not you should start a curated newsletter. Make your way through their decision tree and see if its the right move for you!

Three Ways to Grow Your Curated Email Newsletter Faster

Starting a curated newsletter is a great opportunity to bring new people onto your email list. In this podcast, Brian Clark and Robert Bruce of Rainmaker.FM and Copyblogger present some actionable ways you can begin building your newsletter's audience in minimal time and without spending any money.


Roam Freely and Curate Your Content

Curating couldn't be easier with our Publicate browser extensions. Using these will give you the ability to drop any link into Publicate with just a couple of clicks. You'll be able to spend more time scouring the web for amazing content, and less time copying and pasting links.  This quick article will show you how to hit the ground running!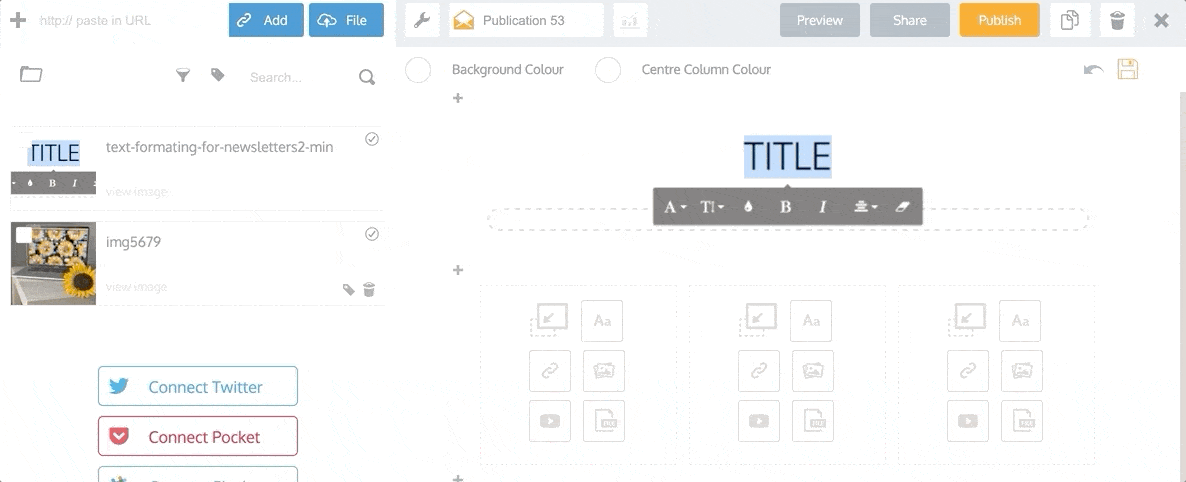 Create Your Publication

Now that you've found a ton of great links to share, its time to create your Publication. This article will transform you into a Publicate wizard in no time! Using our user-friendly drag-and-drop interface, you can share what you've found, add your own commentary too, and embed your Publication into any email.


Send it out!

We have a range of integrations including Outlook, Gmail and Mailchimp which you can use to send out your campaign. Sign-up for free and you can import your list, set up a new campaign, embed your Publication using our simple integration, and send it out!



Have a question about using Publicate to get your curated newsletter up and running? Let us know and we'll be happy to help out!