If you have the option to get from point A to B with a map or without a map, which would you choose? Just like you'd opt for a blueprint to get you to your finish line, companies utilize an internal communications plan to keep everyone on track to achieve business goals. 
Their importance cannot be ignored. That's why we're going to share how to create a communication plan and how having an internal communications strategy can be a gamechanger for your business. 

Guide Index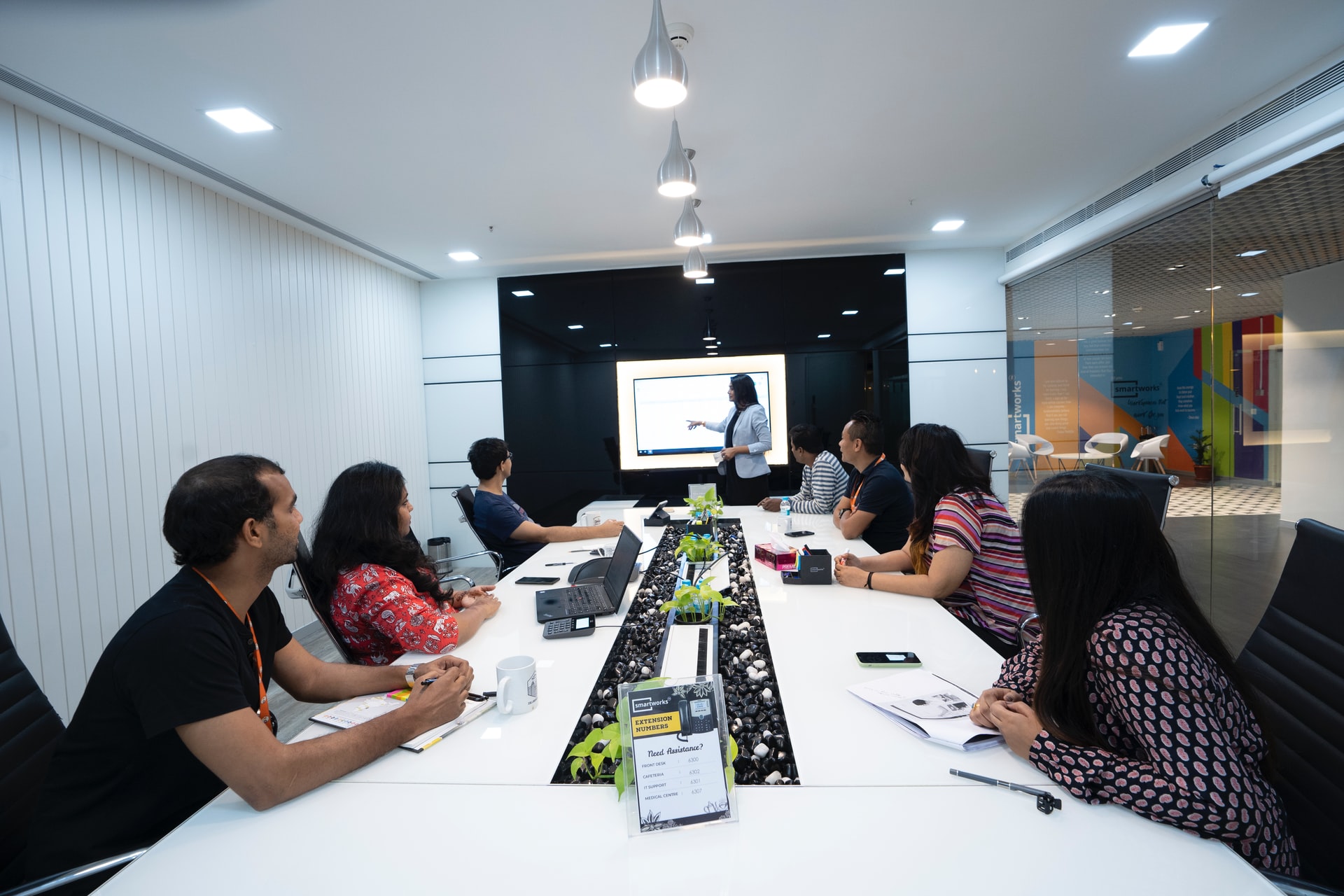 Picture source Unsplash
What is an Internal Communications Plan?   
An internal communications plan outlines business goals and defines the tasks required to get there. Essentially, it is a roadmap for business success. 
An internal communications plan will include a clear explanation of the business environment as it stands now and what challenges it may face. It will define the company goals, your audience, your core messaging, and how you plan to communicate. It will also specify how often you will communicate internally with your employees and how you will measure your communication progress. 
The process of developing an internal communications plan should be continuous, as in it doesn't end once it's been established. It requires at least an annual review to ensure that everything is still intact because as you know, business environments change on the fly. 
Why have an Internal Communications Plan?       
When properly created, an internal communications plan does so much more than just set the tone and expectations for employees. The plan helps to address and inform about industry issues. It also helps employees deal with change. 
Perhaps most importantly, an internal communications plan will impact employee engagement levels. Ultimately, this has an effect on employee productivity because when employees are aware of what's expected of them and where they are headed, they are more likely to want to remain involved and do their best. If they are left in the dark, they may lose interest and morale. 
When Does a Company Need an Internal Communications Plan?   
If you're thinking about the right time to create an internal communications plan, it is now! Any company of any size and in any industry will benefit from having internal communication all the time. 

The key ingredients of an internal communications plan include: deliverables, employee response, timelines, and project status. As such, there's never a bad time to draft one or revisit your existing plan to ensure it's going as you had hoped.    
Who Writes an Internal Communication Plan?
Typically, stakeholders come together to develop an internal communication plan. Much like the marketing communications plan isn't only created and approved by the marketing team, an internal communications plan involves different departments to make sure everyone is aligned and knows what they are responsible for. 
Of course, someone has to spearhead the endeavor, which typically ends up being an employee in the HR team. This is because the internal communication plan includes onboarding and retention strategies such as implementing a rewards and recognition program. 
How to Create an Internal Communications Plan?   
Just like most things in life, an internal communications plan is more about quality than quantity. This means that it can be a single page or a few pages long. The crucial component is what it has inside. 
Follow these steps to devise an internal communications plan:
1. Summarize Situation
Create situations in which internal communications will be needed so you can plan accordingly. Mapping the situation makes it clear to everyone involved as to what action steps will be needed at the time. 
For example, is the company facing low employee engagement? Is there a new product launching? All of these situations will require their own communications strategy. 
2. Determine Outcome
Think about what outcome you're seeking. This will help you with your content, as well as give you something to track against. 
For example, if you're going to start sending out an employee newsletter, the reason shouldn't be just because you want to send a newsletter. Instead, you may have the objective of boosting employee engagement or promoting event attendance. 
3. Define Audience
How you share communications will depend on who you are talking to, or your audience. You can create different sets of audience groups, which are also called job families. 
Take into consideration what they care about, what you want them to know, and how they'll likely react or feel to whatever you share with them. 
4. Develop Messaging
Create your message based on your audience. If you have multiple things you wish to share, try to narrow it down to just three and place them in order of priority. 
A helpful trick to keep in mind when developing your messaging is to focus on the 5Ws and H. These refer to: who, what, why, where, when, and how. They are the key components of any type of messaging because they answer every type of question that your audience may have. 
5. Decide Channels & Tactics
Next up, choose how you will share your message. This is just as important as what you want to say. The medium you choose to send your message should depend on the message itself. Suffice it to say, you'll often find yourself leveraging multiple channels. 
For example, for major changes that may be met with fear or resistance, face-to-face communication is recommended. When you have very complicated ideas or plans, then meetings are useful. Internal social media or intranet is great to breed camaraderie between teams, especially when they are working remotely. customize your content, and send your newsletter to your desired audience or your existing email provider quickly and effectively. 
Internal communications newsletters are wonderful for company updates, employee spotlights, events, surveys, customer stories, and more. 
With a web-based email builder, you can easily and professionally design and send internal communications newsletters using a variety of pre-built templates and drag-and-drop functionality. 
Next up, choose how you will share your message. This is just as important as what you want to say. The medium you choose to send your message should depend on the message itself. Suffice it to say, you'll often find yourself leveraging multiple channels. 
This means no designers or coders are needed, you can focus purely on the communications. You can then use the inbuilt analytics to see how your newsletter performs with your audience. 
6. Measure Progress
As noted, you'll need to check back on the progress of your internal communication plan. The key performance indicators will depend on your goals. To illustrate, were you hoping to increase product sales? Did you want more attendance at company events? 
7. Create Communication Calendar
You can utilize a project tracker or even a simple spreadsheet to create a communication calendar. This helps to map out your future actions and know what to plan for in advance. 
What are Internal Communication Best Practices for Remote Workers?     
As you create your communication strategy framework, there's no doubt that remote workers will come to mind. The trend of remote working is only on the rise, which is another reason why it's so important to have an internal communication plan. 
In regard to remote workers, keep in mind these best practices:
Set regular meeting times to check in via video 
Be strategic about timing when operating in different time zones 
Share how employees can reach out and where they can go with questions 
Provide frequent feedback and appreciate for your team members 
Picture source Unsplash
What are Internal Communication Plan Pitfalls to Avoid?   
Internal communication plans are straightforward once they've been created, but there are some common mistakes to avoid making, which include: 
1. Making Assumptions
Don't assume that your current internal communication plan is working. Check in with your team to gain feedback on how involved they feel and if they have all the information they need to do their best. 
2. Overloading Content 
Keep your messaging concise and simple, especially when talking about organizational goals to avoid overwhelming team members. An internal newsletter is a great way to give messaging in bite size and cover all the key points in an engaging way.
3. Being Inconsistent 
Be consistent with when you communicate with your employees. Try not to overshare everything at once and then go dark. Your employees should get a sense of when to expect communications. For example, sending a monthly internal communications newsletter can solve this problem! 
4. Forgetting Priorities 
Remember that your employees have a lot on their plate, so take into account what they are currently working on or dealing with when crafting your messaging. 
Closing Thoughts
Having an  internal communications plan should be a top priority for any type of business. It is a clear way to define and share business objectives and the ways by which your team will achieve them. 
Internal communications plans can be executed using various communication channels, such as email newsletters, meetings, video conferences, instant messaging, and more. 
They'll contribute to improved employee engagement, cross-department communication, and productivity.