Christmas is one of the busiest times of the year for both customers and employees. It's very difficult to capture their attention.
That's why we've rounded up the 6 most valuable types of Christmas newsletter templates.

They're ideal for businesses who want to cut through the noise this holiday season.
Below, we've created a modern Christmas newsletter template for a range of different purposes. All of which you can start using right now.
Below, we've created a modern Christmas newsletter template for a range of different purposes. All of which you can start using right now.
Let's get to it!
What to put in a Christmas newsletter?
When done right, there's a ton of value to both internal and external Christmas newsletters. These free Christmas templates will help you do all sorts of things like:
Achieve more sales
Show customer appreciation and build loyalty
Convey vital seasonal information
A HubSpot study, based on 40 million sales emails, found that the ideal length of an email is between 50 and 125 words. In these Christmas letter templates, we've distilled key information to the right size.

The same concept is true for Christmas newsletter titles and headers too. Email subject lines of 21 characters or fewer increase open rates by up to 31% above the average.

In other words, if you're torn between "Merry Christmas to all our wonderful customers!" or "Happy Holidays!" and "Information about our upcoming holiday party" or "It's Party Time!", smart money is on the latter options.

People receive so many emails during the holidays, multiple emails are almost a requirement to get noticed. Try sending a range of smaller, more focused emails instead of putting everything in one!These 6 email templates are perfect for just that. Let's take a look...

Our Free Christmas Newsletter Templates

Thank You - The Friendly Letter Template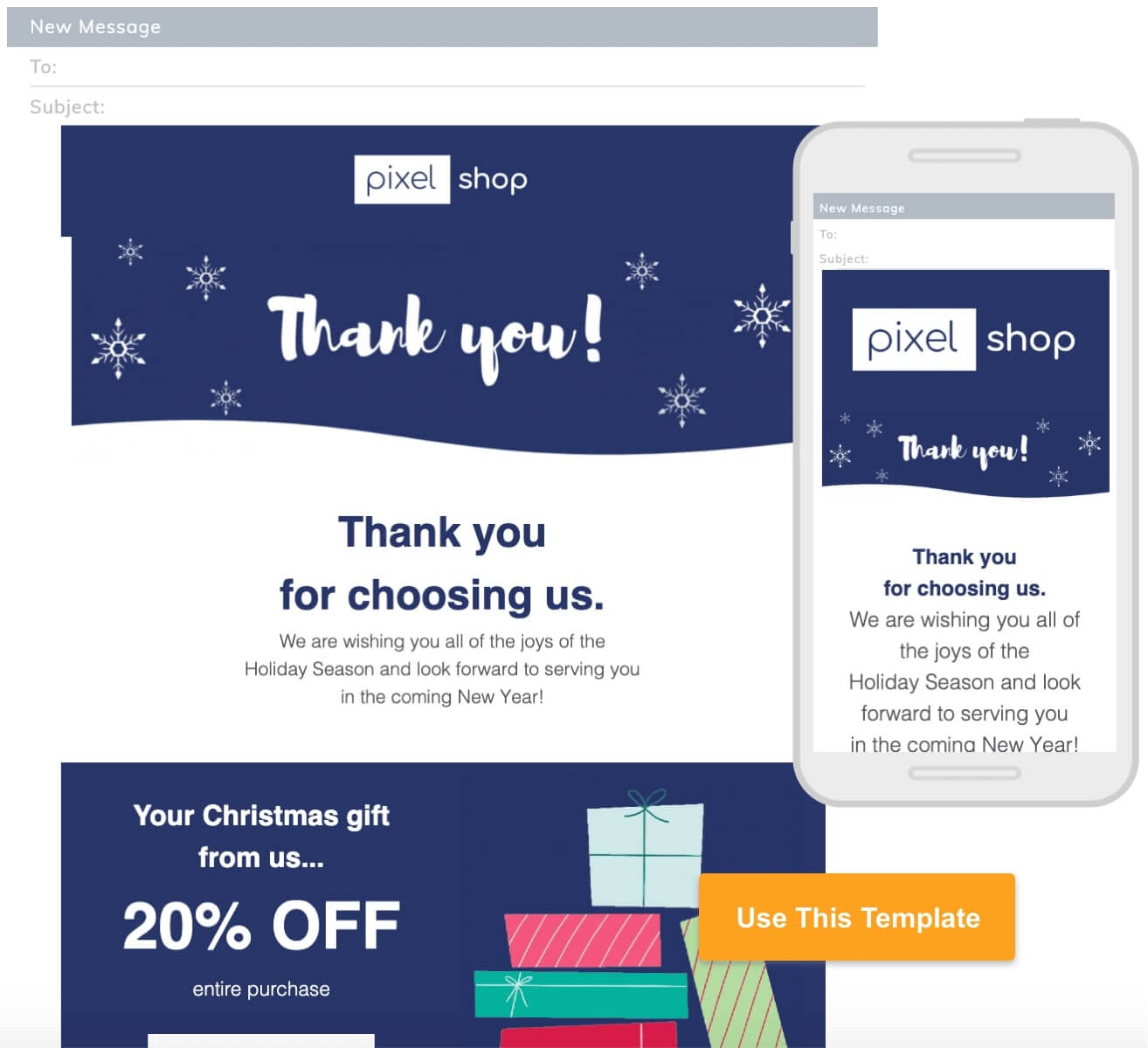 Christmas is the perfect time of year to show gratitude to your customers. A simple thank you for their loyalty and custom can be powerful...even if you pair it with a discount.
Offering a discount around Black Friday and Cyber Monday etc. isn't exactly unique. But positioning a deal as a thank you gift like the above "Happy Holidays" email is one of the nicer ways to do so.
Using the words "thank you" over and over again can be repetitive. Mix up your message by finding different ways to get your message across. For example, "we're so glad you found us", "we're grateful for your continued business" or even "we love our customers!"
This friendly animated Christmas newsletter template is also great for keeping things non-religious. You can easily swap out mentions for "Christmas gifts" for "holiday gifts".
Greetings From The CEO - Year In Review Template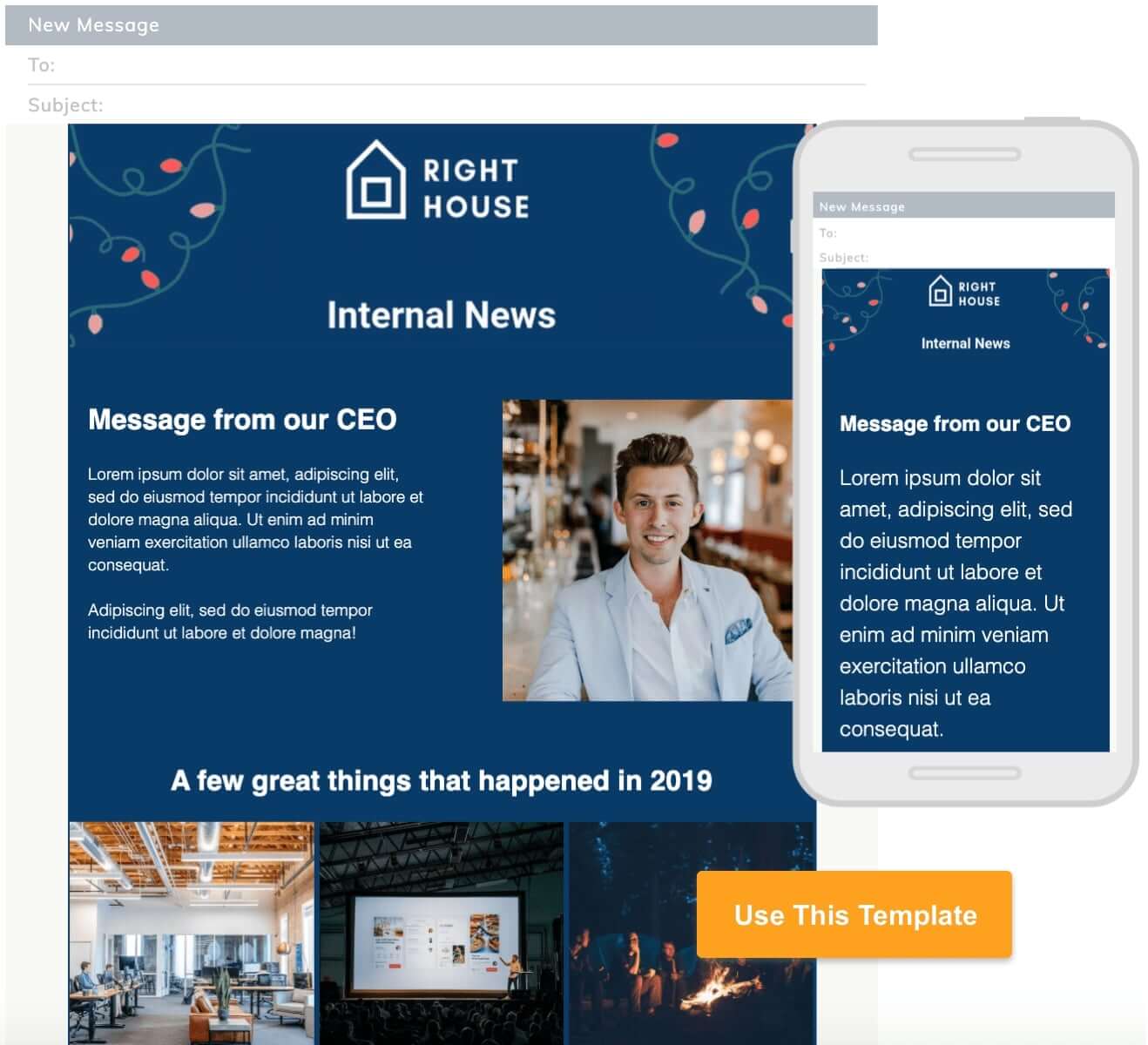 The holiday season is one that's often associated with reflection. This is one reason that the "year in review" Christmas card is such a popular format. It's great for celebrating this year's achievements and highlighting next year's aims.
The higher up a message comes from, the more seriously it's taken and the more intriguing it is to readers. You'd rather read a Tesla Christmas card from Elon Musk than someone on the company's marketing team, right?
As you can see in the template, we recommend keeping the message itself brief. You can then use some of the remaining space to link out to blog posts, Christmas newsletter articles or Awards pages. Think of these as mini CTAs (calls to action). Readers can click through to find out more about accomplishments.
Another advantage of a "greetings from the CEO" type Christmas email? It reminds readers of the people behind your company. That's easily forgotten in the craziness of Christmas.
People feel loyalty to other people more than they do to brands, so it's a powerful thing to add that personal touch.
It's Party Time! - Christmas Party Newsletter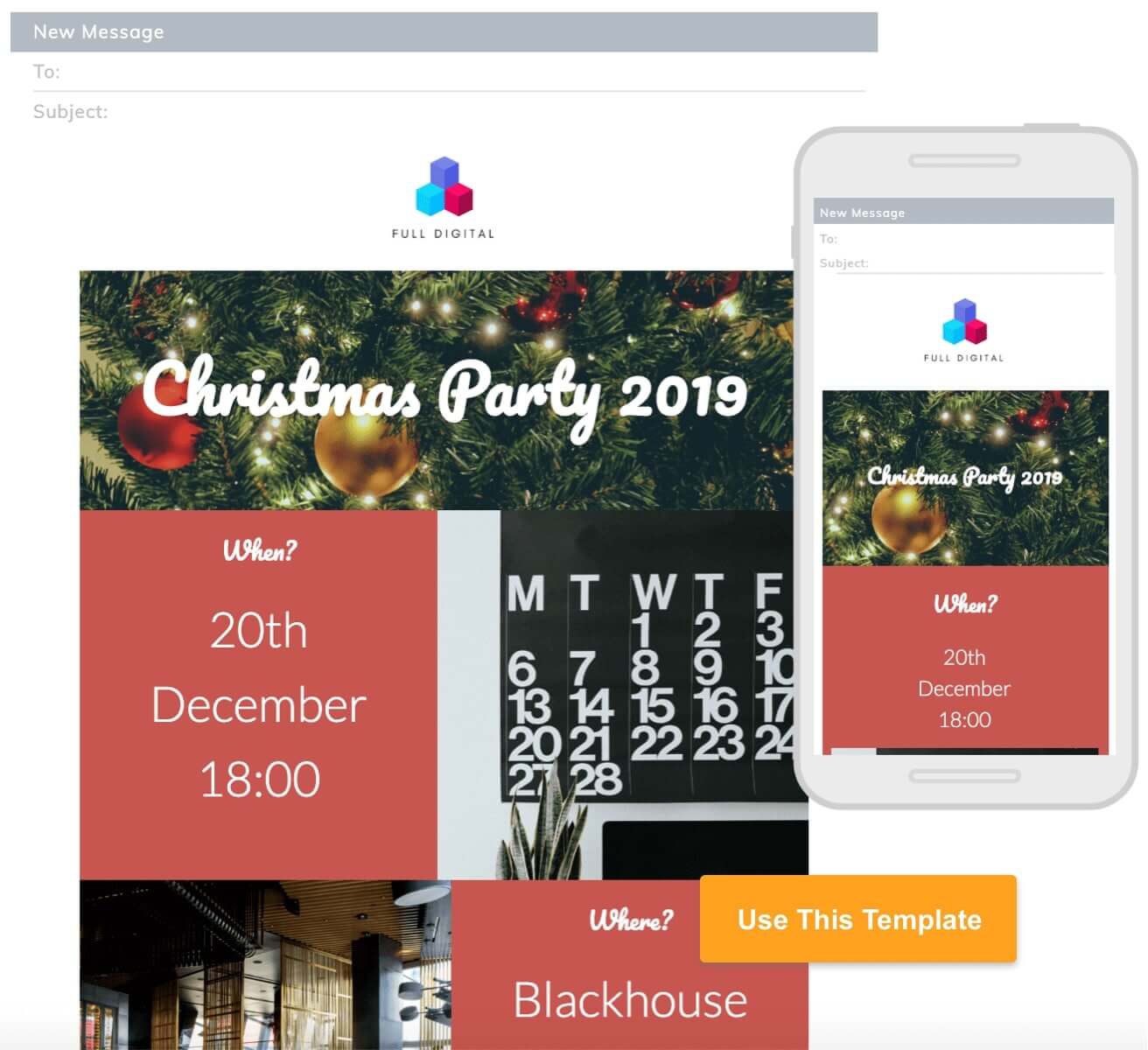 Trying to gather everyone together in the office at one time is challenging. This template allows you to disseminate important information more professionally. It also keeps all that info in one place that can easily be consulted later.
As the most festive of our Christmas newsletter templates, we had to rock the classic red and green!
Grab some enticing images of the venue and food for Christmas newsletter backgrounds. You can use these to generate buzz and give people something to look forward to! The holiday season is usually pretty stressful, so this is a great way to boost employee morale.
The crisp and clear RSVP call to action is the perfect way to gauge interest and gather details about who's coming. That's always a good start for planning an event.
We'll Be Home For Christmas - Holiday Dates Template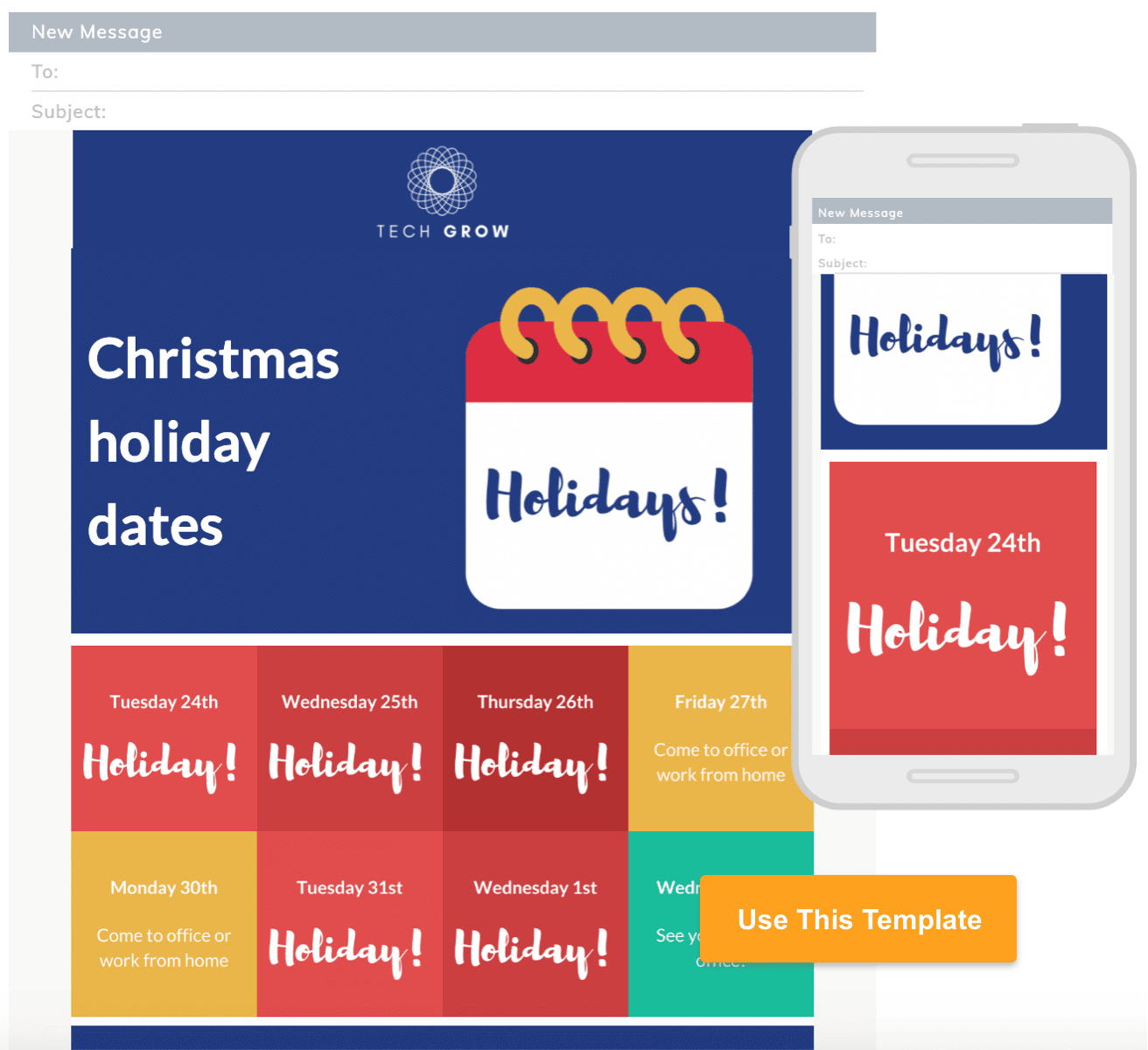 The simple and colourful template offers a reminder of the upcoming time off. That encourages employees (hopefully!) to wrap up their unfinished tasks before the break.
We've gone with a traffic light colour scheme here. This makes it easy to scan the grid and figure out what's going on for each day until it's "all systems go!" in the new year.
Another reason the grid format is useful? It allows you to convey a little more information - half-day, work from home, Christmas party - than a list of dates.
Once again, you might consider swapping out mentions of Christmas for "Happy holidays!" Emails using religious terms may not be well-received by those who don't celebrate Christmas.
Closed For Business - Christmas Opening Hours Template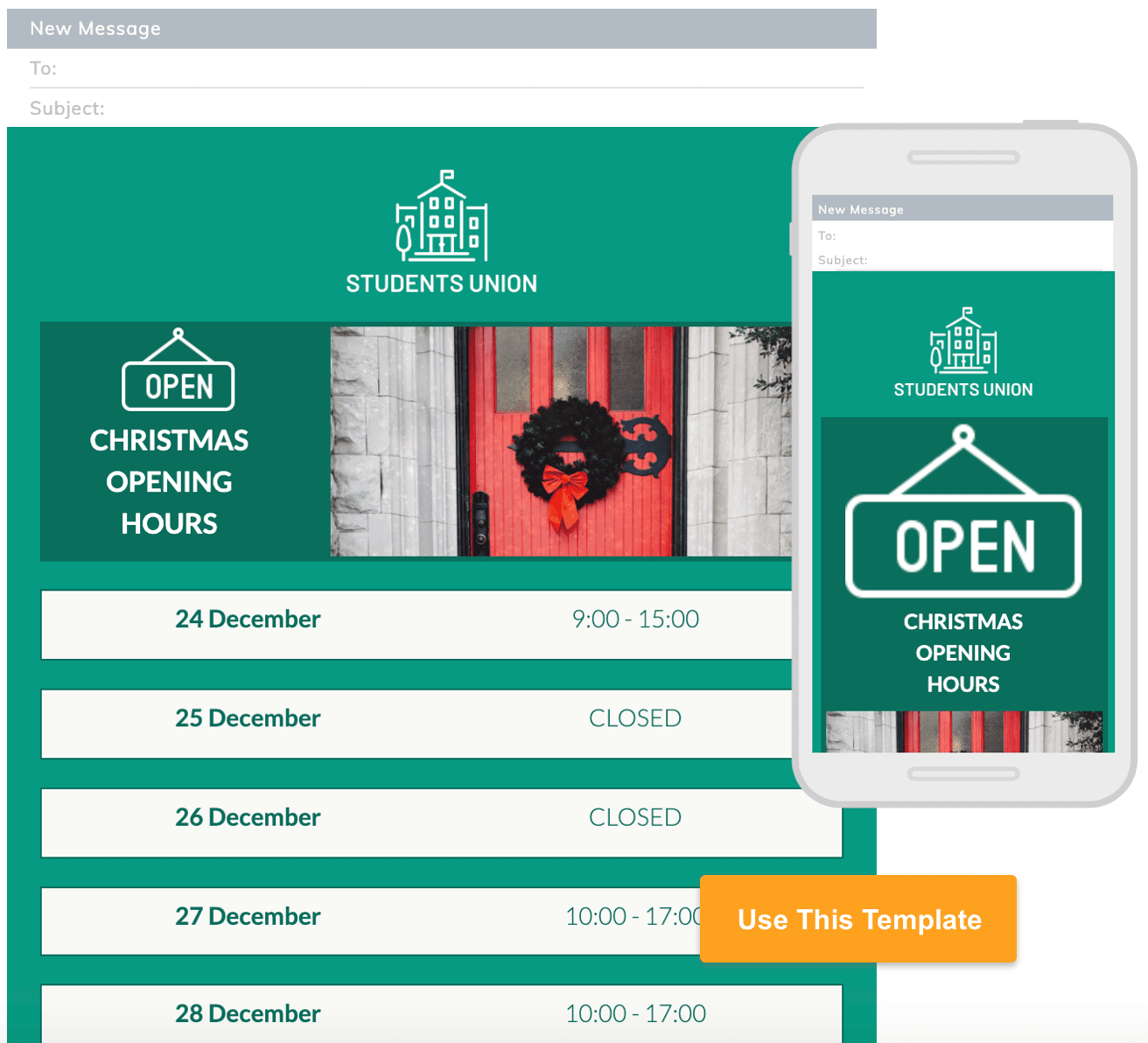 Opening hours for Christmas are ALWAYS in demand. But the correct information may not be reflected accurately by the likes of Google or Apple Maps.
A highly creative Christmas newsletter can be a lot of fun. However, there's a lot to be said for offering vital information in a clear and concise way. If you have high foot traffic, your customers will be glad of any details that might save them a wasted trip.
No physical location? This is still useful for reducing customer frustration and managing expectations. Readers can see, for example, when you might be dealing with a backlog and could be more patient waiting for a response.
You'll also notice we avoid labels like Christmas Day or Boxing Day. The latter isn't widely celebrated outside of the UK and Canada.
Going, Going, Gone - Sales Christmas Newsletter Template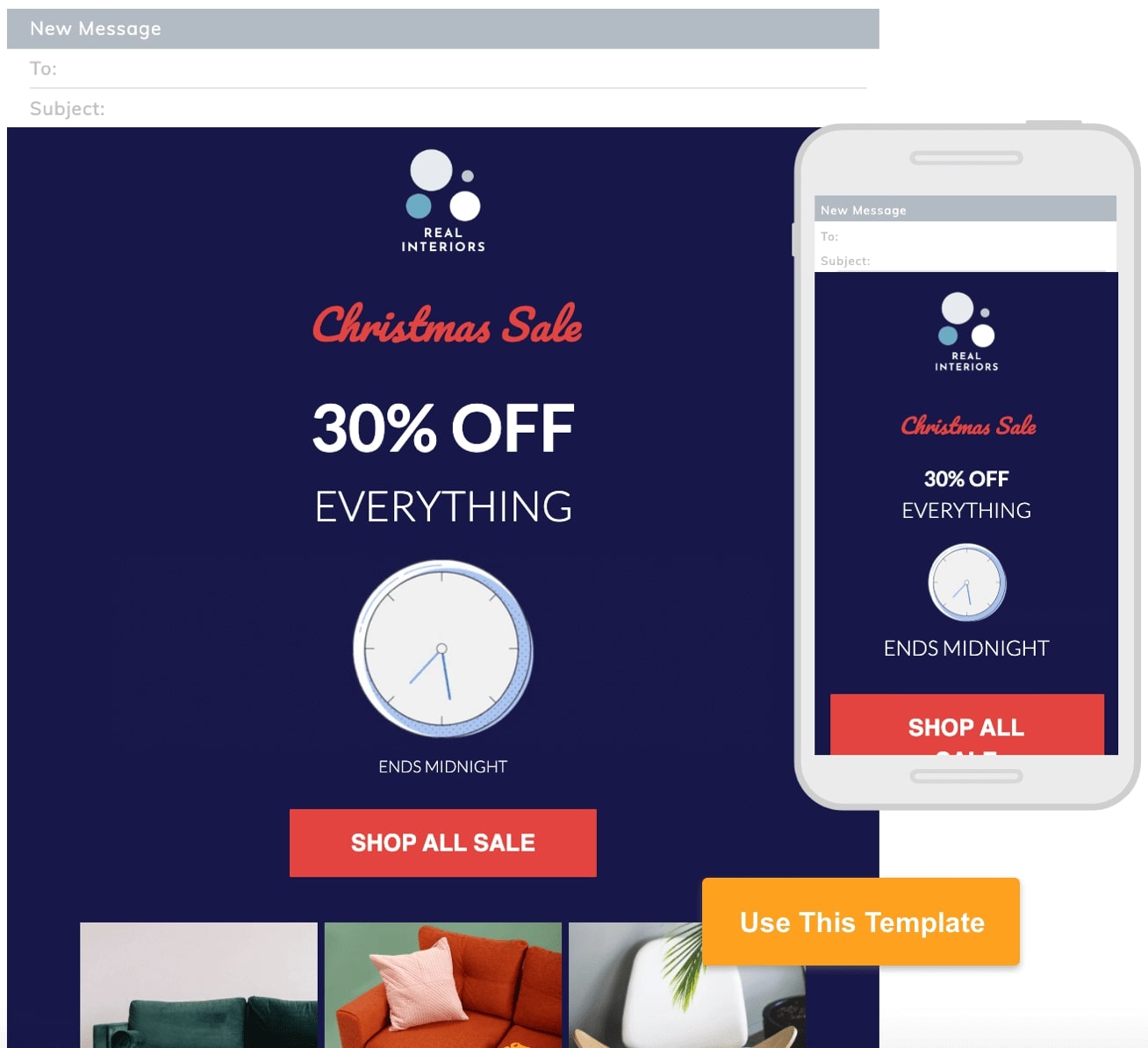 We'd be remiss if we didn't mention the possibility of using a Christmas email to promote products that are on sale.

Offering a sale in December is a great way to capitalise on those still looking for gifts. It also gives people a chance to recover from Black Friday and Cyber Weekend fatigue.

In this template, we put the spotlight squarely on "must-have" products. Highlight price reductions with bold text and offer the chance to add items to a basket. No need to click around or enter promo codes. The animated clock creates urgency and draws attention to the deal's limited nature.

Because products peek above the fold, everything receives equal attention. The large red Shop All Sale button also falls right at eye level and offers a compelling call to action.

Conclusion

Shakespeare once wrote that "brevity is the soul of wit." As it turns out, it's also the heart and soul of effective Christmas newsletter templates!

This time of year is one of the worst for information overload. That's why it's so important to keep things simple. Focus on the key knowledge you want your audience to take from your "happy holidays" email.

These templates help you create a festive Christmas newsletter that conveys vital information. They also eliminate the need to code something from scratch or use a time-consuming editor.

Keeping things concise avoids oversaturation of information without giving up touchpoints. Send out multiple templates, each with different subject matter, to avoid repeating yourself.Whatever your Christmas company newsletter ideas might be, these templates will help you hit your goal!