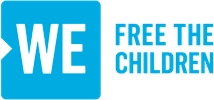 WE are a charity that empowers people in impoverished countries to help themselves.
WE's example is great because of it simple format. It's made up of 3 sections, keeping it clear and focused.
A large emotive call to action, inspiring people to change the world and take action. This is the core objective with this newsletter, to increase donations. Putting it large and upfront helps to make it clear.
Company updates. They have 2 concise content pieces. First, on the work that WE has been doing, and the second on the company and their ethics. This tackles a core barrier in some peoples minds about how charity money is spent. Both of these pieces strengthen the core call to action.
Different ways to help. They have 3 clear call to action. Making it easy for people to take action and give in a way that suits them.
Overall they have enabled the reader to quickly take action and find out more if needed. All whilst answering potential questions readers might have as they read.