Template Layouts, Sections & Spacing
There are endless layout possibilities with company newsletter templates.
The layout you use, the sections you include and how you use spacing, are all considerations that should be made with the view of using them to support the content within.
Appropriate use of these elements will help to create focus and increase the readability of your company newsletter and click through rates.
Layouts
There are ultimately only 8 major content layout combinations for any section of your company newsletter template. Which over multiple sections can then create endless variations of text and text and image combinations.
Choosing the right one just depends on how you want to present the content within the section and where you want to position the text and images.
A good place to start is with the content you know you are going to include, and then how you best want to lay it out so that it is visually appealing and easy to read. I sometimes sketch out on a piece of paper where all of the content will go before creating the layout.
Sections
As mentioned sections help to clarify different areas within your company newsletter and break it up from being one solid block of content. Which is particularly important if you have multiple topics or categories that you want to cover in the same newsletter.
Using coloured backgrounds, titles, dividers and images are a great way of defining sections and grouping the relevant content within.
Spacing
Using spacing appropriately can help to stop your company newsletter from feeling cluttered and overwhelming. In this case more is actually more. Adding space between sections and content will help the content in your newsletter breath and make it easier to read.
We all know that feeling when we open a newsletter and are greeted with lots of information packed into a small space. It stops us from reading more as we just donít know where to start.
Use appropriate spacing to lead the reader through the newsletter, breaking up sections and content so they donít merge in a blur of information.
Too much space however, can make it unclear which content is related to which. So as you're adding space, just make sure it isnít confusing the relationship between the content within sections.
Generally though, unless we are designers we are normally shy to add enough spacing and have a tendency try and cram too much in. If youíre finding yourself cramming too much in, review if all of the content is really necessary and go for a quality over quantity approach.
Company Branding
There are a number of ways to add branding to your company newsletter.
As we covered previously, use of colour can be an instant way to achieve brand recognition. The other most common is to add your logo to the header and/or footer of the newsletter.
Itís important that your brand is reflected in the company newsletter, so that readers are reminded of your business, but I would use a subtle approach. Let the content do the talking rather than make it an advert for your business.
Think about creating a branded header that adds to the newsletter. You could include the name of the newsletter, an emotive image and then think about how and if your logo works with it.
Thereís lots of software that can help you to easily create branded images for the header of your newsletter, like Canva, which has 1000ís of stock images, layouts and icons to get you going.
Images
There is a lot of debate about the use of images in company newsletters.
Are they engaging or distracting? Do they result in higher click throughs or less? What is there impact on analytics?
There are arguements for both sides, and I believe that ultimately it comes down to the purpose of your company newsletter and the content you are including in it.
It is a fact that images are more engaging than just text alone and can increase click throughs, but too many images can be distracting and result in too much choice, leading to indecision or a blur on what the real focus is.
When finding and including images, ask yourself, does the image enhance the content and add to the message of the text or call to action, or does it confuse and busy the content.
If the purpose of the company newsletter is to advertise 1 report, or drive 1 specific action, then there shouldnít be lots of other image rich content that doesnít support the main message.
If however your company newsletter is a roundup of valuable articles and customer or team content, then images can be appropriate. As above, ensure your images enhance the content not distract from it and they will help to increase engagement.
Video
Video is becoming ever more popular in company newsletters, because of how engaging and informative it is as a medium.
Again itís something that should be used appropriately, and does have some downsides.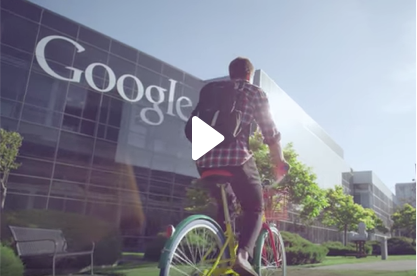 Downsides like the fact that it is very expensive to create and people have short attention spans, so you need to really grab them in the first few seconds.
Most importantly to point out though, is that few email service providers actually support video in email (yet). In fact only 4 of the major email clients will support video play in email.
Which is another reason why GIF is so popular, as it is supported by pretty much all clients.
Whilst not all email clients support video, you can still create the impression of including a video in your email by adding the play icon over an image. Then just hyperlink the image to the original video. Which is actually how most email service providers like Mailchimp, get around this issue.
Mobile Responsiveness
Quite simply, it needs to be.
Over 50% of email is read on a mobile device.
Make sure the platform that you are using to create and send your company newsletter from is mobile responsive.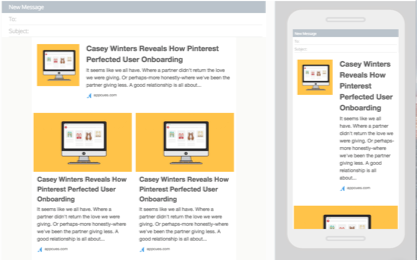 If you are looking to create a fully mobile responsive HTML email newsletter template, or are sending your company newsletter through Outlook or Gmail, then you may want to consider using Publicate. Everything you create in Publicate is automatically fully mobile responsive and can be sent through any email service provider.
Tools For Creating Company Newsletter Templates
There are a myriad of email newsletter tools to choose from, and most offer similar functionality;
Managing and collecting subscribers
Segmenting lists
Creating the newsletter or uploading your own HTML
Sending the newsletter
Analytics to review performance
You can find a great review of 25 of the best email platforms here.
The main difference between them is generally niche functionality and price. Unless you are talking about specialised email marketing software or event based messaging.
All however have one main thing in common. For most people creating the company newsletter is a laborious task, wrestling with cumbersome editors, uploading pictures, adding links and struggling with alignment. This leads some businesses to enlist the support of design and development to create them a costly template. Which then still suffers the same laborious issues of having to individually upload an image, add a title, a description and hyperlink everything for each piece of content they want to add.
All in all the time taken to create a newsletter puts a lot of people off, and means that we lose focus on the most important part of the company newsletter, the content within.
Which is exactly why we created Publicate. As a tool it means that anyone can create a beautiful mobile responsive newsletter template, without the need for design or development. It also has a conent library built in to collect all of the content you want to add to your company newsletter, so all you have to do is drag and drop to add. No need to upload images, titles, descriptions and hyperlink, all of this is taken care of as you add content to the template.
It also works with all of the major email service providers, so you still get the powerful functionality of subscriber collection and management as well as deliverability and analytics. Without having to change providers, Just use Publicate with your existing platform, even Outlook and Gmail.